When future bike zealots erect their parts-enshrined pantheons to the gods of mountain biking no doubt the first temple they build will be in the name of (two-time world and 10-time national champion), John Tomac. Unfortunately, the legacy of mountain biking's first mullet-wearing rock star fell into a marketing vortex after his bike brand was purchased by American Bicycle Group—who promptly shelved production in favor of filling the world with more titanium road bikes. Last year, JT regained control of his namesake brand and is re-launching it in 2008 with three new state-of-the-art rigs: an XC race bike, a DH bike designed by Manitou founder Doug Bradbury, and a 140-mm dual suspension trail bike accurately named the
Snyper
.
Weighing in at just over 26 pounds, the Snyper is the kind of bike that terrifies animals and intimidates girlfriends. Everyone thinks they ride fast. But, unless you're one of like 12 people, John Tomac's version of fast is approximately 24-times faster than the fastest you've ever gone in your entire life. One thing Johnny T knows how to do is make a mountain bike break the sound barrier. It's obvious that JT personally spec'd out the Snyper—from the old-school-meets-new-school XT drive train, to the signature JT dual-compound Kenda Nevegal tires that cut turns sharp enough to shave a cat.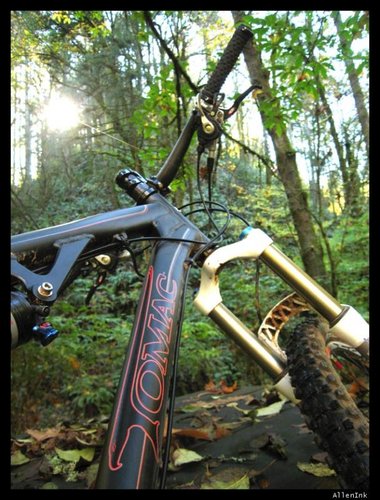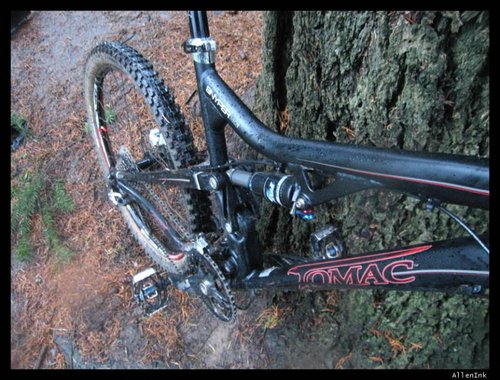 I like to imagine Johnny sitting there late at night with a sketch pad full of notes and a pitcher of cold beer mulling the many virtues of Avid's Juicy 7 carbon fiber brake levers matched up with the ultra-light Truvativ NOIR cranks while he designs the most awesome bike imaginable. In reality, he probably recited the parts by rote over the phone to a Taiwanese translator six time zones away. Whatever the process, it's clear that there is no part of this bike that has not been meticulously obsessed over. The Snyper's rear suspension features an innovative single-pivot design utilizing carbon fiber chain stays ("flex-stays") and a short shock-line for superior power transfer and precise steering control. The roomy cockpit is designed to maximize the compact rear triangle and telepathic front end by keeping the rider low and in the pocket. Once the Fox suspension system (RP23 rear, Float 32 front) has been fine-tuned for the rider it is possible to exert so much control over this bike you could get it to mow your lawn, take the trash out, make you a sandwich, give you a happy ending, and leave before your wife comes home.
Check out the Tomac Snyper 1401 in action!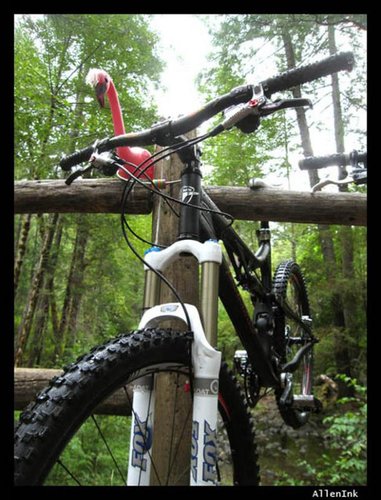 | | |
| --- | --- |
| Frame size | Large 19" Tomac Snyper 1401 |
| Rear Shock | 2008 Fox Float RP23 140mm of travel |
| Fork | 2008 Fox 32 Float RLT 140mm |
| Headset | FSA Orbit MX |
| Crankarms | Truvativ NOIR XC 175mm |
| Chainrings | Truvativ 22/32/44 |
| Bottom Bracket | Truvativ GXP Team |
| Chain | SRAM PC971 |
| Cassette | Shimano Deore XT (11-32 9 spd) |
| Front Derailleur | Shimano Deore XT 31.8mm |
| Rear Derailleur | Shimano Deore XTR 9 speed Top Normal |
| Shifter Cable/Housing | Stock |
| Shifter Pods | Shimano Deore XT |
| Handlebar | Easton Monkeylite XC, 685mm, 31.8mm, Low rise |
| Stem | Thompson Elite 31.8mm |
| Grips | WTB Mototec (Lock On Grip) |
| Brakes | Avid Juicy Carbons with 185mm Rotors |
| Front Wheel | FSA XC300 |
| Rear Wheel | FSA XC300 |
| Tires | Kenda Tomac Nevegal DTC 2.35 Folding |
| Tubes | Kenda Superlight |
| Saddle | WTB Rocket V SLT Silver |
| Seatpost | Thompson Elite 30.9 |
| Extra | FSA Carbon headset spacers 5mm |
Tomac's marketing materials describe the Snyper as the ultimate go anywhere, do anything trail bike. This is not wholly accurate. While it's true that the bike is an agile climber that ascends rough trail like an off-road escalator when the suspension is locked out, it really just wants to do three things: take corners at mind warping speeds, huck gratuitous fat air, and pass anything in front of it. But you don't have to take my word for it. The company's demo program allows aspiring bike gods to try the Snyper before they buy it—which is a safe bet. Anyone who rides this bike will probably never want to get off of it again.
Find out more by visiting the Website at
www.tomac.com
.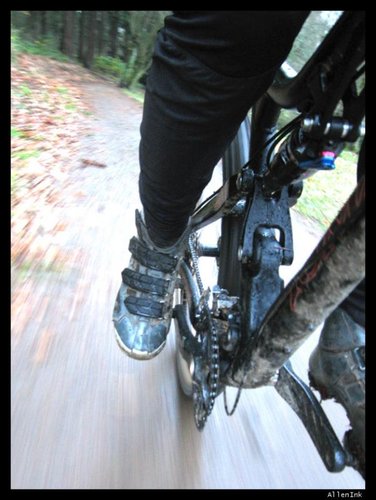 By: Johnathon Allen
[AllenInk © 2007]
[
www.allenink.ws
: writing, research, photography--not necessarily in that order. ]
Must Read This Week