Figuring out what insurance to buy for International travel and competition can be a little confusing, especially if you don't make your living as a professional rider. Since launching my fundraiser earlier this month I have raised just over $4000, and still have over $35,000 to go before my medical bills are paid off. It's scary to know how many people could end up in this exact same situation, so I would like to use this article as an opportunity to help keep you informed and possibly save you from ending up in medical debt.
Spend more time riding and less time worrying about medical debt.
When purchasing my travel insurance before Red Bull Rampage I went to TIC (Travel Insurance Canada). I explained why I was going down to Utah to ride, but what I failed to do was mention that Rampage is a professional competition with prize money involved. As soon as prize money is involved, you are technically a professional athlete and are void from coverage in many insurance policies. My policy also stated that I would have to inform them before I went into surgery or they would only be able to cover up to 20% of the costs. This was something I was unable to do given my situation, but was also unaware of it until after being injured. This was in the fine print but the broker didn't bring it up once.
Although I got injured in practice, I was still engaging in an event with prize money and TIC wasn't informed of my injury until after surgery. Because of these two factors my claim was 100% denied. Insurance for 10 days in Utah ended up costing me over $300. Since then I have done more research and purchased professional athlete insurance through
BCAA
. My cost for 1 year is less than $200. On top of that, my policy makes it clear that I am fully covered in professional competition. I am now spending less money on insurance and I won't be in this situation again.
I had to learn this lesson the hard way but there is no reason anyone else should. A little bit of extra research goes a long way.
---
Pinkbike

did some research into available insurance for mountain bikers travelling for competition. As Mark has already found TIC Travel Insurance will not provide travel medical insurance for sports events that provide a cash prize. We were lucky enough to speak to a representative who was familiar with mountain biking and once we mentioned Red Bull Rampage she quickly said "oh no, we wouldn't touch that." A quick internet search for travel medical insurance and many phone calls yielded no further companies that would provide coverage, with the exception of BCAA (for Canadians) and ihi BUPA (for international competitors).

BCAA confirmed that they do provide travel medical insurance for participants of events like Red Bull Rampage. They have a 'Professional Sports' rider that they can add to their existing travel medical policy, it covers athletes who receive any income from their sport. Additionally they will add specific notes to the file to aid agents who are processing your coverage should you need to use it. The agent whom we spoke with at Travel Underwriters (they provide the insurance policies that BCAA sells) recommended that anyone - even if they are not a professional athlete - participating in an out-of-country competition with prize money, purchase the additional 'Professional Sports' rider to ensure they are fully covered.

For mountain bikers outside of Canada, ihi BUPA will provide travel coverage for mountain bikers participating in competitions. They provide 100% unlimited medical coverage for any emergency treatments during your travel including hospitalisation, outpatient treatment, repatriation, evacuation, prescribed medicines, and ambulance transportation.

Ensuring that the agent you are dealing with fully understands the purpose and risk involved in your travel, unfortunately, falls on each individual. Not all agents are created equally and only a small percentage will ride bikes themselves.

Read more on the subject in this article by Malcolm Mclaws -

Risk vs Reward in Contests
---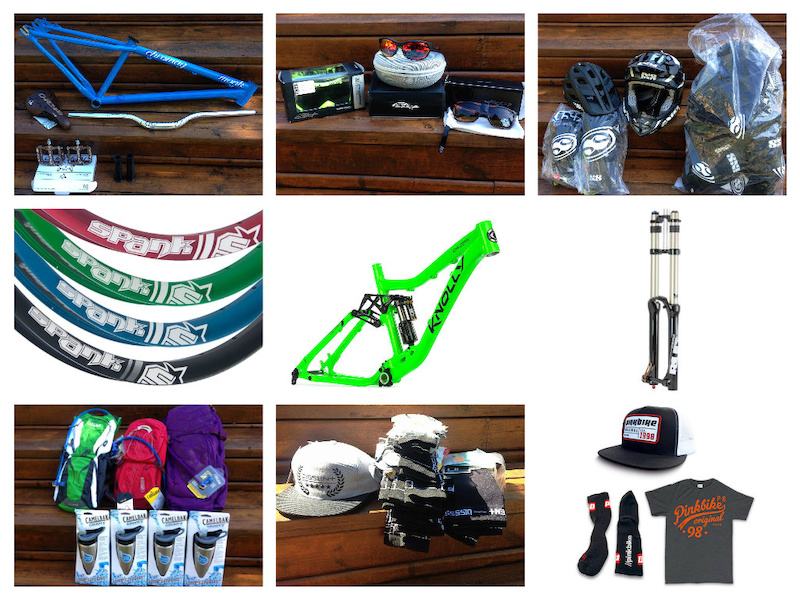 Want to help me pay off my debt and have a chance to win some sweet prizes? The fundraiser is up and running with tons of awesome prizes to be won! Winners will be announced sometime in the New Year when I get close to reaching my goal of $40,000.
Rules:
1. Make a donation by purchasing an entry under "Buy Now" at the bottom of this page or my
website
($5 minimum).
2. Scroll to the bottom of the fundraiser page and drop me a message. You can also message me from my
Pinkbike Account
.
Enter your name, email address, and put "Markymath Fundraiser" as the subject. In the message, briefly describe why you want to win something. The best and/or funniest answers will be chosen!
This is open to anyone worldwide and the prizes will be shipped out to the winners. The winners will be announced May 1st and contacted before hand.
I would like to give an extra special thanks to my sponsors for the gear, and to
Jer Buck
for building the website.
Thanks for your generosity and support so far everyone!