Experience chair lifted access to the top of the Colorado Rockies, and ride down amazing trails all day. The Village at Trestle Bike Park has lodging, restaurants, children's activities, etc. to ensure an amazing vacation. The park has major plans for upgrading the trails over the next few years. Trestle just got approved by the U.S. Forest Service for the first phase of trail expansion. They will be adding over 20 new trails. That is 9.5 miles of new excavated trails, jump trails, elevated trails and single track trails for you to ride. Currently the park offers a wide range of trails for all levels of riders. The plans that are in store for the park are going to make it legendary. He are a few photos from this year.


Trestle's plan is to build quality trails that will last and be sustainable to all weather conditions. In the coming years the park wants to add new sustainable trails rather than fixing unsustainable trails to ensure more new riding for visitors. Trestle has made sure that their existing trails and future proposed trails are world class, by partnering up with gravity logic, the top team in park designers and managers from Whistler Bike Park.

Rent a bike from the Trestle Bike Shop. Below are some pictures from inside the shop. They have an entire fleet of Kona bikes and protective gear for everyone. Get all suited up in the newest and coolest gear. They even have pink pads for the girls! If someone in your group needs bike lessons, Trestle offers them!



This year the park as opened up some killer trails. Giving us a peek at what's to come in the future are trails like Free Speech, No Quarter, Bear Arms, and the Jump Trail. Also the Downhill race course just open and falls 1700 vertical feet from the top of Winter Park Mountain to the base. Below is a video I found here on Pinkbike of Trestle Bike Park of a trail called Boulevard.


Here is a
link
to some other videos including the downhill course!
Take a look at the trail map! So many trails to choose from. Don't forget the additions in the coming years! This park is going to be one of the best biking destinations the United States.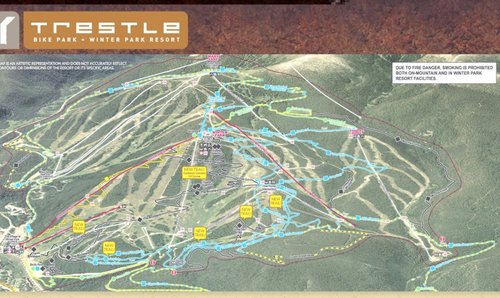 So what are you waiting for! Get up to Trestle Bike Park and start riding this 2009 season. Here are some current deals they are offering.
Freeride Fridays
Rental / Trestle Park Pass, $29.99
For just $29.99, you get a downhill mountain bike, twilight lift ticket, protective gear and all the runs you can fit into 3 hours. Just leave the city by mid-afternoon to take advantage of this $69.99 value for only $29.99. Package includes:
▪ Kona Stinky downhill bike
▪ Body armor package
▪ Full face helmet
▪ Lift ticket
▪ Bonus Coors Light or soda
Valid from 4-7pm on Fridays. Subject to availability. Walk in from 3:30pm on the Friday you want to ride, while supplies last.
Women's Wednesdays
Presented by Kona and RockGardn, starting at $14.99 per person
2-for-1 Kona Minxy Package Includes:
▪ 2 lift tickets
▪ 2 Kona Minxy bike rentals
▪ 2 full face helmets and gloves
▪ Bonus: 2 Rockgardn Armor packages
▪ Full day rate, $109.99; half day rate, $79.99;
Twilight rate, $29.99 (that's only $14.99 per rider!)
For more information about the park and reservations please visit
Trestle Bike Park
website.
The park is in great condition right now. So call them and make a reservation and go experience Trestle Bike Park In Winter Park, Colorado. If you could not make it to this year's Crankworx Colorado, plan to come next year and enjoy the park while you're there. Please visit the
Trestle Bike Park
website for the most recent updates on the park. Hope to see you next year.
--
Justin