Camp of Champions and the Longhorn Present The Bike Park Opening Day Celebration
Opening Day of the Whistler Bike Park is counted down to by everyone with a bike within driving, pedaling or flying distance of Whistler. Thinking opening day never gets the party it deserves, The Camp of Champions thought we'd throw one. To celebrate the return of the king... The Whistler Bike Park, The Camp of Champions Mountain Bike Camp is throwing
The Bike Park Opening Day Celebration
at the Longhorn with $12,000 in draw prizes, on opening day, May 16, 2009 from 10:00AM to 5:00PM.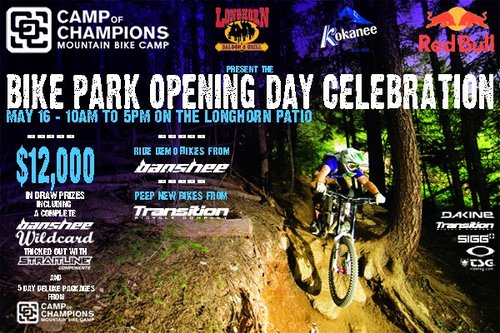 It came together fast after the original idea, a week ago, to throw a party at the Longhorn to celebrate the return of the Bike Park. What started as a simple "Hey, let's have a party" turned into $12,000 in free stuff, demo bikes from Banshee for people to ride on opening day, new stuff for 2010 from Norco that you can drool on but not ride and dope new bikes from Transition to also drool on.
We thought it would be cool if we had prizes through out the day for people to win. So... To make the party about riding, having fun and getting free stuff, Banshee has thrown in a Wildcard complete, The Camp of Champions has thrown 5 - 5 Day Deluxe Camps in to the prize pool and then all our other camp sponsors have chipped in prizes so there will be lots of stuff from small to large to win over the course of the day.
The
Longhorn
,
Kokaneee
and
Red Bull
have supplied the patio and there will be, as they say in the draft, "A Band to be named later". The Longhorn patio is an all ages restaurant so you don't have to be over 19 to be part of the fun.
The party goes from 10:00 AM to 5:00 PM on May 16 on the Longhorn Patio. Bring your bike, hit the park, meet some new friends, win some stuff and partake in the
First Annual Bike Park Opening Day Celebration
The Bike Park Opening Day Celebration has been brought to you by:
The Camp of Champions Mountain Bike Camp
,
The Longhorn Saloon and Grill
,
Kokanee Beer
,
Red Bull
,
Banshee
,
Transition
,
Norco
,
Dakine
,
Straitline
,
Sigg
,
Oakley
,
TSG
and
Whistler Mountain Bike