Source: CBC News
Both Blackcomb and Whistler mountains have been evacuated as a vigorous forest fire quickly grew to 75 hectares on Thursday afternoon.
Fire crews were protecting nearby lodges from the uncontained blaze, but Whistler Fire Chief Rob Whitton said the fire was not threatening any Olympic runs or lifts.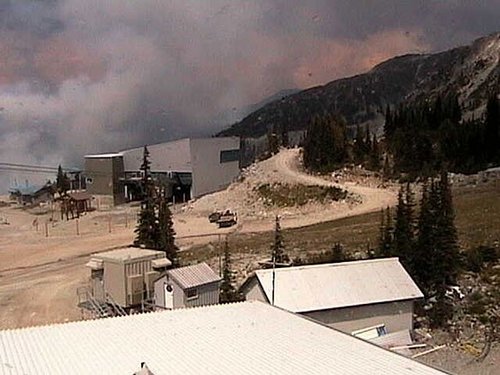 A tower camera shows the forest fire near the ski resort Thursday
Seven air tankers and several helicopters are dropping water and fire retardant on the fire, according to the B.C. Ministry of Forests. Whitton said the winds appear to be pushing the fire east, away from the village.
A lightning strike is believed to have started the fire around 11:45 a.m. PT on the east coast of Crystal Ridge, halfway up the mountain on the northwest flank of Blackcomb Mountain, according to a statement released by Julia Waring, communications director for the Resort Municipality of Whistler.
Witnesses said flames stretched more than 30 metres into the sky.
Pina Belperio watched the fire grow with a bird's-eye view from across Green Lake, north of Whistler.
"You can see lots of red-orange flames building up, and the wind's just blowing the flames just right now, just activating the whole fire," said Belperio.
Ellie Dupont, fire information officer for the coastal fire centre, said the current heatwave is partly to blame.
"We've been going through quite a drying period. And then the lightning we've been receiving, I think this is the third hit for that area," said Dupont.
View live web cams from the resort
.
Story on CBC
.
Follow in our forum
.