---
Whiteface Mountain Bike Park Opens June 18 - Whiteface Mountain Uphill Bike Races Slated for Friday, June 19
The Whiteface Mountain Bike Park, in Wilmington, N.Y., operated by High Peaks Cyclery and the New York State Olympic Regional Development Authority (ORDA), opens for the summer and fall season, Friday, June 18, for a bonus weekend. Riders will have the chance to experience 27 of Whiteface's mountain bike trails or ride the cross country flume trails from 9 a.m. to 3:30 p.m. each day. Giant Bicycles will have their latest cross country bikes which will be perfect to demo on the flume trails. Guided tours of the new flume trails all weekend long by the crew that built the trails. Other events at the mountain include a Pump Track Challenge on Saturday, at noon, and a Super D race on Sunday, also at noon.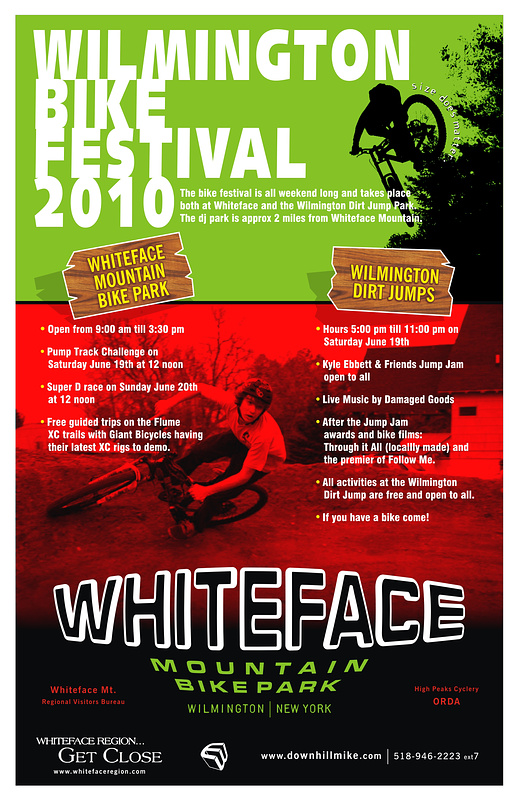 After you're done challenging yourself on the hand-built downhill and cross country mountain bike trails, head on down to the Wilmington dirt jump and skills park for the Kyle Ebbett & Friends Jump Jam, from 5 to 11 p.m., Saturday, June 19. The Jump Jam is open to all levels and abilities and prizes will be awarded for style and creativity. Some of the top pros will be on hand, but prizes are for the amateurs in all age groups. Other events during the Jump Jam include live music from Damaged Goods and a free showing of a local bike film. The evening ends with the feature film, "Follow Me."
The ninth annual Whiteface Uphill Bike Race is also slated for Saturday. Riders from all over the country will ascend up the eight-mile long scenic Whiteface Veterans Memorial Highway. Cyclists begin the 3,500-foot climb at 5:30 p.m. in group waves.
A barbecue dinner will be held following the race and awards will be presented to the men's and women's overall winner and the top three finishers in each class. The Whiteface Mountain Uphill Bike Race is a part of the Bike Up the Mountain Points Series (BUMPS), which includes nine competitions across four states and eight mountains, with Whiteface being the first race of the series.
For more information about the Whiteface Mountain Bike Park, the Jump Jam and the uphill race, log on to www.downhillmike.com, www.WhitefaceRace.com or www.whitefacelakeplacid.com.
---
Established in 1982, the New York State Olympic Regional Development Authority (ORDA) was created by the State of New York to manage the facilities used during the 1980 Olympic Winter Games at Lake Placid. ORDA operates Whiteface and Gore Mountain ski areas; the Olympic Sports Complex at Mt. Van Hoevenberg; the Olympic speedskating oval, Olympic jumping complex and Olympic arena. As host to international and national championships, the Authority has brought millions of athletes, spectator and participants to the region, resulting in significant economic development.