Simply put, 'Women of Dirt' celebrates the bike and the women who ride bikes. Dirt jumping, Freeriding, DH racing and the season ending epic XC ride. Honestly, the film stoked me out on several levels. Check out the trailer and then I will elaborate why this DVD should be in your personal collections.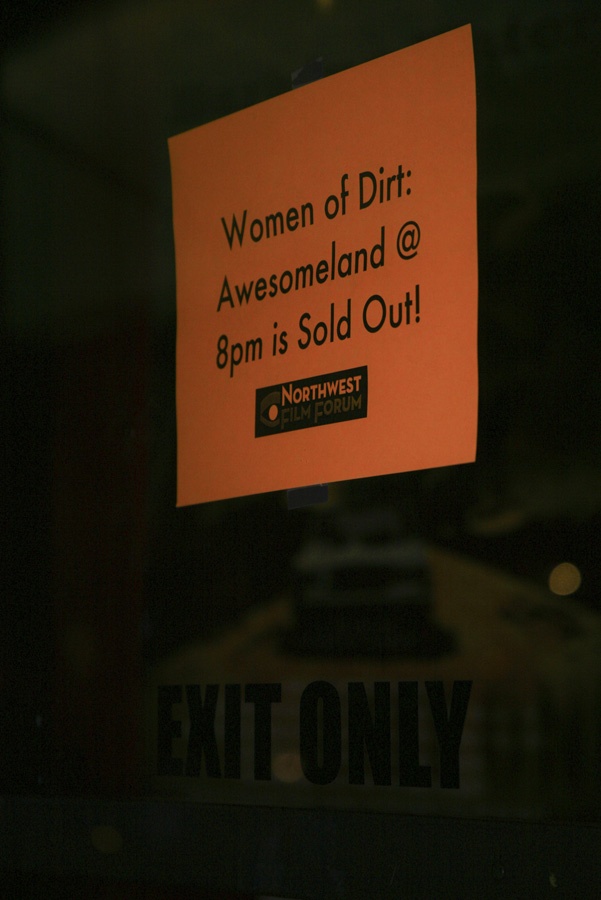 Awesome- It is Sold Out!
Enjoy The Premier Night Video

:

Starring these featured riders

- Dawn Cashen, Lisa Myklak, Emily Johnston, Katrina Strand, Kathy Pruitt, Darcy Turenne, Cierra Smith, Leana Gerrard, Jill Kintner, Tammy Donahugh, Stephanie Nychka, IMBA Pacific Northwest Regional Director Anna Wells and many other riders.
The buzz was on, great tasting beer flowing, people milling about and talking nonstop about biking plans. Talking about new hooks, new places to ride and new faces emerging. I remember so many faces smiling and just having a great time. That is when the word of riding the new 'Duthie' MTB park got planned out- several new trails just outside Issaquah, WA and a game plan was set for a noon meeting. No matter how 'tossed' the girls got- they all agreed it would be a great time.
As I talked to several prominent people that attended I got the feeling that Filmakers Mark Brent and Miles Sullivan hit the nail on the head with this production. Phil Mowatt of CCN really stepped up and helped them complete the film,
Michael 'My-G' Kirchoff of Indamix Records
provided a world class soundtrack and in my opinion should have provided a CD with the DVD because his songs have the tone of the film dialed. Lastly I have to highlight the one element that made this film absolutely spectacular- the editing and presentation of the film could have been straight forward and they could have made each rider's part excruciating long. But they diced it up nicely, giving each rider several chances to get accolades from the viewing audiences.
Late Breaking Girls of Dirt Soundtrack Update: There will be a soundtrack CD available on the Women Of Dirt website soon! So keep checking that site for updates.
The end result. One great film, one great story line and one timeless DVD that will only lead to bigger and better opportunities for the featured riders. The producers have everything to be proud of including a heavy calendar of upcoming premieres at these venues:
Feb 19th
Ray's Indoor MTB Park, Cleveland Ohio.
Feb 25th
Portland Oregon's Clinton Theater.
Feb 28th
Santa Cruz Mountain Bike Festival,
more info here.
Many more shows coming including a Muddbunnies Promoted Show in Vancouver, BC
TBD
- check back at
womenofdirt.com
for more on shows as we lock them in.
Check out this trailer of the film 'Women of Dirt: AWESOME LAND

':

The DVD is available now for purchase. International Distributors looking for copies can contact Mark Brent at mark@bonesovermetal.com or simply get to the Women of Dirt website
here.
Now some sick shots at
Duthie Hill MTB Park!
And here is a link to a Duthie park video on the web.
After riding longer than expected and eating crap on a mud-soaked ladder I headed home to ice my bruises. Thanks to Mark and Dawn Brent for your amazing hospitality. Feb 6th is now 'Mark Brent' day in my opinion. Beth Alcouloumre and Miles Sullivan for everything you guys do- My-G at Indamix Records for the soundtrack, high fives to the
NW Film Forum
for the venue, a back slapping loud toast goes to Phil Mowatt of Cycle Component Network and a huge thank you to all that attended the premiere.
Toodles-
Mike 'northwestdhdad' Estes