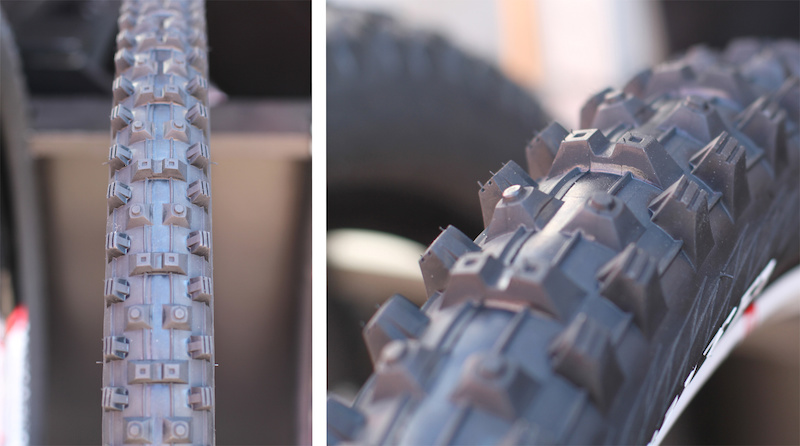 WTB's new Warden
is a departure for the Californian brand in that it is likely the most aggressive tire that they have produced to date, with a deep tread pattern and slightly square profile that should allow it to excel in soft conditions. The 2.3" wide tire, which is only available in a single 26" size, was born from WTB's sponsored enduro racers asking for a serious soft conditions option, and its reinforced casing and TCS (
Tubeless Compatible System
) bead reflect its intentions as a tire that has been designed with burly conditions in mind. It uses a combination of a 60A durometer base for both tread support and reliability, with WTB layering a softer 45A over top to aid traction. As you might expect, the Warden isn't a lightweight race tire, although its 895 gram claimed weight isn't out of line given its intentions.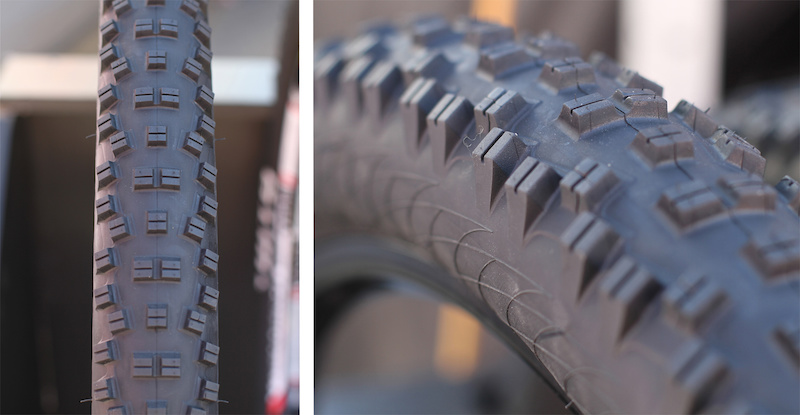 WTB was also showing off their Vigilante tire, a much more all-around option that they are calling their "
premier aggressive all-mountain tire
", with it available in a 2.3" width and 26", 650B, and 29" sizes. It uses a relatively open tread pattern laid over a round casing for predictable handling, and WTB offers it with either their 'Gravity' or 'Dual DNA' casing. Weights range from 725 grams for the 26" TCS model, to 985 grams for the Team Issue version in the larger diameter.
www.wtb.com
---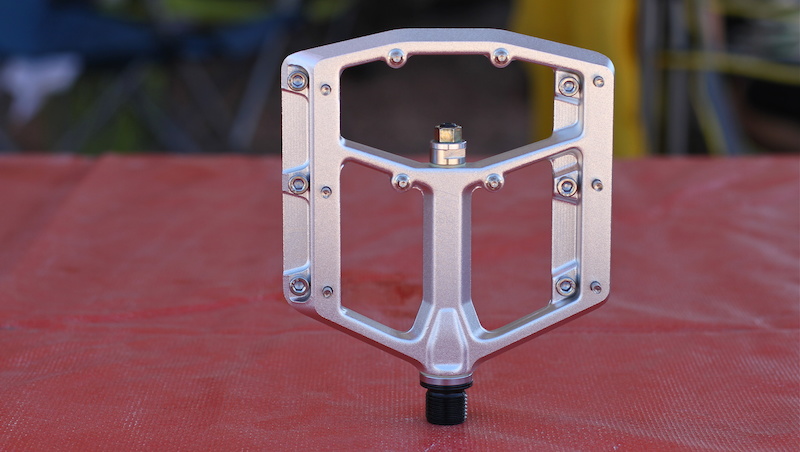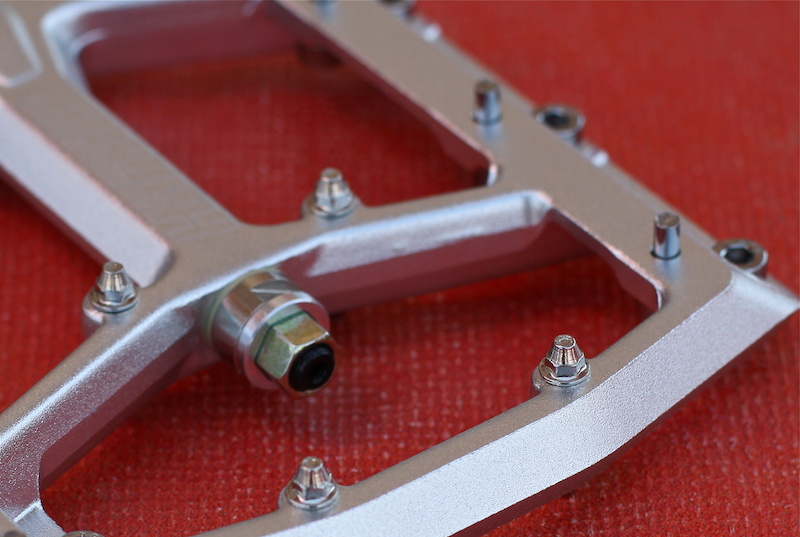 The Harrier is VP's
new high-end platform pedal that should weigh in at around 380 grams when it hits production this coming January. The idea was to create a large platform size that provides plenty of foot support, but at the same time keep pedal strikes to a minimum by employing a respectably thin body. And at 100mm x 120mm, the Harrier's forged bodies should suit those who have large feet, or riders who simply prefer more real estate underfoot. They also measure in at 12mm, a figure made possible by VP's use of two Igus bushings rather than sealed bearings that would add more volume, with the bushings also meaning that they lack the large inboard bearing bulge that is often present on a pedal as thin as these. A set of
external locking nuts on the outboard end of the axle allow the user to adjust their tension and take up any play that might develop over the long haul, although the display set that we tinkered with had absolutely zero rattle and spun as well or better than any sealed bearing pedal we've ever used. It was so good, in fact, that we never would have guessed that they used bushings rather than bearings! MSRP isn't set in stone quite yet, but VP expects them to retail for around $130 USD.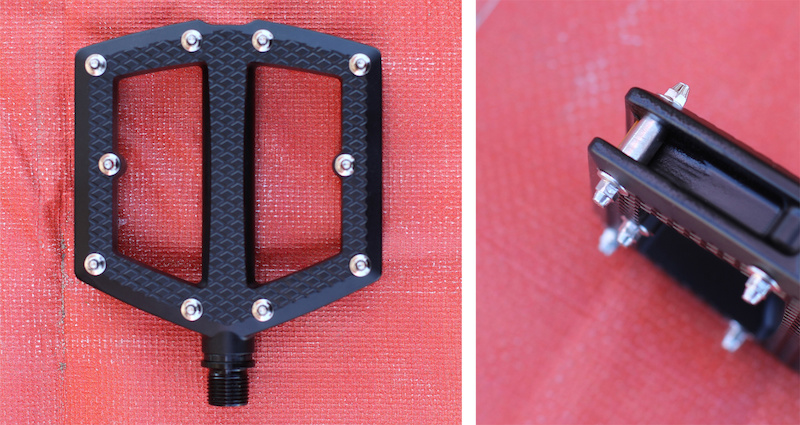 Nylon pedal bodies are catching on in the 20" world, and some mountain bikers are even beginning to run them as well, but the issue of creating a sturdy pin system has been tricky so far. VP has created a clever design where a sleeve is pushed through the pedal body with pins threaded in from the opposing sides to hold it in place, a layout that looks to a address the reliability problems that usually plague a nylon-bodied pedal. The pins themselves feature a wide base to provide support, and they employ wrench flats that should do a better job of resisting damage than set screw-style pins, making them easier to remove when the time does come to perform some maintenance.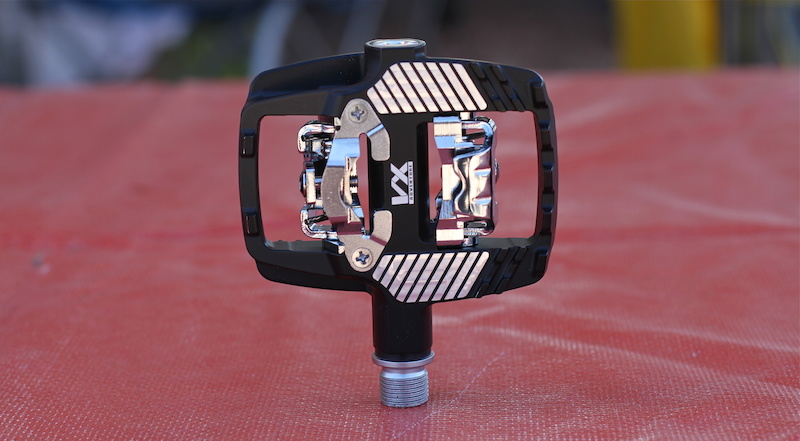 There was more to see than just new platforms at the VP booth, though, with their new range of VX clipless pedals on display as well. The seven pedal lineup includes the Adventure model pictured above that features a burly looking platform surrounding its SPD-compatible mechanism. The 440 gram Adventure spins on two sealed bearings and two LSL (
Lightweight Self Lubing
) bushings, a setup that sounds like it's more than ready for some seriously wet conditions. Expect them to retail for under $100 USD when they become available this coming January.
www.vpcomponents.com
---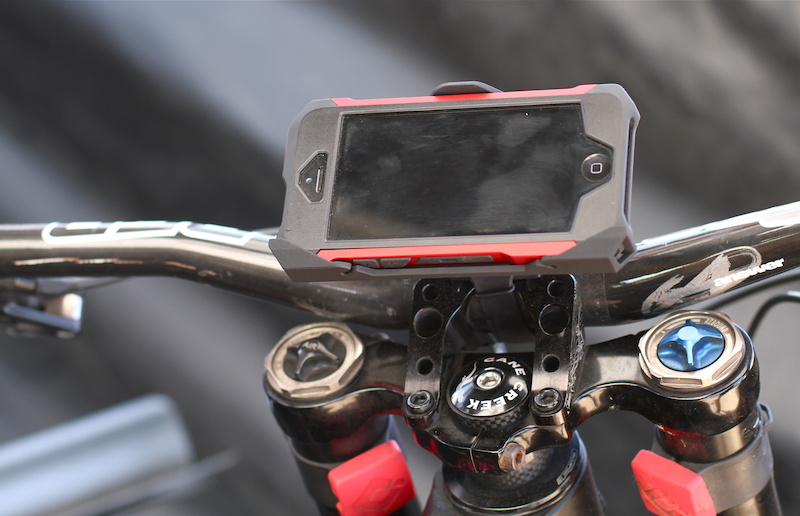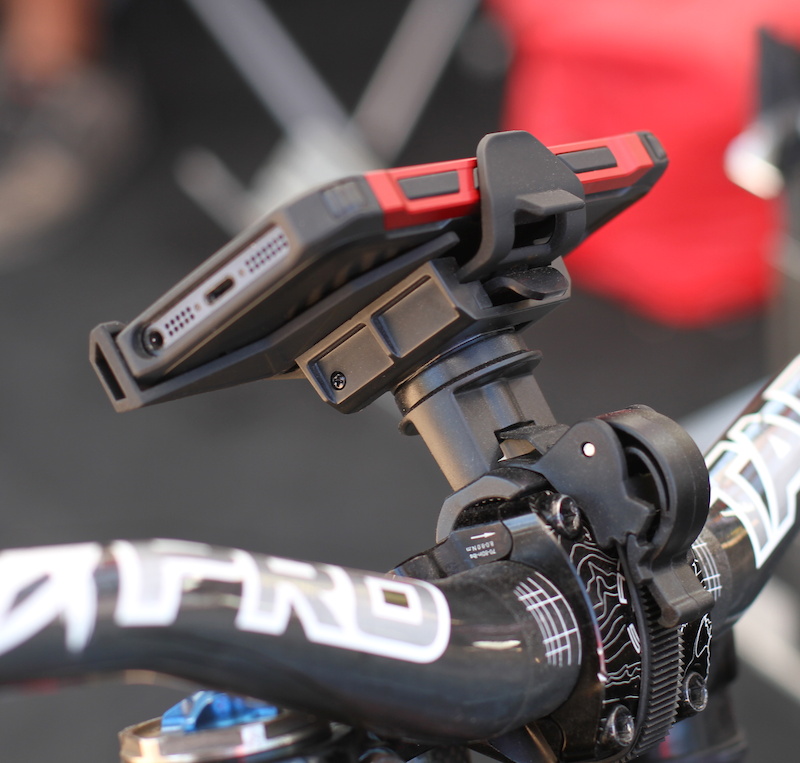 Element Case
is well known for their high-quality iPhone protection, with their range of cases employing everything from aluminum, titanium, carbon and even wood. They also offer their $219.95 USD
Sector 5 Black Ops Elite iPhone 5/5S case
with a material called G10 that, according to Element, is "
a high-pressure thermoset plastic laminate consisting of multiple layers of woven fiberglass mesh cloth impregnated with an epoxy resin binder.
" Fancy stuff. It's their new and bike friendly FuseDek system that caught our eye, though, as it allows your iPhone 5 to to attach to your handlebar, stem, and pretty much anywhere else you'd like to have it. The mounting system includes a number of different mounts that can be purchased individually, with the phone, in its case, held within the FuseDek platform and being able to be swapped easily from mount to mount. Why would you want your iPhone mounted on your bike? Live GPS data on the go might be one reason, or if a rider wanted to use their phone to film. Of course, you'll want to have the phone in a sturdy case, which is why the one pictured here is in Element's new $99.95 USD Rouge AL
case. All of the above will only be available for the new iPhone 5 and 5S phones, meaning that iPhone 4 owners are out of luck.
www.elementcase.com