Yeti Cycles
worked hard to keep the details of their latest trail bike, the SB5c, under wraps until development was completed and production was underway, which is why details about the new bike have been nearly nonexistent, at least until now. The SB5c is a full carbon affair, with a 67° head angle and 127mm of rear travel via a very unique suspension design called Switch Infinity, the details of which we'll be diving into shortly. Earlier this summer, Yeti granted us a behind-the-scenes look at the new bike during a visit to their headquarters in Golden, Colorado, along with a chance to put one of of the first production models through its paces back home in the Pacific Northwest. Available in five sizes, from XS to XL, the SB5c will be offered with several different build kits, starting with an X01 equipped version for $6599. Our test bike came shod with ENVE's M60 wheels and a dropper post, which boosts its price to $8999 USD.

• Intended use: trail
• Wheel size: 27.5''
• Rear wheel travel: 127mm
• Carbon fiber frame
• Switch Infinity suspension design
• Fox Float FIT CTD 140mm fork
• Sizes: XS, S, M, L, XL
• Colors: turquoise, black
• Weight: 26lb (size M w/o pedals)
• MSRP: $8999 USD
Frame Design
Yeti's bikes have always been curvy, eye-catching affairs, a tradition dating all the way back to the rounded stays of the ARC hardtail from the early 90s, and the SB5's carbon frame continues this trend. With the exception of the seat tube, there's hardly a straight line to be found – even the chain stays have a slight upward curve to them. Yeti hasn't given in to the
internal cable routing trend yet, but they've done well by cleanly routing everything along the top of the down tube, along with including a exit point for a stealth dropper post. The bike uses a PressFit 30 bottom bracket, and a bolt on ISCG adaptor is available for riders who wish to run a chain guide. Lately, we've been seeing more and more bikes designed without making concessions for a front derailleur, but the SB5 isn't one of them. Yeti's designers felt that enough riders still desired the extended gear range provided by a 2x or 3x setup that they weren't quite ready to make a bike that was only 1x compatible.
Switch Infinity Suspension Design
Three years in the making, and developed in collaboration with Fox Racing Shox, Yeti Cyles' Switch Infinity suspension design is unlike anything currently on the market. No, that's not a second shock located just above the bottom bracket, despite what the distinctive color of the Kashima coating might lead you to believe. It's actually two short rails, the heart of Yeti's "translating pivot" suspension configuration. Initially, as the bike goes through its travel the carrier moves upwards on the rails, giving the bike a rearward axle path for improved pedaling and small bump absorption. As the rear wheel goes deeper into its travel the mechanism moves downwards, reducing the amount of chain tension for better big hit performance. The unit itself doesn't actually move that much – about 4mm in either direction – but when you attach a 17.4 inch lever to that (the length of the SB5's chainstays), it does make a difference in the bike's wheel path.
The description of how the Switch Infinity works may sounds very much like how Yeti's
Switch eccentric
system behaves, but according to Steve Hoogendoorn, Yeti's vice president and one of the designers of the new system, "The motion is similar between the two, but mechanically there's a really big difference. With the eccentric we essentially have a really, really short link – something that's less than 15mm, whereas the mechanical analogy for the rail is the exact opposite. Instead of creating a short link, we're creating what's essentially a link that's an infinite length long. That difference allows us to not have the feeling of the suspension locking up, and it opens doors due to the flexibility of the system. We're able to tune wheel path and anti-squat extremely precisely and accurately, which we couldn't do as easily with the Switch." Another advantage of the Switch Infinity system is the weight savings it brings to the table – this new layout saves 100 grams over the previous eccentric system.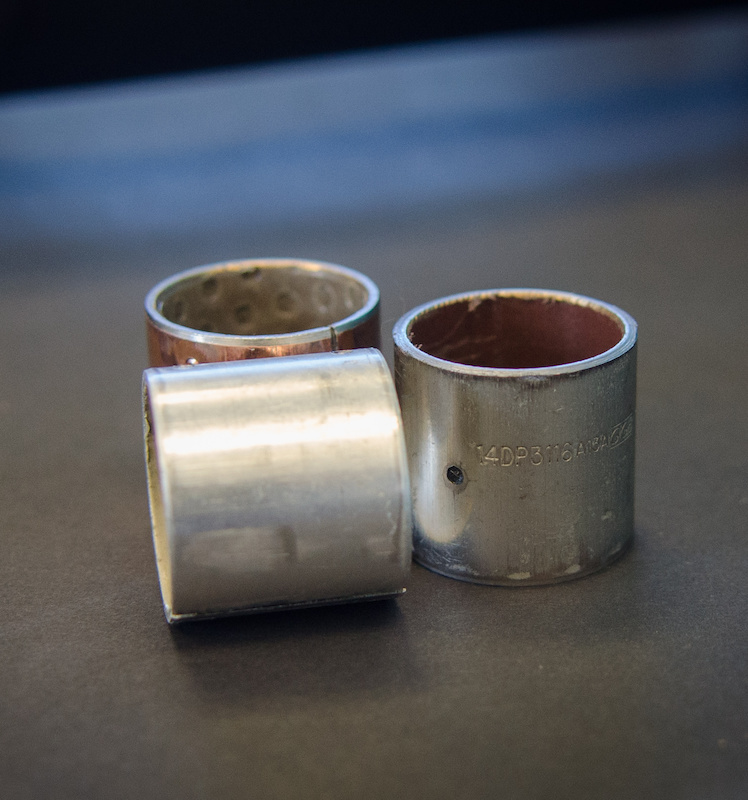 Various prototype "mules" were scattered about during our visit to Yeti's headquarters, visual evidence of the multiple iterations the new system has gone through. As the concept began to approach reality, Yeti contacted Fox Racing Shox in order to harness their knowledge of bushing and stanchion technology, as well as their testing capabilities. One of the biggest concerns for the system was weather. Although the frame design does protect the back of the unit from any direct mud or dirt spray, it's still rather exposed to the elements, especially considering its positioning on the frame. Fox's test facility includes machinery that can cycle suspension elements millions of times while they are submerged in anything from water to sand, allowing the engineers to see how they hold up in the worst of the worst conditions. Five different types of bushings were tested, and in the end, Yeti's designers ended up choosing to go with the same ones that Fox uses in their suspension forks, with seals from Fox's off-road division.
The unit itself is fairly simple, and it can easily be removed from the frame if necessary by unscrewing the four bolts that hold it into place. Each aluminum shaft is surrounded by a bushing and two dust seals, and a grease port is located on each one to keep things running smoothly. A hollow axle runs between each of the two rods and sits on sealed cartridge bearings. This axle threads into the driveside of the frame, and is then locked securely into place using an expanding collet system. As to whether this system could be adapted to longer travel applications, be it in the form of a SB66 successor or even a full blown DH bike, Peter Zawistowski, Yeti's engineer said, "The length of the rails doesn't change that much with different amounts of travel. It's more where the rail is located and the angle of the rail, along with where the link is located in relation to the rail. Regardless of the travel, that motion doesn't change that much."
Specifications
Price
$8999
Travel
127mm
Rear Shock
Fox Float CTD
Fork
Fox Float 34 140 Factory
Headset
Cane Creek 40
Cassette
SRAM XG1195 11spd
Crankarms
SRAM X1 1400 (32T)
Chain
SRAM 11spd
Shifter Pods
SRAM X01 11spd
Handlebar
Easton Haven Carbon 740mm
Stem
Thomson Elite
Grips
Yeti lock-on
Brakes
Shimano XT
Wheelset
Enve M60
Hubs
DT Swiss 240
Rim
Enve
Tires
Maxxis Ikon 2.2 TR/ Ardent 2.4 TR
Seat
Yeti WTB Volt Custom
Seatpost
Thomson Elite Dropper
---
The fact that the SB5 has Kashima coated rails tucked into its carbon frame should provide enough fuel to keep armchair engineers yammering away in the forums for the next year, but speculation only goes so far, and what really matter is how the SB5c rides in the real world. We were able to convince Yeti to send one of the first production models up to the Pacific Northwest, where we would be able to see how it handled our steep, rooty, twisty, and often wet, trails.
Climbing
Suspension set up on the SB5c was quick and easy – the Switch Infinity system doesn't require anything strange as far as rear shock set up goes, and once the Fox Float CTD was set between 25-30% sag depending on personal preference, numbers that ended up being close to body weight, the bike was ready to go.
This season has seen a bumper crop of bikes that are mediocre climbers and excellent descenders, which is fine if most of your riding involves dirt road climbs and rowdy descents, but it's not as great for those rides with an elevation profile that looks like the EKG machine readout, with both technical climbs
and
descents. That's where the SB5 comes in. Weighing only 26 pounds, and shod with the fast rolling Maxxis Ikon in the rear, this bike is a climbing fiend, whether it's grinding out the miles on a long, sustained section of singletrack, or sprinting up a wall of roots that requires extra-precise wheel placement to avoid losing traction. It's a bike that encouraged out of the saddle sprinting, typically to the dismay of my riding partners, who were no doubt wishing I was testing something ten pounds heavier.
The SB5's lack of pedal bob is sufficient enough that a good portion of my time aboard the bike was spent with the rear shock flipped into Descend mode, especially on trails with chunky climbs that required as much traction as possible. It was on those type of trails that this bike ended up being the most fun. Yes, it is possible to use the words 'climbing' and 'fun' in the same sentence, particularly on a nimble, light bike that makes it easy to unlock the tricky sequences that would stymie a more cumbersome, less maneuverable machine. The bike felt well balanced, and even when speeds slowed to a crawl, a little hop here and an extra pedal stroke there would keep the SB5 deftly picking its way up the hill.
Descending
The SB5c retains its nimbleness on the descents as well, and on high speed, smoother sections of trail it's like riding a hummingbird, effortlessly zipping in and out of turns, but with enough stability that it never felt twitchy. It doesn't ride like the Cadillac its numbers (
a long top tube and 442mm chainstays
) suggest, with handling more on par with that of an Indy race car, giving it the ability to bob and weave around corners with pinpoint precision. The bike's top notch handling can make it easy to get a little over-excited and forget that this is a trail bike, not an all-mountain rig - on really rough, chopped up sections of trail it was necessary to rein it in a bit to avoid getting bounced off line. This wasn't anything to do with the frame itself, as its stiffness both climbing and descending was excellent, but more to do with the combination of the bike's light weight, low profile tires, and 127mm of travel. This is a trail bike through and through, and it excels at its intended purpose. For those big, all-day backcountry adventures, the type that are available within close proximity to Yeti's Colorado headquarters, the SB5 is a stellar companion, a bike that can make the climbs feel as painless as possible, and remain extremely well composed on the descents.
What about the Switch Infinity system? Well, its transition from upward to downward movement was seamless, providing a good platform for standing up and sprinting, while also having travel in reserve for the bigger hits. There were no harsh bottom outs, even when using all of the travel on larger jumps and drops. The only time I noticed anything slightly different than expected from the rear suspension was on a portion of trail that has a rhythm section consisting of five or so smaller jumps in a row, with many of the landings leading directly into the takeoff of the next jump. When the bike first touched down there was plenty of support, but the simultaneous combination of landing and preloading for the next jump occasionally made the bike sink further into its travel than expected. It took a fairly specific set of circumstances for this to occur, and it wasn't detrimental to the handling, it just took a little getting used to. Otherwise, the mechanism itself was silent, even after being given a good soaking and a mud bath from a summer storm. The true test would be to ride it over the course of an entire season, but so far there's no reason to expect that it should require anything out of the ordinary when it comes to maintenance, and it's a good deal easier to service than the eccentric unit that preceded it.
Component Check
• Maxxis Ardent 2.4 and Ikon 2.2 tires:
The Ardent / Ikon combo would be great for most Colorado style riding, which entails miles of hardpacked, and often dusty trails. In our neck of the woods things tend to be wetter and steeper, and trading in the Ardent for something meatier would be on the short list of recommended component swaps. The Ikon rear tire's super low profile tread pattern also had me a little skeptical at first, but in dry to slightly wet conditions it performed much better than expected, especially set up tubeless and with reduced air pressure. It's still something of a specialist, and it wouldn't be ideal for really wet or steep, loose terrain, but for summer time trail riding, when the trails are typically running hard and fast, the Ikon's low rolling resistance will let you go even faster.
• Easton Haven bar and Thomson Elite stem:
Our test bike came with a 740mm Easton Haven carbon handlebar and a 70mm Thomson X4 stem. They're both well made, high end components, but the trouble is that one's a little too short and the other's a little too long. Yes, 740mm is probably perfect for some, but why not spec a wider bar and give riders the option of trimming it down? These are little details, but just because a bike has less travel and is intended for trail riding doesn't mean that the benefits of a wide bar and short stem don't apply. Plus, Yeti's geometry, which has traditionally favored longer top tubes than many other companies, lends itself perfectly to the use of a shorter stem.
• Fox 34 Float:
With seven different settings in the Trail mode, having a fully open Descend mode almost becomes unnecessary. The fork's progression from supple beginning stroke to a firmer ramp up felt a little sudden - the beginning portion of the travel is extremely soft, but then it stiffens up quite quickly as it goes through its travel. No doubt this is Fox's response to complaints that prior versions dove through their travel too quickly, but it seems as if this progression could be slightly less abrupt, providing a more gradual ramp up.
• ENVE M60 wheels:
The M60 wheels didn't give us any problems, and certainly added to the overall liveliness of the bike due to their stiffness and vibration damping. As to whether they're worth the over $2,000 upcharge, well, that's between you and your wallet.
Pinkbike's Take:
| | |
| --- | --- |
| | The SB5c is an excellent addition to the Yeti family, a well executed trail bike tailor made for those long rides that are the epitome of mountain biking, rides chock full of long climbs and hopefully even longer descents. We'd make a couple small changes to the bike's tires and cockpit, but other than that it's ready to rocket up and down the trails right out of the box. Light, fast, and most importantly, fun, the SB5 fits our definition of how a trail bike should behave. We've been fans of Yeti's Switch suspension technology since its introduction, and the sentiment continues with the new Switch Infinity design. The fact that Yeti has been able to make the system lighter and simpler without losing any of the traits that earned the previous version praise is impressive, and we're excited about its potential, especially when it comes time for Yeti to release longer travel offerings. - Mike Kazimer |
www.yeticycles.com