087Seb
Member since Aug 2, 2017

Male
Glasgow , United Kingdom
Block user
Recent

Selling
Feb 1, 2021 at 5:00
Feb 1, 2021

Selling
Aug 7, 2020 at 6:55
Aug 7, 2020

Apr 1, 2020 at 5:55
Apr 1, 2020

Selling
Apr 1, 2020 at 5:48
Apr 1, 2020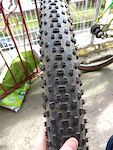 $25 GBP
Changing the tyres my surly so these are spare. WTB Ranger 29 plus, 3 inch tyres, folding bead in decent shape. These are the "light" version but obviously they're not featherweight cross country tyres due to being so wide. These haven't been ridden in anger, only a dozen times around the local xc trails. Ideal for bike packing or rigid bikes for their bouncy feel. They were used tubeless so some sealant residue but this doesn't affect them in any way. Price includes postage and PayPal fees, discount for collection. I can chuck in some 3inch tubes for another £5 if required.

Mar 14, 2020 at 1:24
Mar 14, 2020

Selling
Mar 14, 2020 at 1:18
Mar 14, 2020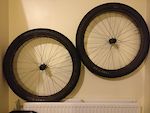 $110 GBP
**collection only in Glasgow** Great mid range wheelset for someone on a budget. MRB gave these a 10 out of 10 in their mid range wheel review when they came out. https://www.mbr /reviews/wheelsets/sun-ringle-duroc I am the second owner of these, however I bought off someone who said they were off a new bike only used for a few rides and I have used these for less than 200 miles. I've just decided I like 29er better. They are set up kinda ghetto tubeless using a cut open inner tube to seal the spoke holes… which I actually do on all my wheelsets now because it's easier than tape and works better, imo. The only issue is a little bit of rust on the freehub splines. There's hardly a mark on the rims, they run true and bearings feel like new, tyres are also in very good condition. Numbers bits 27.5 X 3 inch Rims are 35mm internal, 40mm external 28 straight pull spokes front and rear Boost 148×12 and 110×15 Standard Shimano freehub Sorry not in a position to post but viewing welcome. Cheers Seb

Mar 3, 2020 at 3:38
Mar 3, 2020

Selling
Mar 3, 2020 at 3:37
Mar 3, 2020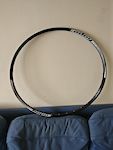 $20 GBP
Good condition, not bent, no dings, used for about 100miles but I've changed to a wider rim. 32hole, 20mm internal, 25mm external, ERD 605 Price includes postage and fees.

Selling
Oct 8, 2019 at 3:09
Oct 8, 2019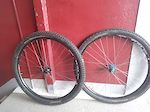 $150 GBP
Great adaptable wheelset for sale, minimal use. Both on WTB ST i23 29er rims setup tubeless on conti mountain king tyres, 2.2 rear, 2.4 front. Rear is Hope pro4 single speed specific hub (I've been told you can fit 7sp cassette on). Currently setup 142x12 but I can include the axle that converts it to 135x10 with qr end caps (if you buy the 10mm bolt in end caps this axle can also be used with 10mm bolts) There's a little bit of marking on the freehub splines but it's never been a problem getting cogs on or off. Front is a Superstar Electro hub (almost as nice as hope) and is currently 100x15 but I also have the end caps for 100x9 qr I can also throw in a simple washer spacer kit to add to the 6 bolt disc and the axles to be able to fit on a boost 148x12 and 110x15 bike, they are a bit fiddly but do the job fine. Front tyre got a pinch while tubeless which I have repaired, holds air fine now. Other than that there are really no issues. Used for about 100miles and all in great condition. I'll throw in some tubes too! Open to offers. Collection Glasgow Southside or postage at your expense.
Load more...