1800KAOS
Member since May 28, 2020

Male
Annapolis , Maryland
Block user
Recent

Oct 30, 2021 at 9:03
Oct 30, 2021

Selling
Oct 30, 2021 at 9:00
Oct 30, 2021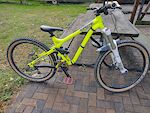 $1300 USD
2014 Commencal Supreme Jr (Med. frame) 26" wheeled bike. They had a Small and Medium version of these bikes. Those specs can be found at this link. https://www.vitalmtb.com/product/guide/Bikes,3/Commencal/Supreme-JR,12849 160mm Travel front and rear. Bike has upgraded X-Fusion fork and rear shock. Fork is Air and operates well with around 40-45lbs, rear shock is run at 80-90 depending on trails for a kid weighing 80lbs. Good condition Maxxis Minion DHF's were new at beginning of season. I modified the cranks to be 150mm length, why the bike is spec'd with 170's when kids >5 ft tall are riding it is beyond me. Son has grown too much over this year and now needs a larger bike. Will be including new seal kit for forks and 2 sets of new pads for calipers.

Oct 10, 2021 at 10:25
Oct 10, 2021

Selling
Oct 10, 2021 at 10:19
Oct 10, 2021
$1700 USD
2014 Evil Uprising Xl carbon frame Rockshox Pike 160 with debonair upgrade Easton Haven wheelset Race Face Atlas bars and stem Fox CTD rear shock Saint rear brake XT Front brake 180 F&R rotors Rear shock has less than 5 hrs on full rebuild, Pike upgrade also 5 hrs Bike had delta links cleaned, 2 bearings changed and regreased with 0 ride time since. Brand new DH tube installed in rear, Brand new regular tube in front Slight abrasions on frame from shuttling. New bike is here and this one needs to find new home.

Oct 10, 2021 at 8:05
Oct 10, 2021

Selling
Oct 10, 2021 at 8:04
Oct 10, 2021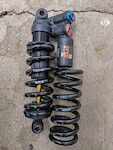 $315 USD
Bought this to upgrade my sons Commencal, the reservoir hit the frame halfway through the stroke. Purchased it on PB from guy who said it was gone through at beginning of the year. Seems to be nice and tight. Has 450 and 500 springs with it. Set up with 22x10mm bushings. also has "climb" switch setup. Would trade for same dimension CaneCreek DB inline coil shock.

Aug 3, 2021 at 14:49
Aug 3, 2021

Jul 23, 2021 at 10:36
Jul 23, 2021

Selling
Jul 4, 2021 at 15:09
Jul 4, 2021

Feb 1, 2021 at 8:12
Feb 1, 2021
Load more...