79er
Member since Jul 31, 2009

Male / 41
Reading , United Kingdom
Bikeaddict

Block user
Recent

Selling
Aug 29, 2020 at 2:17
Aug 29, 2020

Selling
Jul 21, 2020 at 3:40
Jul 21, 2020

Selling
Jul 11, 2020 at 8:18
Jul 11, 2020

Selling
Jul 11, 2020 at 8:18
Jul 11, 2020

Selling
Jun 28, 2020 at 2:42
Jun 28, 2020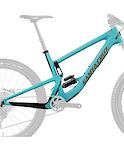 $2450 GBP
Very recently bought. Selling partly as think actually need an XL, and because half way through a large house extension. Not in a hurry to sell, as it's a popular frame at an already great price, so no silly offers, as I'm not planning needing to budge hardly at all. Brand new, in box, warranty not yet registered. Original owner with invoice. It's the industry blue/gold colourway, which looks insanely good in the flesh. Note this is the CC model frame, not the cheaper C frame. Here's the SC blurb: The Santa Cruz Bronson 3 CC 2019 industry blue/gold frame has a ton of personality. With 150mm of travel it redefines expectations of what you can do with a mountain bike . With VPP system and 27.5 "wheels, it always mounts at that point of balance between agility and stability. Ideal for the most technical areas and the trails with more flow , it offers a more refined handling than ever. In addition, you have Plenty of room to ride 2.8 "Plus wheels with super wide rims, 27.5" regular wheels and 2.6 "tires. In this way you can find that point between perfect traction and velcro grip with the support of wider and reinforced tires.

Selling
May 29, 2020 at 2:55
May 29, 2020
$2999 GBP
Yeti SB100 T-Series Turq Carbon Frame. Size XL (Suits 6'+). New & Unused. Includes the following:
- Fox Transfer Factory seatpost
- Fox 34 Factory 29 44mm 130mm fork
- Yeti headset Can do frame alone, enquire for details. LAST WE CHECKED, "XC-STYLE" RACING ON A MOUNTAIN BIKE DOESN'T STOP ONCE YOU CREST THE CLIMB. CRUSHING SOULS ON THE DESCENT IS MORE THAN HALF THE FUN. AND A HELL OF A LOT MORE THAN HALF THE POINT. FOR RACERS WHO WANT TO FLY DOWN AS MUCH AS SOAR UP, THE SB100 IS THE BIKE WE'VE ALWAYS WANTED TO MAKE. Simply a stunning frame. It would make the perfect UK Trail bike, fit for a race one day, and a trail centre the next. It has a single, solitary tiny ~3mm chip which is purely cosmetic, and genuinely barely noticeable. Other than that it's pristine and new & unused as listed

Selling
May 13, 2020 at 7:54
May 13, 2020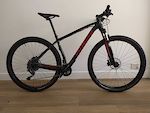 $900 GBP
2013 Specialized Stumpjumper Comp Carbon 29 Condition: Excellent mechanically, very good aesthetically, with a few minor cosmetic blemishes from normal use. Nothing remotely structural. See below for more details. Material: Carbon Fibre Frame size 17.5"/M Wheel size: 29" Front travel: 90mm Rear travel: 0mm Price: $900 GBP Restrictions: Local collection or will ship at your cost. This is a 2013 bike which I have owned since new. It is finished in a rare black/red gloss finish and is a fast XC race bike. Weight as photographed with components at the moment is just 11kg (24lb) with plenty of scope to reduce weight. Mechanically in excellent condition, with drive train and cranks replaced recently, brakes upgraded from the original Magura, and new saddle & grips. Frame has some scuffs as you would expect at this age but nothing major. Happy to provide more detailed photographs or a video walk around. FACT IS 8m carbon HT frame with 29er geometry is engineered with a tapered head tube, hollow carbon dropouts, PF30 BB, for a stiff, responsive and race-ready design RockShox Reba RL 29 fork with 90mm travel, Solo Air spring, w/Lockout and rebound adjust, provides premium XC suspension performance. Upgraded topcap compatible with bottomless tokens, 1 token fitted and 4 spares. Roval 29" rims mated to Specialized Hi Lo hubs, 135mm rear hub spacing, and DT Swiss stainless spokes make a high-quality, lightweight wheel set. Recent upgrade to Truvative X9 cranks with PF30 spindle and alloy arms for smooth, efficient power transfer. 2x10 STRAM X7 shifter & 36/22 chain rings. Upgraded to Shimano XT brakes BR-M8000 with finned pads Recently upgraded cassette, Sunrace, 10-speed 11-42t cassette New specialized BG Henge saddle and replacement Specialized Sip grips Specialized XC flat handlebars, 2014 butted alloy, 680mm wide, 8-degree backsweep. (original bars, but as-new condition as I rode the bike with different bars) Specialized Ground Control (front) and Purgatory Control (rear) tyres, both well worn and currently setup for tubeless. Local collection or will ship at your cost.

Selling
May 11, 2020 at 9:39
May 11, 2020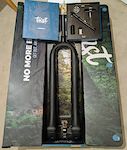 $725 GBP
Trust Performance Message Suspension Fork. True innovation in suspension, not just using the word. Having ridden a few pairs, the cornering is what stands out in particular, and after riding them, it's hard to go back to telescoping forks! Unlike anything you'll ever ride again. This pair are a new bike take off, as decided to go for a Shout instead. Steerer is cut, but plenty long at ~220mm, complete in original Trust box with all the manuals and spares, with full warranty back up. It's 99% showroom condition no damage, not ridden on dirt, only a couple of small marks, thus why listing as 'New other' 130mm contour travel (replaces most 110-140mm forks) 1980 grams Boost 15x110mm thru axle When you're out hitting your favorite trails, you want your bike to work so well it disappears below you. The Message's unique wheel path and geometry track bumps and rip corners at a level you've never experienced. Welcome to a new world of wide open.

May 8, 2020 at 4:11
May 8, 2020
Mavic Placed into Receivership in France
Honestly don't agree. I've run loads of Mavic wheels (and Hope, DT, Spank etc etc) over the last 2 decades, and whilst there were some made of cheese, my Deemax and XA carbon pros of the last 3 years have been phenomenal, no breaks, no trying issues, and easily serviceable. Bought both at stunning prices too. Here's hoping they find a buyer and can be resurrected, and keep making great products.

Selling
Apr 13, 2020 at 1:52
Apr 13, 2020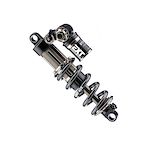 $750 GBP
Brand New EXT STORIA LOK V3 Any size. Full Ext warranty. Renowned as the very best on the market, without exception Superior to Push ElevenSix 11-6 Fox DHX2, Ohlins TTX. EXT STORIA LOK V3 – ENDURO RACING – Metric and Imperial sizing – Standard or Trunnion mount – 4 way adjustable (LSC-HSC-LSR-Lok proprietary system) – High flow Ø29 mm main piston – Ø24 mm valve piston – Ø14 mm shaft – New Lok Technology – Progressive opening – Silent working – Engineered rebound circuit to separate bump and rebound oil flow – Ultra low-friction coating – Factory tuned HBC technology – Very low reservoir pressure for maximum sensitivity (55 PSI) – Full custom hydraulic setup available – No cavitation – Very low hysteresis for high dynamic response – High turbulent flow for very low temperature depending – Low friction Energize seal – Thinner bottom-out bumper – New rebound knob for easy spring swap Weight: 636 gr. (200×57 mm. Standard mount – 375 lbs. spring) AVAILABLE LENGHTS / STROKE IMPERIAL 190 / 51 mm 200 / 57 mm 216 / 63.5 mm 222 / 67 mm METRIC STANDARD 210 / 50 mm 210 / 52.5 mm 210 / 55 mm 230 / 57.5mm 230 / 60 mm 230 / 62.5 mm 230 / 65 mm 250 / 67.5 mm 250 / 70 mm 250 / 72.5 mm 250 / 75 mm If you have a trunnion mount, message me for a quote. Any questions, drop me a line.
Load more...