The Mount Shasta Ski Park in Mt. Shasta, CA will be hosting its first annual "Shastarama" downhill and cross-country races July 18-19!
The park will also be open to the general public!
Learn more inside
:July 17th to July 19th Mount Shasta Ski Park, along with Shasta Basecamp will host a mountain bike fest weekend!
The cross-country race will be on July 18th and the downhill will be on July 19th. The mountain will be open to the public all three days!
Mountain Bike Fest Details:
-race entry fee per event is $35 or $60 if you do both
-lift tickets are $12 for competitors and $15 for the general public each day.
-all courses are open to the public (and competitors for pre-race inspection) on Friday
-DH course will be open to the public on Saturday and the XC course will be open on Sunday to the public.
-Courses are closed to the public during race days
-Coyote Cafe and the Bar will be open all three days
Rumor has it that the park may plan more events if the turn-out is good, so grab your gear and come out to NorCal for the weekend!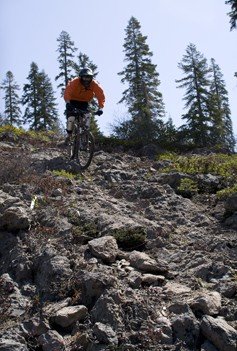 A section of the DH course.
Source
:
http://www.skipark.com/shastarama.html