The trail crews have been hard at work on both Mt. Shasta Ski Park's downhill and cross-country race courses in preparation for the big event, and they are both approaching final completion.
Pre-Registration for the event is available online Here
The time is nearing. Berms are getting their final pack-down. Jumps are being tested. The Shastarama DH race course in Mt. Shasta, California is almost ready for riders.
The event weekend kicks off Friday, July 17th, with the opening of both the DH and XC courses open to any and all riders (no race entry required to ride). The XC race will then be held the following day, Saturday, with open riding still available on the DH course. The DH race will then commence Sunday morning, and open riding on the XC course will re-open. This means that entrants into either race will have 3 full days of awesome riding!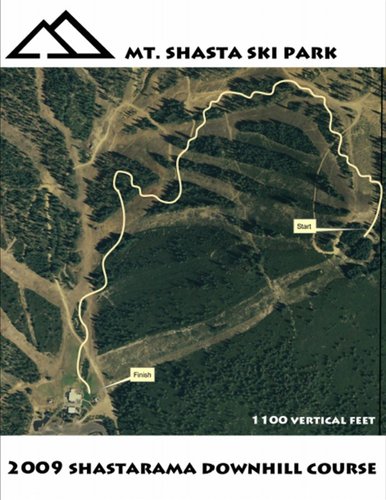 The DH Course map
Find more great pictures of the course's features at the Ski Park Webpage!!
Sponsors for the event include
Lost Coast Brewery
,
Redbull
, and
Cove Bikes
. There will live music Friday and Saturday nights, as well as great food and drink from the bar & grill at the lodge.
Entry fees for both XC and DH races are $35 per person, or $60 per person for entry into both races. Lift tickets for the public are $15/day, and $12/day for competitors. T-shirts will also be available! Overnight accommodations are available just 20 minutes away in Mt. Shasta City, as well as several bike shops, including my personal favorite,
Shasta BaseCamp
on Chestnut St.
-
ambikerjj8.pinkbike.com