Kirk McDowall is like the under-the-radar mountain biking version of Ryan Gosling in each of his movies. The guy likes to ride his motorcycle, flip his blonde hair over to one side and carry out conversations using as few words as possible. The 22-year-old has been quietly ascending the ranks for the past few years, and you can also usually find him on a podium on the Northwest Cup circuit, and more recently, climbing past alot of big names on the World Cup results sheets.
We decided we wanted to strip everything away and just let the riding do the talking in the first piece of a string of videos coming out over the rest of the year. With Kirk, we spent a few days at Harper Mountain in late July to have fun and get loose on the hot and dusty trails that Kamloops is partially renowned for, and focus on creating something that was definitely a little bit different.
Kamloops is hot as hell in July, but the allure of traction-less dust and rocks is apparently tantalizing to downhillers. Sunshine in the trees has the reverse effect on filmers, but we did our best to make it work by leaving the hottest (and spottiest) parts of the day open for relaxing around nearby Paul Lake, which was in full tourist fury at this point in the Summer.
In order to capture an accurate representation of each section of the trail, we suited Kirk up with a custom-rigged "braudio" device using some bungee cords, electrical tape and a conveniently uncovered motocross chest plate which we could all Macgyver together. By the end of the audio recordings, it was safe to say that Kirk had a newfound respect for female athletes and their ability to perform carrying that extra baggage up front.
Harper is fun, fast and rowdy. With the Summer coming soon to a close (sorry), the dust will soon be settling and the clouds returning to block out the sun. That being said, fall riding in BC is quite possibly the best, so we'll be looking forward to some more rides and epic sunsets.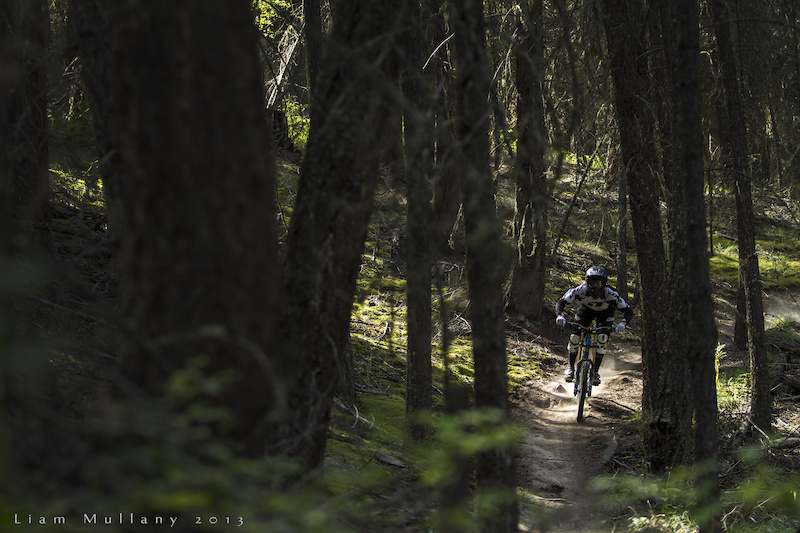 Words, Photos and Video by Liam Mullany
Absolute Zero Cinema
absolutecine.com
Over the next several months on Pinkbike, we'll be releasing many more short "Over The Edge" episodes through the EpicTV channel highlighting different riders, locations and stories around BC. Stay tuned for everything that we're working on!