AidanTegtmeier
Member since May 22, 2019

Male / 27
Allison Park , Pennsylvania
Block user
Recent

Nov 20, 2021 at 8:23
Nov 20, 2021

Sep 27, 2021 at 19:41
Sep 27, 2021

Selling
Sep 27, 2021 at 19:37
Sep 27, 2021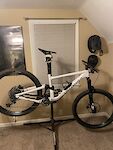 $4650 USD
Buyer pays shipping. Excellent condition SRAM gx carbon crank upgrade Less than 100 miles on the bike The only damage consists of a few scratches on the end of the crank arms and a few scratches on the chain stays from shoes. This bike is a ton of fun and is a bike park or local trail monster thanks to its very versatile linkage! It can be placed in low or high mode depending on the terrain or if you are in the mood to get sendy! Selling because injured and cannot ride the bike anymore. Everything works perfect if you have any questions or offers please reach out.

Selling
Sep 27, 2021 at 19:28
Sep 27, 2021
$1200 USD
Size medium but for this bike a medium is more representative of a size large. I am 6ft for reference Cannondale Topstone 105 alloy with carbon fork. Full 105 components with 105 brakes. Excellent condition: this bike can ride road and gravel or even light mountain bike trails. It will come with specialized road tires 32c, gravel tires 40c and rugged gravel tires 42c. There are some scratches on the drivetrain and cranks from use and here and there on the frame. Everything works perfectly and has been expertly maintained as I am a mechanic. Any damage is cosmetic and all components work as almost new. This bike rides amazing. please reach out with any questions or offers.

Sep 7, 2021 at 9:36
Sep 7, 2021

Selling
Sep 7, 2021 at 9:35
Sep 7, 2021
$1500 USD
Buyer pays shipping. Pivot point DJ excellent condition besides a few minor scratches around the frame and fork a very fun bike. Make me an offer Parts list is as follows Xt brake lever Saint brake caliper Chromag bar and stem Zee cranks MRP stage fork Sunrace rims Maxxis skin wall 26x2.3 DMR chain tensioner

Aug 29, 2021 at 19:53
Aug 29, 2021

Selling
Aug 29, 2021 at 19:52
Aug 29, 2021

Dec 8, 2020 at 13:19
Dec 8, 2020

Selling
Dec 8, 2020 at 13:19
Dec 8, 2020
Load more...