Aliweasel
Member since Jun 20, 2015

Male / 35
Hull , United Kingdom
Block user
Recent

Jan 2, 2017 at 17:55
Jan 2, 2017

Selling
Jan 2, 2017 at 17:55
Jan 2, 2017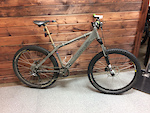 $750 CAD
Hi, And so comes the time when I need to say goodbye to a trusty steed with a view to replacing her with a newer model. Many things are great with 'Rita', as I've called her. For starters, the brakes and drivetrain are SLX, and I've upgraded the levers to XT ones with the dimples which I feel give a better grip in wet conditions. It's set up as a 1x10 with a 11-34 cassette which gets me through most rides without having to get off and push, though you may want to put a smaller ring on the front from the 34 that's on there to maybe a 32 or 30 to give you a lower range off-road. The frame has no damage, no chips, no bends, no failing welds. This was built to last and I believe she has many more years good riding in her. I replaced the seatpost for a Snafu one as I bent the last one. The bars are nearly new Spank Spike which I've cut down to 790mm. Pedals are DMR V12, another seemingly indestructible part. Tires are a bit of a mis-match: Specialized Purgatory on the Front and Bontrager G5 on the rear. The G5 is showing a lot of wear so I recommend putting something to your own taste on, whether that's knobbly or semi. There's room for a 2.4" tire but no wider. The fork is a weak point and I'd recommend replacing with something newer and burlier. You can get seal kits online and this will improve it, alongside new oil and a thorough clean. I've ridden this bike all over the North Shore and she's come through with little more than a bent seatpost (see above). I'm desperate to get a full-sus so she has to go. Give me your best offer! I look forward to hearing from you.

Nov 14, 2016 at 13:47
Nov 14, 2016

Selling
May 31, 2016 at 13:11
May 31, 2016
$200 CAD
Hi, I have an older hardtail that I want to keep alive (kicking and screaming) and the last thing that needs updating is the fork. Ideally looking at 140-150mm travel, air sprung if possible, dropouts aren't a problem so whatever it's got I can adapt. The most critical element is that it needs to have a STRAIGHT steerer tube. Annoyingly, I can't convert my 1 1/8' headset lower to accommodate a tapered steerer, otherwise this search would be a LOT easier! I live in New West and work in Kits, Vancouver. Happy to drive about an hour out of town for the right fork. Price-wise I don't want to spend more than $300 but I don't mind stretching a little further for something in good condition. Also happy to consider renovation jobs as a I work in a bike shop so I have easy access to parts etc. Lemme know what you've got! Thanks, Al.

Selling
Jun 20, 2015 at 8:35
Jun 20, 2015
Load more...