Above the beautiful French alpine town of La Clusaz, Mavic launced their latest line of enduro-specific products - the Crossmax Enduro Wheel and Tire System and the Crossmax Enduro shoe - to cycling journalists from across Europe and America. To present the products were MTB Product manager, Manuel, and Melanie and Jeremy who oversee footwear and tire development respectively. Also at the launch to explain their input and to answer questions were Mavic's professional riders Anne-Caroline Chausson and Jerome Clementz. Jerome also joined us for a day's riding to test the products and show us how it's done.
---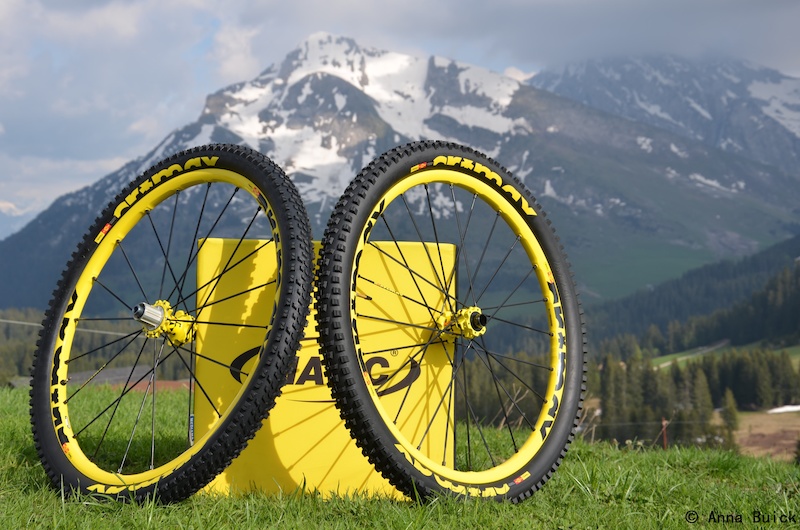 Mavic Crossmax Enduro Wheel Tire System (WTS)
Mavic's Crossmax Enduro wheel is the culmination of twenty-eight years of experience building high-performance wheels and rims for mountain bikes. The French component maker says that the addition of a tire to make an integrated wheel/tire system (WTS) makes history for the company. While the WTS system may be new to the mountain bike world, Mavic first launched the concept on the road with reasonable success. The two new tires, the Charge and Roam XL are front and rear-specific in both tread design and casing diameter. Mavic refers to the system as 'Crossmax Enduro' and as one may expect, the project relied heavily on two of the sport's top professionals: Jerome Clementz and Anne-Caroline Chausson, during the development and testing stages. The developers identified differing needs for each WTS and produced them to satisfy these specific requirements. The front wheel and tire are made for grip, stability, handling and comfort, while the rear system looks to provide responsiveness, minimal rolling resistance and traction.
WTS Basics



•Crossmax Enduro Front Wheel/Charge tire: 21mm rim and 2.4 aggressive tire
• Crossmax Enduro Rear Wheel/Roam XL tire:19mm rim and 2.3 faster rolling tire
• Front hub compatibility: 6 bolt, 15 mm & 20 mm (QR with optional adapters)
• Rear hub compatibility: 6 bolt, QR & 12x135 & 12x142
• Available July 1, 2013





• Weight: WTS: 26" =1660 g per pair. 825 g front / 835 g rear
Tires: 26": front 2.4 = 950 g / Rear 2.3 = 850 g
• Weight: WTS: 27.5" =1710 g per pair. 850 g front / 860 g rear
Tires: 27.5"/650b: front 2.4 = 990g / rear 2.2 = 870 g
• Cost: WTS: 26" and 27.5"/650b = $1000


Crossmax Enduro Wheels
Crossmax Enduro wheels are 100% developed to maximize the enduro experience, with different rims widths front and rear to accommodate different tire width and tread pattern. The front wheel has a 21mm rim to house the 2.4 width tire and give greater stability. Stability also comes from the stiffness created by 24 Zicral spokes and Inter Spoke Milling. The comfort factor is provided by crossed spokes for vertical compliance. The rear wheel has a rim width of just 19mm. Whilst this may seem rather narrow, Jerome Clementz, who was integral in the development process, was assured that up to a 2.5 width tire would fit, and therefore a 19mm rim was plenty wide enough. It was also re-asserted that this is a racing product and therefore the increased weight that would come with increased width, along with a decreased efficiency from a wider width tire, would compromise the performance of the WTS. With the desire to produce a responsive wheel, the Crossmax rear wheel has a ITS-4 hub, Isopulse (20 spokes. Radial driveside, crossed disc side) and is UST/tubeless ready.
---
Mavic Charge and Mavic Roam XL Tires
The Mavic Charge
(left)
and the Roam XL.
These tires are designed to be 'all-rounders', able to deal with what an enduro race will throw at you. They are designed and developed by Mavic but manufactured elsewhere in France. There are no plans for a 29-inch version as Mavic feel 650b/27.5-inch wheels/tires are likely to be the choice for enduro racers in the coming years.
The Roam XL is a rear wheel specific tire especially formulated for Enduro racing which looks to combine speed, traction and strength. It is designed for efficient rolling, traction and cornering and comes with dual ply 'Guard' casing, dual compound tread and is UST/tubeless ready. The Roam XL features ramped centre knobs for lower rolling resistance and smoother first contact with the ground , high side knobs for better cornering and has a tread pattern designed for mud evacuation while rolling. The Crossmax Charge is a front wheel enduro specific tire with aggressive design for braking, grip and control. The Charge has Super Contact Compound (SCC) for grip, high side knobs for better cornering and aggressive center knobs for efficient and predictable braking. Large 2.4 casing increases comfort and 'Guard' dual ply reinforced casing gives reliabilty, as does Mavic's UST Tubeless Ready system.
Pinkbike's First Impressions
Crossmax Enduro Wheels:
One day of riding, on an alien bike, makes it very hard to isolate the feel of a wheel. What can be said is that Jerome and Anne Caroline seem to have a genuine love of the product, and that fifteen eager journalists and a generous handful of Mavic employees bombing downhill all day did not experience any problems, not even a burp.

Tires: Charge and Roam XL
Despite knowing that front and rear tires may handle very differently it still took a lot of getting used to. The Charge gripped, tracked and inspired confidence on a range of terrain and in both the dust and mud, while it took significantly less than a fist full of back brake for the Roam XL on the rear wheel to come into your peripheral vision. However, once we started riding with rather than in spite of the tires, in the style they are designed to complement and enhance, they felt good; fast, fun and functional. There was only one real complaint from the tires, and that was their braking traction in the wet. In the steep, muddy gullies scrubbing speed was a problem, but then it was greasier than a cheap fry-up and was thus perhaps beyond the reasonable realm of all but a dedicated mud tire.

Conclusions:
To really appreciate the WTS I think you need to be looking for a tire that is 100% enduro specific and race-ready, which is exactly what Mavic are marketing. This specificity, plus the reliability features such as 'Guard' casing, make the Crossmax Enduro Wheel Tire System capable of winning Enduro races. Ultimately, watching Jerome ride made it very clear why the Mavic Crossmax Enduro WTS is as it is.
---
Crossmax Enduro Shoe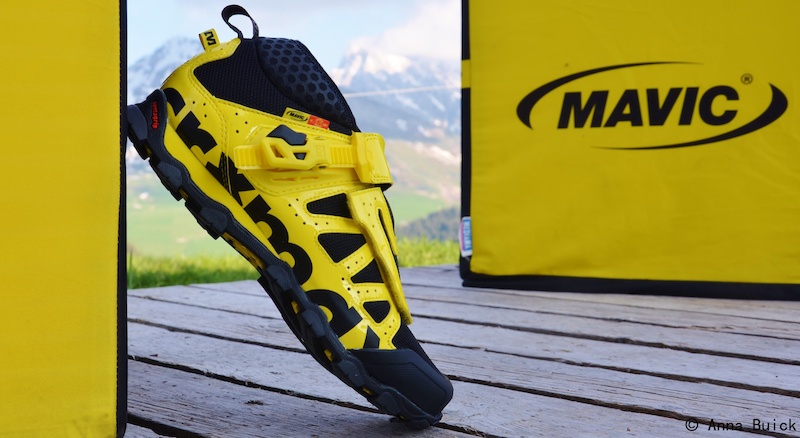 The Crossmax Enduro shoe is, essentially, a marriage of Mavic's cross-country specific Fury and the much heavier duty trail/freeride Alpine XL. Its discipline-focused concept, development and testing make it the first enduro racing specific shoe on the market. The close collaboration with Mavic's pro riders Jerome Clementz and Fabien Barel is indicative of the importance of race performance in the product. According to Mavic, the Crossmax Enduro shoe "gives superb power transfer, all day long comfort and enhanced protection."
Crossmax Enduro Shoe Details

• Ergo Fit 'Orthalite': A sock liner for softer, more cushioned fit on and off the bike
• 3D Breathable Mesh: Keeps the foot cooler and drier
• Ergo Lite Toe Cover: Strong toe cap offering lite protection and support
• Mid ankle protection with perforated neoprene
• Available September 2013
• MSRP: $220




• 'Ergo Lite Ratchet': Lightweight ratchet with highly precise adjustment
• 'Quicklace': Lightweight lacing system for one pull tightening
• Lace Cover
• Designed to take cleats
• 'Trailgrip Outsole': 'Contagrip', the best in traction and durability
• Ergo Tongue Concept: Overlapping tongue for maximum foot hold, comfort and breathability


Crossmax Enduro Shoe Construction Notes
In terms of comfort, the Crossmax Shoe offers an overlap 'Ergo tongue' and an 'Ergo Fit Ortholite' insole to give a cushioned fit, plus a 3D breathable mesh that is designed to keep the foot cooler and drier. Protection wise the Crossmax Shoe has a lightweight but seemingly sturdy toe cap, perforated neoprene mid ankle protection, a heavier-duty heel cup and a hook and loop fastened lace cover. The 'Quicklace' system that allows the shoe to be tightened to fit your foot with one pull is carried over from the Alpine XL, although it stops short of the ankle to allow for the 'Ergo Lite Ratchet' which tightens across the top of the foot and locks the foot in place. This combined system for creating a uniformly snug and secure fit is designed to optimise comfort and power output, increasing pedalling efficiency and control. In addition to this performance aspect is the 'Contagrip' sole for optimal grip on all terrain. The cleat plate has three options for positioning.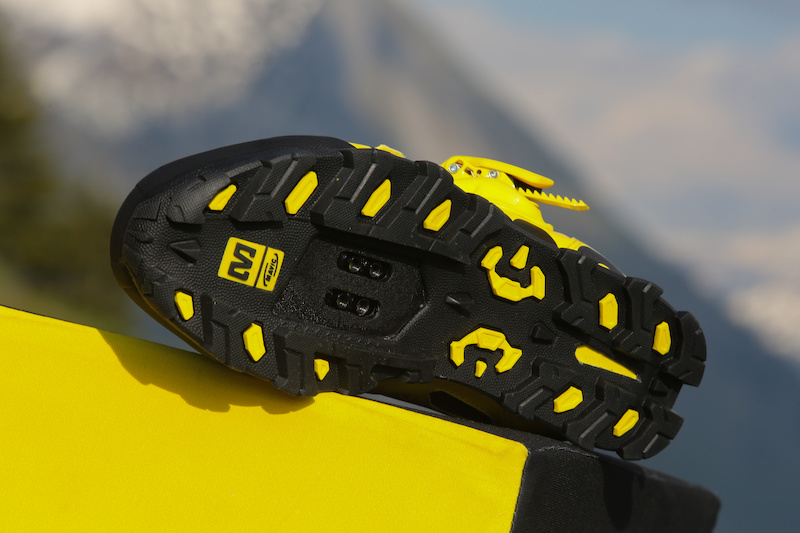 Pinkbike's First Impressions
| | |
| --- | --- |
| | The Crossmax shoe revealed a weak point early on when I tried to attach my SPD cleats. The tread on the sole of the shoe made the space for the SPD cleat too narrow. This may be a result of the small shoe size (Eur 38, USA 7), either way it looks like a bit of DIY could sort the problem easily enough. On a hot day of riding my feet never felt sweaty or swollen, but nor did they feel cold or particularly wet after trampling through snow and crossing innumerate streams and the occasional water-logged field. The Crossmax shoe holds your foot very nicely; it is well supported throughout, allows supple movement through the ankle and feels sturdy yet comfortable. For someone who really struggles with numb feet when riding, I was very pleasantly surprised that blood remained in the balls of my feet and toes all day, a small miracle that I attribute to the ergonomic insole. The stiff sole felt good riding both up and downhill, giving efficient power transfer and a solid, confident feel on the pedals. The slight flex in the front of the shoe supposedly makes walking easier and more comfortable. However, for me, the 'some-but-not-all' approach felt like an indecisive middle ground. That said, we did not do a great deal of walking, and, moreover, the Crossmax Enduro shoe is made for racing with the riding performance thus the priority, for which it felt very adept. The greatest praise I can give these shoes is that, whilst riding, I forgot about them. The Crossmax Enduro Shoe is certainly comfortable and, after just one day's worth of riding, seems competent and suited to its purpose. - Anna Buick |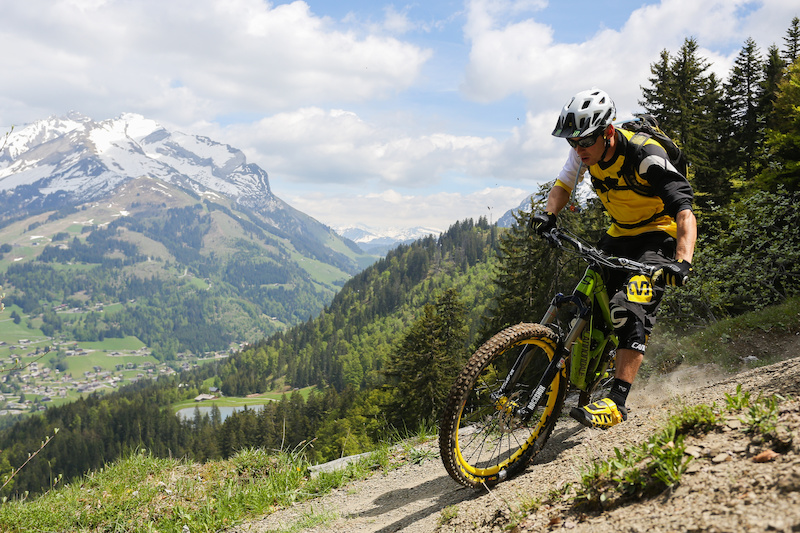 Photographs: Jeremie_Reuiller©MavicSAS (unless shown otherwise)
www.mavic.com