Apebike
Member since Jan 16, 2014

Male / 50
Tallahassee , Florida
Block user
Recent

Jan 21, 2020 at 9:51
Jan 21, 2020

Selling
Jan 21, 2020 at 9:43
Jan 21, 2020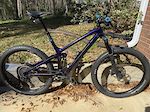 $1500 USD
Rode this frame off and on for about a year. I have 3 mtbs, a road bike and a cx bike that I ride regularly, so it's not like this bike got a lot of focused riding during that year. It's a bit much travel for where I live in N. Florida, so I generally just rode it when we made trips to N. GA, or NC. It's a Project 1 paint job that looks sick in the sunlight. Lots of sparkle in the dark purple. I think Trek called it Purple Phaze,. This is the 9.9 version of the frame, so the full rear triangle is carbon. The 9.8 version used aluminum chainstays. You can run 27.5+ or 29 wheels n this bike. Trek just suggests you run a 140 fork if using 27.5+. There are some scratches on the bike from normal use. I tried to show them all in the photos. But nothing is structural and there are no deep gouges. The scratches all look like they just go down to the paint's base color, and not to the carbon. Please hit me up if you have questions. The list price is for frame, shock, headset, and stem. If you are interested in the fork, or the whole bike, we can talk. I'll split shipping costs 50/50.

Dec 14, 2019 at 13:51
Dec 14, 2019

Selling
Dec 14, 2019 at 13:50
Dec 14, 2019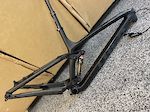 $500 USD
This is a new, unridden frame. However, when I started building it, I found it makes an odd clicking noise under a specific amount of pressure when the suspension cycles. I've tried 3 different shocks, a different rocker link, and a different seat stay on it, but the noise persists. I replaced all the lower main bearings and hardware, and it's still there. At this point, I can't sell it as new. The noise may be annoying, it may go away, or it may become a bigger issue. I just honestly don't know. So I'll offer it up as is, for parts. Or if you need parts off of it, let me know. It's still a great way to upgrade to a full carbon rear triangle. The 9.8 model uses aluminum chainstays, so this would shave some weight. The thru shock works well and could be a great upgrade. Or you're like me, and you just like having spares laying around. This has every pivot bearing and all the hardware. The dropper is not included, but for an extra $100 I'll leave it in. Dropper has the stealth lever remote, and not that annoying push button remote. I've been riding this same model bike for a couple years, and it's a blast. I've got a new headset, the knock block spacers and a 60mm/35mm clamp knock block stem that's included at this price. All frame fittings included. Hit me up if you have any questions. Buyer pays shipping costs.

Selling
Dec 14, 2019 at 13:46
Dec 14, 2019

Dec 14, 2019 at 9:59
Dec 14, 2019

Selling
Dec 14, 2019 at 9:46
Dec 14, 2019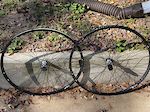 $300 USD
Wheels came on a 2017 Trek Top Fuel 9.8. These are straight and true and bearings feel good. Taped for tubeless and will include the valve stems. These are 12x148 rear and 15x110 front. Centerlock hubs with a brand new Shimano/SRAM freehub body. They weigh 1690 grams on my scale, with tape and valve stems. Got plenty of life left in them. I've just got too many wheels and these need a new home. Buyer pays shipping costs.

Dec 1, 2019 at 5:25
Dec 1, 2019

Selling
Dec 1, 2019 at 5:16
Dec 1, 2019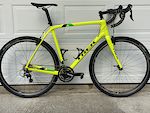 $1200 USD
Bought this bike new, and it's been amazing. The isospeed decoupler is no janky marketing ploy. It works really well at smoothing trail chatter. Bike is light and fast. I'm just ready to try something new, and moving on to disc brakes, as this is the last bike in my stable with rim brakes. I've included photos of the more notable chips or scratches. I broke a spoke one day and the tire rubbed the inside of the non-drive chainstay. It rubbed through the paint, but the carbon is fine. All chips are paint only. No carbon damage. I had one crash on a gravel road, and it scuffed both shifters. I included pics. No functional damage, just cosmetically annoying. Otherwise, there are only minor scratches or rubs that come from normal use. I've changed some things up from the stock build. Wheelset is DT350 hubs laced to HED Belgium Plus rims. Handlebar is a Zipp 46cm c2c. I replaced the Shimano CX70 cantilevers with TRP CX9 linear pulls. Much stronger brake! The chain and cassette are new, with fewer than 10 rides. Ultegra 11-30 and KMC X11-SL. ** Just a heads up, a few parts in the photos are not what comes with the bike. The stem will be a Bontrager RL like what came on the bike originally. The crankset will be the stock Ultegra 6800 175mm with 34/46 chainrings. The saddle will be a Bontrager model. No pedals or bottle cages included at this price. ** Now, if you just have to have any of the excluded parts in the photos, then we can talk. They just aren't included at the list price. Since I know shipping can get crazy, I'll chip in $50 towards shipping. The rest is up to the buyer.

Nov 30, 2019 at 4:45
Nov 30, 2019
Load more...