Apenney1
Member since Oct 24, 2016

Male / 28
Olympia , Washington
I ski year round and haven't been able to keep up with my biking so for now I gotta let her go. I've only ridden it a few times the one guy I ride with stopped going so it's just been sitting in my living room for the last year and a half.
Block user
Recent

Jan 10, 2021 at 17:41
Jan 10, 2021

Jan 10, 2021 at 17:24
Jan 10, 2021

Selling
Jan 10, 2021 at 17:16
Jan 10, 2021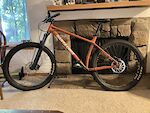 $1599 USD
It's stock with the new petals, only used a few times. Great for wheelies, also a great bike for mountain bike camping I hear. Tubeless tires so even tho it's hard tail you can run low psi and get some cushion. Super fun bike but I'm focusing on skiing now so it's time to let her go.
Load more...