Archielb
Member since Sep 12, 2019

Male / 16
Shropshire , United Kingdom
Block user
Recent

Apr 16, 2021 at 10:09
2 days

Selling
Apr 16, 2021 at 9:42
2 days
$3000 GBP
Just put it up to see if there is any interest and probably will be for sale but don't know to see or keep id love a dh would trade for a 2019 onwards high spec dh preferable yt,mondraker,saracen,trek, and maybe some other brands. won't send in posy have to come and collect or see if your interested. there's none of these bikes for sale anywhere none on eBay or Pinkbike and the websites has been out off stock before I bought this bike. Here is my 2020 specialized stumpjumper evo 29er. S3 size large Bought in July 2020 9 ish months old, from Pearce cycles had invisiframe from new.one scratch one the right rear triangle from when the chain came off but that's the only scratch I think. there's a little dent in the rear rim from when I hit a root hard but its all fine. Been ridden a fair bit but looked after very well and good condition. Had mucoff tubless but got a tube in the rear just find it easier than buying loads of sealant. but everything else is stock didn't really want to upgrade anything on this bike. back wheel is slightly to the left but ride the same and can't feel any difference. Had two more spacers put in the fork. Parts alloy frame fork 2020 fox float 36 rhythm 150mm shock fox float dpx2 perfomance 140mm with 29er but with 27.5 its 150mm rims rival traverse 29er butcher tyres sram nx 12speed groupset 165mm cranks brakes sram code r 4 piston 200m disc front and rear seatpost x-fusion manic 150mm im 6:2 and fits very good just up for interest for now but probably will sell unless someones got the right dh bike for a trade. just message for and questions or anything else.

Selling
Apr 16, 2021 at 9:17
2 days

May 21, 2020 at 2:51
May 21, 2020

Selling
May 21, 2020 at 2:46
May 21, 2020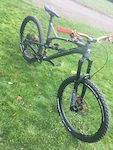 $1900 GBP
2020 nukeproof mega xl Bought in October from Pearce cycles brand new Had hope e4 brakes put on it about start of lockdown and pnw dropper lever and invisi frame aswell. I've done 3 uplift days on it and rides at my local mini bike park so not loads of riding. Two major scratches but the invisi stops them now 170mm upfront 165mm rear 27.5

May 7, 2020 at 13:16
May 7, 2020

Selling
May 7, 2020 at 13:11
May 7, 2020

Mar 16, 2020 at 2:03
Mar 16, 2020

Selling
Mar 16, 2020 at 1:55
Mar 16, 2020

Dec 8, 2019 at 2:31
Dec 8, 2019
Load more...