AshersFully
Member since Jul 3, 2020

Male / 14
Rogers , Arkansas
I'm just getting into mountain biking but I'm already over sending 6 foot gaps. My current bike is holding me back and I'm looking for a full suspension.
Block user
Recent

Nov 8, 2021 at 17:43
Nov 8, 2021

Selling
Nov 4, 2021 at 16:29
Nov 4, 2021
$3000 USD
Looking for an enduro bike with 27.5 wheels. Carbon or alloy. Prefer 160/150 or 150/140 travel with the price around 3000. (can maybe go up a bit).(2017 or 2018 if in really good condition) 2019, 2020, 2021, and 2022 bikes in pretty good condition. Size medium to large.

Nov 3, 2021 at 18:39
Nov 3, 2021

Selling
Nov 3, 2021 at 18:35
Nov 3, 2021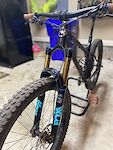 $2900 USD
Has a bit less than 300 miles on it. Selling for more of an enduro bike. Will trade for a full suspension with 170, 160, or 150, fork travel. This bike is amazing and I'm sad to let it go. the rear wheel has a small dent in it. I bent it back but air still slowly escapes. Might be fixable idk but I'm done trying so it has a tube in it right now and it runs perfectly fine. Lowered the price 100 bucks to save you some money in case you want to replace the rim. I have upgraded the fork from a rockshox pike to a fox 36 fit 4. Message for any specs. BIKE IS DIRTY IN PICS BUT BEFORE SELLING I WILL WASH AND CLEAN

Aug 14, 2021 at 10:48
Aug 14, 2021

Selling
Aug 14, 2021 at 10:35
Aug 14, 2021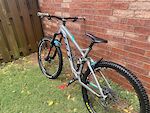 $2200 USD
This is my 2017 felt decree 30 in which I bought around December of 2020. I have loved this bike and I am selling for a hardtail so I can spend less yearly on servicing, and to get sharper on my riding. This is a great bike and I did some upgrades from the previous owner. This bike works perfectly. The front tire is set up tubeless and the back tire currently has a tube in it. Both breaks were bled right before posting this ad up, and the fork and shock has been serviced in the past 5 months. Fork: 2017 rockshox revelation 150mm Rear shock: 2021 rockshox monarch 140mm The previous owner had upgraded the stock brakes to a set of Shimano SLX M7100, upgraded the drivetrain to a SRAM NX 1x11, upgraded the wheelset to Stans ZTR Flow EX, and installed a One Up V2 Dropper post with 150mm drop. This bike still has a ton of life left in it and I can't wait for the next person to love this bike. If you need any more specs just text my number at 479-282-9673 or message me on pinkbike.

Selling
Aug 6, 2021 at 13:20
Aug 6, 2021

Selling
Jul 13, 2021 at 20:11
Jul 13, 2021

Selling
Jul 9, 2021 at 20:19
Jul 9, 2021
$2500 USD
I am looking for a chromoly hardtail for in between $2000 - $2700. Norco torrent, Canfield, etc. I need a size medium and either 27.5 wheels or 29 inch wheels. let me know if you have anything. I would like to have it shipped to me unless you live near Bentonville ar. I of course will pay for shipping. Text me or message me. 2019 year or higher
Load more...