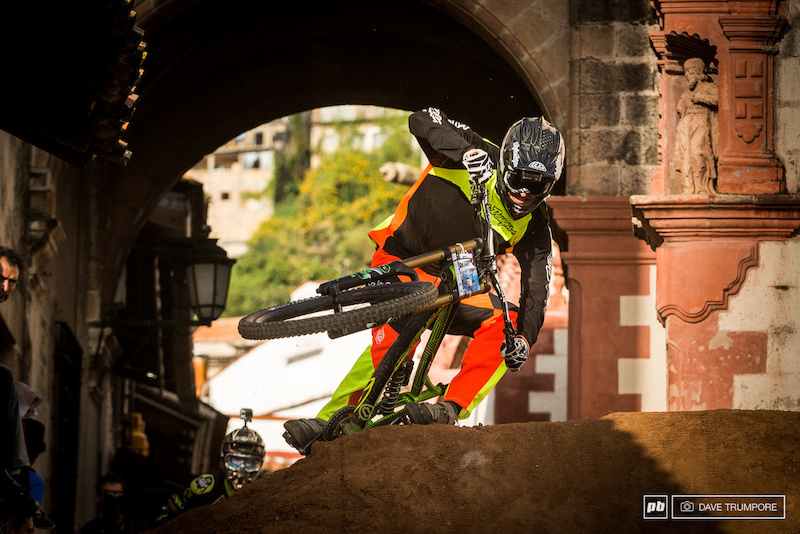 Racing the Urban race in Taxco was probably the most memorable race I have ever done for so many reasons. I had no idea what to expect from it, I didn't know if I should looking forward to it or be absolutely terrified.
The Country of Mexico.
This being the first time in Mexico or in South America, I was pretty blown away by the cultural differences. I'm happy I never went to Cancun or any other big resort before I went here as I truly got to experience the real Mexico. The town of Taxco was definitely beautiful and it is definitely one of the most amazing places I have been. Even though people clearly don't have as much as they do in North America, they seemed to be so happy and stoked even though you are riding down their city.
The track.
Walking down the track the first time I'm not going to lie, I was pretty terrified. Rebar was sticking out on the sides, there was so many steep stair sets and all the gaps seemed to be fairly big and sketchy. I was hoping I would just do a run and it wouldn't be as sketchy as I thought. This was definitely true, the course rode so much better than I ever expected and as per usual I was having the time of my life riding my bike down a hill.
The race.
This being my first urban race I had no idea what to expect in terms of results and I really wasn't that worried about it. I spent most of my time in practice riding with Bernard Kerr, we were definitely spending a lot of time yelling at each other as we were both having the time of our life riding down this city. When my seeding run came around I came to realize that there was so many sections where I had no idea where I was going, I just took it easy to see what all the sections were like at speed. When I compare my footage of my run to other riders I think I might've ridden some sections pretty good but linking the whole thing together is definitely where people beat me. I was pretty stoked to end up 7th in the end and win my bet with Brett Rheeder who absolutely killed it in his first ever race, such an amazing bike rider.
The crowds.
This was probably the thing that stood out most to me, it was absolutely insane! Apparently there was about 20.000 spectators there, this is definitely the most people I've ever ridden my bike in front of. I think I must've signed about 1000 autographs and taken so many pictures. I'm pretty sure nobody actually knew your name, all they knew was you were a biker and they were stoked! I would definitely encourage anybody to watch this race as it's pretty spectacular from a viewers perspective.
I would like to thank Altius events as they were absolutely amazing with arranging shuttles, a place to stay, food and putting on such an unreal event. I will definitely be back!