Billybeanbag
Member since Aug 14, 2019

Male / 48
Farnham , United Kingdom
Block user
Recent

Sep 19, 2021 at 6:06
Sep 19, 2021

Selling
Sep 19, 2021 at 6:06
Sep 19, 2021

Sep 19, 2021 at 5:04
Sep 19, 2021

Selling
Sep 19, 2021 at 5:03
Sep 19, 2021
$40 GBP
Pair WTB Vigilante 2.8 27.5 tires. In the process of clearing out spare parts etc I have. Came on a new bike I bought in 2020 then changed them for thinner tyres. Only ridden for 3-4 months and in good condition with loads of tread left. Ran tubeless and they have no tears. Price includes shipping in country.

Sep 13, 2021 at 11:57
Sep 13, 2021

Aug 29, 2021 at 11:56
Aug 29, 2021

Selling
Aug 29, 2021 at 11:55
Aug 29, 2021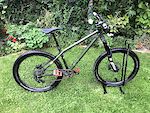 $650 GBP
Hi, here is my NS Surge evo which I bought 2nd hand August 2019. Since then I have changed almost every part except the headset, hubs and rear derailleur. All parts listed below were new and added to the bike over the last 2 years. I have used the bike as a jump bike, for mucking about in the woods and general trail riding. Its a great little bike and rides great. I am selling it as I use it very little now. I stopped using it summer last year. The marks on downtube are where I added a temporary bottle mount which strapped on and it unfortunately scratched the frame and I tried to get a similar colour paint but it wasn't a great match. NS Surge Evo Steel frame medium 2017 Shimano SLX Brakes M7000 Shimano RT 66 Rotors 180 Front 160 rear SLX Cassette 10 speed Spank spoon 40mm Riser bar cut to 740mm Funn Strippa Evo Stem 45mm Shimano Zee Cranks with Race face 34 Narrow wide chainring XFusion Manic, travel 170mm Pike RCT3 Solo air forks 160mm Mavic EX729 Rims on Hope Pro 2 Evo 2 Hubs. Build the wheels on the original hubs, bought the rims new. Wheels all run true Forgot when I originally posted the ad there is a tiny mark on the left stantion of the fork, it does not affect the functionality of the fork hence forgetting to mention it. I have added a photo Nuke Proof Neutron Pedals Shimano bottom bracket Will to ship with the buyer paying the shipping costs.

Aug 24, 2021 at 6:07
Aug 24, 2021

Selling
Aug 24, 2021 at 6:05
Aug 24, 2021
$2350 GBP
This is my awesome Haibike Xduro Allmtn 2.0 2020. Bought in May of 2020 for £3600 and ridden for 893 miles. Bike is in really good condition and not used during the winter. The bike's specification includes: Rockshox Yari RC 160mm fork with completely clean stantions. Recently had a lower leg service. Rockshox Deluxe select plus rear damper Yamaha PW-X2 motor with a 500Wh removable battery Brakes are shimano MT520 4 piston. 203 rotor front and 180 rear Drive train is Sram NX Tires DHf font and DHR II both 2.8" Upgrades are the grips are DMR deathgrips and the tires are tubeless with Mucoff valves. Wheels all run true and have no damage. Selling the bike due to no longer using it. Battery still under 2 year warranty, frame still under 5 year warranty. Payment through bank transfer. Will ship at the buyers expense. Check out Sam Pilgrim riding this model of Haibike: https://www.youtube.com/watch?v=Oy9DAfdgxPY

Aug 15, 2021 at 5:31
Aug 15, 2021
Load more...