Nadine Rieder is an all-rounder on a bicycle: inherently a Cross-Country racer, the 28-year-old German rider is comfortable on anything with two wheels and a saddle. One of her favorite spots is the bike region Bormio as no matter if it's mountain biking, road cycling or e-bikes: the high-alpine region of the Stelvio National Park has amazing trails, Giro d'Italia-proven climbs and spectacular views. We talked to Nadine about biking in and around Bormio, the e-mtb trend and the Giro d'Italia.
Your 2017 mountain bike season ended just recently. How did it go? What were your highlights?
I have mixed feelings about the season. My highlight was supposed to be defending my title at the German National Championships in July but thanks to a knee injury it wasn't supposed to be. However, I am really happy that I was able to start at the World Cup final in Val di Sole after such a long break. I then finished my season with a victory at the marathon at home in Sonthofen.
You first visited Bormio about 6 years ago for a photo shoot. You've come back regularly ever since. What is it that keeps you coming back for more?
Bormio is the ideal town for almost everything bike related. I know the area super well by now and it almost feels like home to me. Maybe it's because I'm half-Italian (laughs)? I somehow have the feeling that I belong here and that I am a part of the region. One of my favorite things is that I haven't just had an amazing time on my bike here, but also all sorts of fantastic experiences like a skidoo trip to the highest point of the Stelvio. The traditional cuisine and the unbelievable wellness offers in Bormio also have me coming back for more.
You took your brother Marcel on a bike trip to Bormio at the end of September. How was it?
The trip with my brother was great. He had never been to Bormio before so it was nice to spend time with him and to show him around. Marcel was stoked and it will definitely not be our last trip to Bormio together.
Unfortunately, you weren't able to compete in the Alta Valtellina Bike Marathon in July because of your injury. But you know the high alpine landscape of the Stelvio National Park very well. Do you have a favorite trail or area?
I really like the trail down from the Gavia-Pass to Santa Caterina. It's just really nice to ride and the views and landscape are one of a kind. I've only ever known the Gavia Pass from road cycling but as it turns out it is definitely worth to explore it with a mountain bike. There are also loads of amazing trails around Bormio 2000 which I explored with my brother (laughs).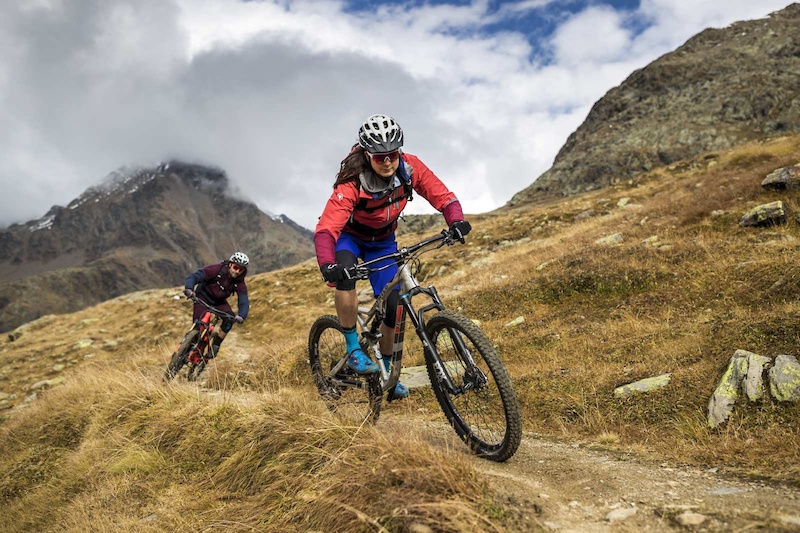 You are first and foremost a mountain biker and you ride for the AMG Rotwild MTB Racing Team. As of late though, you have also been spotted on an e-mtb. What is your opinion on the e-bike trend and the opportunities and criticism surrounding the topic?
I've been pretty apprehensive towards e-biking in the past but I have to say that my opinion has definitely changed after I explored some trails in Stelvio National Park on an e-mtb. I had a really good time and was amazed at the technical climbs I was able to ride with it. We spent the entire day on e-bikes and were able to see so many different locations in a short period of time. It's still physically demanding as you tend to try steeper climbs that would be otherwise impossible. It's also a great way to improve riding technique. With an e-mtb you can save some energy and do more descents. In general, I think that e-bikes give the average rider the chance to explore areas that would be hard to reach on a normal bike.
You are about to embark on a holiday to Bormio. How are you going to spend your time? Do you have any tips on what to do when not on a bike?
You should definitely make full use of the wellness offers and go hiking or even just for a walk. The hiking trail between Bagni Vecchi and Bagni Nuovi is really beautiful and passes several hot springs. It's hard to imagine but there are hot springs that cascade down the mountain in waterfalls – truly spectacular. You should also try the local cuisine. Sciatt, Bresaola and Pizzoccheri are some of my favorite foods and the cake and bread in Bormio… Oh, and you should definitely take a stroll through the old town, it's really worth it (laughs).
Thank you for the interview and good luck for the 2018 season!
Images by Markus Greber/Bormio Tourism