Bracs001
Member since Dec 4, 2019

Male / 17
Chichester , United Kingdom
Block user
Recent

Mar 27, 2021 at 12:55
Mar 27, 2021

Selling
Mar 27, 2021 at 12:54
Mar 27, 2021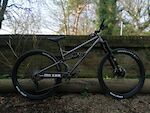 $3000 GBP
Hiya this is my size L shan no5 with 29er wheels. this is my own custom build built in February 2020. this might not be the most well know bike brand but i urge you to look up the reviews and how progressive the geometry is. the specs are forks- fox 36s rear shock- DVO topaz wheels- Hunt enduro wide wheelset brakes- shimano xts Groupset- shimano xt 11 speed nukeproof bars grips and stem if you want anymore info or pictures just give me a message.

Selling
Mar 27, 2021 at 12:51
Mar 27, 2021

Selling
Mar 24, 2021 at 13:24
Mar 24, 2021

Feb 17, 2021 at 3:41
Feb 17, 2021

Selling
Feb 17, 2021 at 3:39
Feb 17, 2021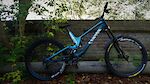 $2600 GBP
hi this is a 2019 canyon sender in great condition, everything is working and it is smooth and quiet to ride. there is a tiny scratch in the paint on the top tube and a scratch on the lower chain stays. it is a size extra large and comes with Michelin dh22 front tyre minion dhr rear sram code r rear brake hope vtec 4 front brake renthal bars sdg saddle hope headset rock shox boxxer forks rock shox vivid R2C rear shock sram gx downhill groupset dt swiss FR 2020 wheels and a e thirteen chain guide and bash guard this is an incredible bike and if you don't believe me bike radars only complain was the bars which I've changed. drop me a message if you have any questions or would like any more photos. cheers, sam

Dec 9, 2019 at 12:59
Dec 9, 2019

Selling
Dec 9, 2019 at 12:56
Dec 9, 2019

Selling
Dec 9, 2019 at 8:45
Dec 9, 2019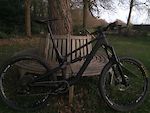 $2100 GBP
This bike is being sold as my son has grown out of it. It has been owned from new in March 2018 as the AL spectral but has now been upgraded to a carbon frame due to a fault in the aluminium frame. Therefore canyon canyon have replaced it with a new carbon frame that has never been ridden. They have also fully serviced the bike with new bottom bracket Headset and bearings. This bike is amazing to ride at 150/140mm of travel and has been rated as trail bike of the year if the year it was bought. Due to modern geometry and excellent components. 150mm RockShox pike ever 140mm RockShox deluxe rt SRAM guide r brakes 4 pot Gx eagle 12 speed gearing Ks elev cable dropper post Fully new bearings, headset and bottom bracket Message me for more information or pictures
Load more...