Are you the owner of 2017 Specialized Enduro? If yes read on...
If you bought a 2017 Enduro you might have been Disappointed that specialized decided it necessary to redesign it only 1 year later!
But worried about bad press they said '17 owners could upgrade to the '18 yoke to get 'most' of the redesign benefits and this would be cheap,
Well lets start with a bit of bad news it didn't end up being that cheap.. £120 ($160) to make your bike (almost) like a 2018 model?
Almost...? Well the other big change for 2018 Enduro's is longer front ends (10mm longer for Enduro 29er in large)
Reality Check:
the 2017 Enduro was and still is a really good bike! A really good 'real world bike' incredibly versatile, Fast, Fun, Practical. 2018's modifications where as much about staying
#OnTrend
than actual necessary improvements.
That said one of the big gripes with the 2017 Enduro 29er was the high bottom bracket, the result of a compromise to enabled 650b+ wheels and tires to fitted. this spread bet by specialize didn't really pay off.. does anyone actually ride 650b+?
So for £120 ($160) you can lower the bottom bracket 6mm! and also slacken out the head angle 0.5degrees! need some convincing? read on.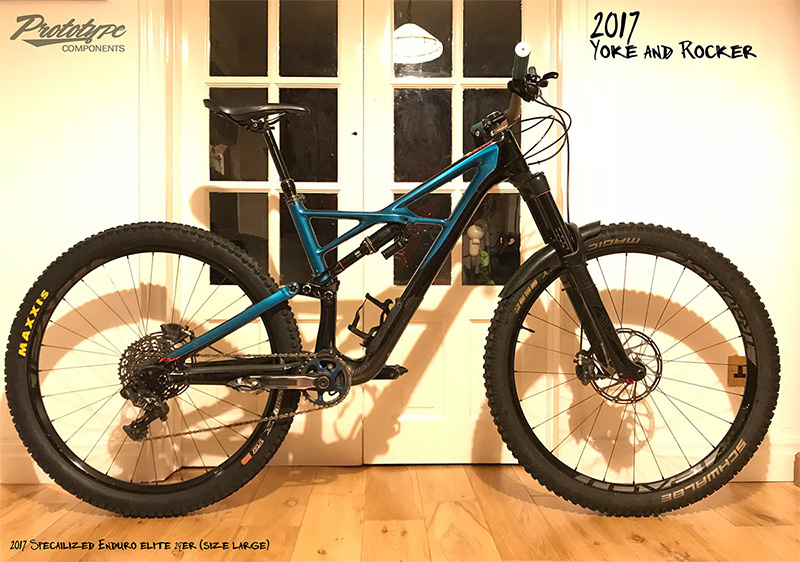 Measurements
(taken by me with a tape measure so not super actuate!)
Specialized Enduro Elite 29er 2017.
Bottom Bracket Height = 348mm
Head Angle = 66degrees
Rear End Length = 432mm
Wheel Base = 1210mm
Stand over = 810mm (measured to top center of seat collar)
Specialized Enduro Elite 29er 2017
with 2018 yoke and rocker.
Bottom Bracket Height = 342mm
Head Angle = 65.5degrees
Rear End Length = 436mm
Wheel Base = 1208mm
Stand over = 800mm (measured to top center of seat collar)
Whats It does and doesn't do.
Lowers BB by 6mm
Slackens bike by 0.5degrees (including seat angle)
Wheelbase reduced by 2mm
Rear end 4mm longer
Suspension curve more progressive
Not measured but makes the front end feel shorter slightly. the front end of a 2018 Enduro 29er in size large has a 10mm longer front end to compensate?
Not measured (or noticed when riding) but rear travel is apparently reduced from 165mm to 160mm
First Ride Impressions.
After a short pedal any fears of the bike feeling too short up front have gone yes it would be nice if the front end was a bit longer but its not noticeably worse than stock. it climbs and pedals as well as it did before.
It's when I hit my first berm that I really noticed the benefit of that extra progression and lower bottom bracket, its sits higher in its travel and feels firmer more planted this instantly inspires confidence finding myself pushing harder into corners.
That improved platform helps with pumping though rhythm sections and off jumps, it generally feels a little less supple but more controlled when things get rougher.
I always found the steering a bit hard work to hold on line when flat out of narrow single track, my first impressions are that the lower bottom bracket and head angle have significantly improved this.
Conclusion.
Will it make you faster probably not.
Will it help you put off the urge to buy a new bike yes but probably not for long...
If L.S.L (Lower, Slacker, Longer) is your bag then it ticks the 2 of the boxes just beware its doesn't make your bike Longer in fact 2mm(ish) shorter and the bars do feel ever so slightly closer.
Is it the best thing to spend the money on to improve the ride of your Enduro?
No. I recommend this as your priority shopping list:
1* Mtb Coaching (Will actually make you faster! and safer, everything else in this list will wear out and need buying again

New skills will last a lifetime!)
In the UK? Try these guys 'Pedal mtb'
2* Bike service (Well cared for drive train and brakes are easy watts)
3* New bar and stem (personal fit is important make sure you feel comfortable)
4* New Tyre's (bikes always look and feel better with fresh rubber)
5* Suspension service (look after it there expensive...)
Is it worth it?
It might not be the first thing I would recommend spending your money on, but in a world of hyper expensive bikes its not outrageously priced for what you get.
If your bearings need replacing (loads of them on enduros...) the upgraded rocker and yoke come fitted with new bearings, so that can be used to offset some of the cost/hassle and make the upgrade more justifiable.
Have you upgraded? have another opinion? Please put your thoughts in the comments.