TRICKX 3.Lite knee pads
TRICKX was launched in 2003 by Race Company, a bicycle and component distributor located in France. You may have seen some of their protective gear on the Lapierre International DH team, Cedric Gracia, or on all-around shredder Mark Weir. They offer a full lineup to protect riders from head to shins, but it is their 3.Lite knee pads that we take a closer look at here. Like a few other options on the market, they employ the visco-elastic density changing D3O padding that goes from pliable to rigid in an instant. D30 should make for a bit more comfort compared to pads that use solid plastic knee cups. TRICKX uses a layer of Kevlar over the knee to resist damage from sliding over rocks, and sections of 18-millimeter thick padding on the sides to keep top tube-induced bruises to a minimum. Airprene fabric is employed out back in an effort to allow for some circulation, while Velcro straps at the top and bottom of the pads work in conjunction with silicone gripper strips to keep them in place. Skinny jean wearers take note: the long and relatively slim design is tailored for those riders who might wear the 3.Lite knee pads underneath pants. Small, medium, and large sizes available. MSRP $100 USD
TRICKX
The 3.Lite knee pads fit great and provide protection when it's needed.
Pinkbike's Take:
| | |
| --- | --- |
| | The slim, snug design design makes the 3.Lite knee pads a treat to wear, and the soft neoprene interior only adds to their comfort. No, we likely wouldn't wear them on an all-day pedalling adventure, but they are cozy enough to rock all day in the bike park without complaint. The shallow knee cup lets them sit in profile with your leg, allowing them to be worn under riding pants or the skinniest of hipster jeans without hassle, and we found them to do a very good job at staying put during a ride. We've used D3O-equipped pads before and have been impressed with how the shape-shifting material functions, and it was no different with the TRICKX units. Due to a minor error in speed judgment while testing the 3.Lite knee pads, we know for a fact that they work quite well. If we were to be nit picky, we might ask for slightly slimmer padding on the sides, but dedicated park rats will likely appreciate the extra protection. All in all, a very comfy soft shell knee pad that hardens up exactly when you need it to. - Callum Jelley |
---
SDG/ODI Lock-On grips
A collaboration between SDG and ODI has produced a 130mm wide signature grip that sports the SDG logo for traction, along with forgiving rubber edges that border the transition from grip to Lock-On collar. The front side of each grip features slightly ramped logos, and the proven Lock-On system keeps them from spinning while also making installation and removal a cinch. Available in black, red, aqua and lime green. MSRP $29.95 USD
SDG Components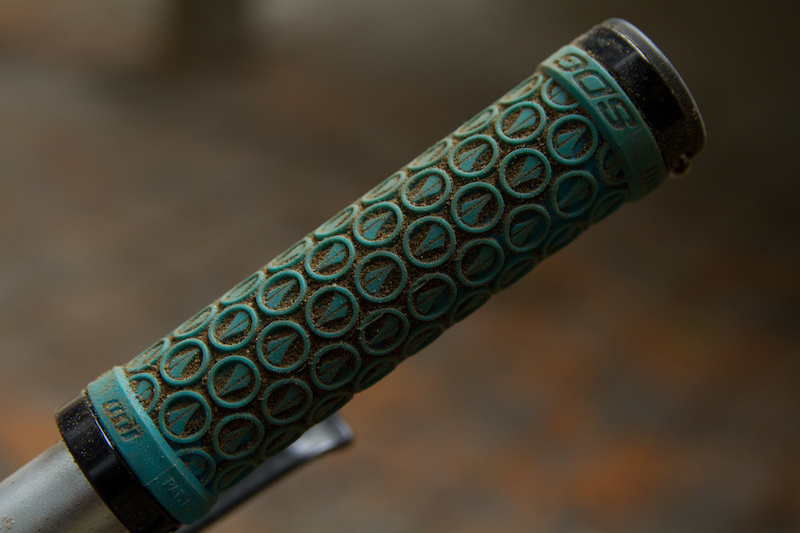 The SDG/ODI grip is a good choice for riders who prefer larger diameter grips.
Pinkbike's Take:
| | |
| --- | --- |
| | It is hard to fault an ODI Lock-On grip, with the locking collars working just as advertised - no slipping and no troubles to be had. The SDG version is a touch fatter than the commonly used Ruffian, and a bit closer to the larger diameter Rogue grips, so these should be popular with riders who have big paws. We found the circular SDG logo design to be comfortable and well cushioned, while the ramped design gives the grip a bespoke feeling. Small hands? You might want to stick to something a bit thinner. - Callum Jelley |
---
Tioga Psycho Genius Venture 2.5-inch tire
Born from the Psycho Genius all-mountain tire and using a re-designed version of Tioga's triangular tread block layout, the Psycho Genius Venture is a formidable looking tire. The large volume 2.5-inch casing is protected with Tioga's MAG60+ reinforced side-walls that are claimed to provide serious abrasion protection. This reinforcement adds a bit of weight, but also brings with it the peace of mind that comes from not needing to worry about paper-thin sidewalls. The tire's center tread runs into deeper, wider spaced cornering knobs, with the layout being designed to distort under cornering pressure and offer up more edges when you need it most. Tioga also uses two different compounds to build the Psycho Genius Venture, with softer sides and a harder crown to make the most of rolling speed and traction. It all adds up to 825 grams for the Kevlar bead version tested here (
steel bead available as well
). MSRP $65 USD.
Tioga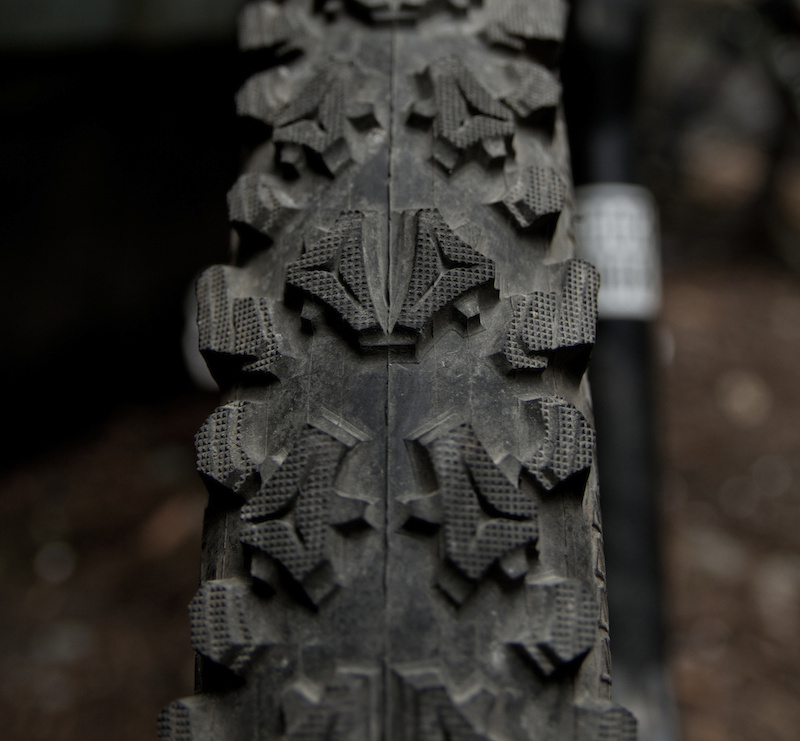 The Psycho Genius Venture may look weird, but they perform very well.
Pinkbike's Take:
| | |
| --- | --- |
| | The burly 2.5-inch Psycho Genius Venture spent a year in development before being released, undergoing a few different mold changes along the way, but it seems to have been worth the wait, as the tire has performed quite well for us. While not a featherweight tire by any stretch of the imagination, the 830-gram Venture is more than acceptable given its 2.5-inch width and sturdy casing. It rolls surprisingly fast along flowing climbs, and we have to say that it offers fantastic grip when pushed hard through rough, root-filled terrain. 'Consistent' is the adjective that first comes to mind when describing the Venture - Tioga is obviously on to something with their novel looking Psycho Genius tread pattern. This tire would make a good choice on a mid-travel trail bike that is going to be ridden hard by an aggressive rider who doesn't want the weight of heavy downhill tires. - Callum Jelley |
---