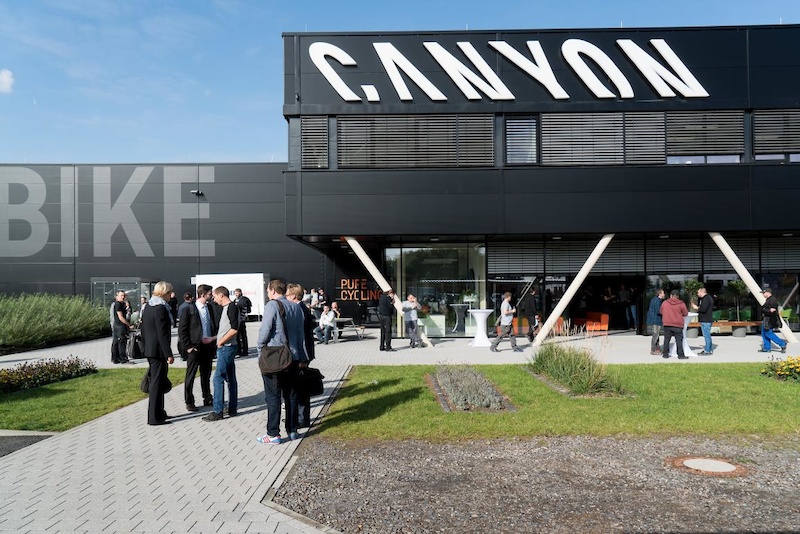 KOBLENZ, GERMANY, 25.05.2016 — Roman Arnold, founder and CEO of Canyon Bicycles GmbH, announced today the next step in his company's ascent as a global cycling brand: expansion into the U.S.. This next step in Canyon's history includes a partnership with U.S.-based TSG Consumer Partners, LLC. The contracts between the two companies have been signed, and formal confirmation from the Federal Cartel Office is expected within the coming weeks.
TSG will hold a significant minority stake in Canyon Bicycles GmbH and the Company will remain an independent entity, entirely separate from TSG's other investments.
"The partnership with U.S.-based TSG is invaluable in helping us successfully develop and navigate the American market, especially in light of its legal and economic particularities," said Arnold. "This step enables us to realize a corporate goal set a long time ago and for which we've prepared exhaustively. We are excited to have found a partner in TSG; specifically, a partner that shares our vision, our values, and our goals.''
The partnership with TSG confirms Canyon's expansion plans into the U.S. market and, as a result, its further global ambitions as a leading bicycle brand.
"TSG is proud to be a part of this incredible owner-operated success story," said Blythe Jack, Managing Director at TSG. "We are especially excited to support Canyon by providing our expertise on the U.S. market , in order to help it achieve its global aspirations. Canyon will continue to build upon its existing reputation for providing the absolute highest quality and industry-leading innovation in technology, design, and performance"
With TSG's vast experience in the consumer and retail sectors, Canyon will expand upon and improve world-wide customer service: "Our fans are our focus," says Arnold, referring to new customers in the U.S., as well as the hundreds of thousands of customers in Canyon's existing markets throughout Europe, Asia, and Australia. "Here, too, TSG will be of invaluable support."
According to Arnold, the timing for these future-oriented changes at Canyon is ideal. To continue and further its 6-year average of 30% year-on-year growth, Canyon undertook dramatic modernization measures last year when the company opened one of the world's most modern production facilities at its Koblenz, Germany headquarters. New production and logistics processes were necessary to satisfy the growing global demand for Canyon bikes, and current figures reveal the positive results: in April 2016 Canyon shipped its greatest number of bikes and generated the highest turnover in any one month in its history.
"The demand for Canyon bikes in the U.S. is already very high. But we also want to deliver an exceptional Canyon customer experience, on par with the quality of our products. To successfully accomplish that, we have partnered with TSG. Together we look forward to introducing Canyon bikes in the U.S. in 2017," confirmed Arnold.
---
MENTIONS
:
@Canyon-PureCycling
---