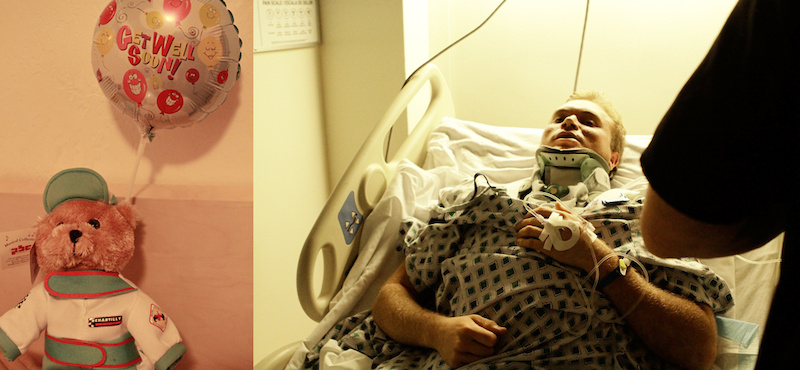 Last week our good friend and athlete, Greg Watts, suffered a horrific crash, while wrapping up his section for "Barred For Life 2". The crash happened around 1:30pm at Woodward West, while in rotation for a double back flip. Unfortunately going into the second rotation Greg tried to eject from his bike and fell 8 feet onto his back and neck. Right away, everyone ran to the scene to make sure Greg was okay, but we knew at that moment that something went super wrong. When he finally caught his breath he told us his neck and back were in tremendous amounts of pain.
We quickly reacted by calling up our friends at Woodward for a backboard and neck brace, as we waited for the Tehachapi Fire Dept. and ambulance to show up and assess the situation. When they arrived at the scene, the Tehachapi ambulance paramedic suggested that due to Greg's serious condition, that he be transported to Bakersfield Hospital that was an hour and a half west of our location.
Needless to say, Bakersfield is an experience that no-one needs to endure! This was an ordeal all on its own, and unfortunately Greg was going to have to deal with it. The paramedics dropped Greg off in the ER in Bakersfield and since this was Bakersfield it just happened to be full of convicts from the local prison who had just happened to have a 100 man riot that very day. This meant that Greg was going to have to wait for 6 hours before any attention or answers would come regarding his current condition. Also, to make matters worse, his friends had to wait out in the waiting-room and couldn't help him out in any way as they were restricted to wait out front.
By the time we were able to see Greg he was still in "overflow;" aka. - out in the middle of the hall with no answers. We would then have to wait for another three and a half hours before finally seeing some X-rays to help understand what he was dealing with. From this point the doctors were very helpful in giving us some insight into Greg's condition. The doctor walked Greg and myself through what had happened and we were able to record our overview of the X-Rays to show Greg. Unfortunately, the X-rays showed two fractured vertebra - the "C1" neck and "T3" in his back.
We have attached a little video shot on Greg's iPhone. This gives you a good perspective of the injury that he sustained.
This was obviously very bad news to hear, since we were all hoping for a popped disk or kinked neck. However it was a blessing in disguise to know that he wasn't paralyzed and will make a full recovery. The doctors informed us that Greg will have to wear a two piece neck and back brace for the next 3-4 months. After that he will continue with his rehab on a strong path back to his bike. The full recovery is expected to take up to 5-6 months before Greg will be back to full health and throwing down.
With that being said, we have been working very hard to get behind our good friend in-order to raise money to help him out with his hospital bills and for any other costs that he might endure on his road to recovery. We will be holding an auction on the
www.chainlinkclothing.com
to raise money for Greg. So far we have had an overwhelming amount of support from his sponsors and friends within the industry.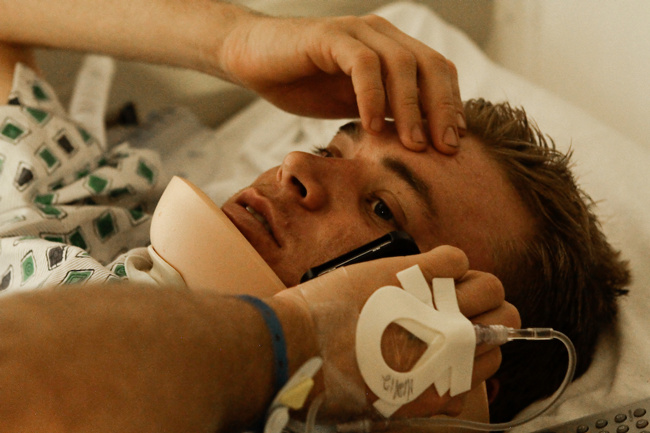 Below is the line up of great companies that are standing by Greg at this difficult time... ALL PROCEEDS RAISED THROUGH OUR ONLINE AUCTION AND GREG'S NEW SIGNATURE BADGE TEE WILL BE GOING STRAIGHT TO HIM!
Recovery Badge Tee |
Pre-order Now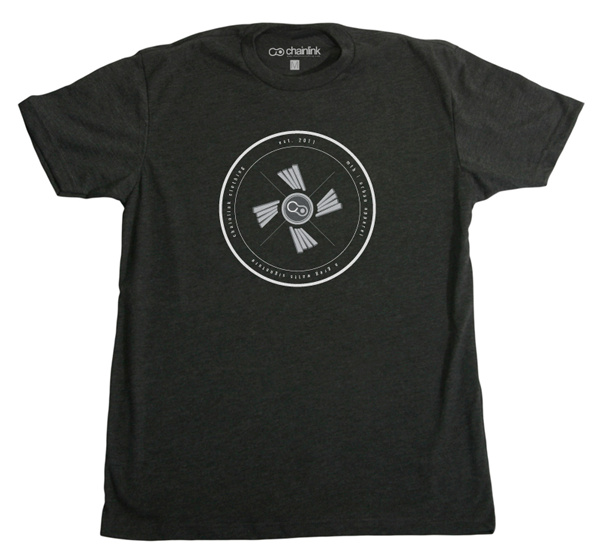 Auction Items:
Haro Bikes
· Full 4130 chromoly frame w/ internal head tube, Euro BB shell, removable cable guides, and our "Six-Shooter" interchangeable dropout system
· Pivotal seat and post
· Tektro Draco hydraulic rear brake with 160mm wave rotor
· Alienation Skylark double-wall rims
· 6000 series alloy CNC'd Thin Pedal w/removable pins and sealed bearings
· Syncros FR38 OS double-butted alloy riser bar and FR50 V2 OS alloy stem
· Three-piece chromoly 175mm 8-spline cranks w/ 6000-series alloy 25t sprocket
· X Fusion Velvet R 80mm travel suspension fork with X-15 tool-less 15mm thru axle
· Available in two sizes: Short (21.8"" TT) and Long (22.3" TT)
· Ritchey Logic Zero Comp internal headset
FOX Shox: 831 Fox Fork
FiveTen Shoes: 2 pairs of shoes (size and model of your choice)
Gamut: 5 Gamut chainguides
Rockstar Energy Drink: Signed Rockstar BMX helmet
Smith Optics: 3 signed Smith goggles
Easton: Aluminum wheel set (hub spacing of your choice)
Giro: Full Face Carbon remedy helmet and a half shell section (both in sizes of your choice)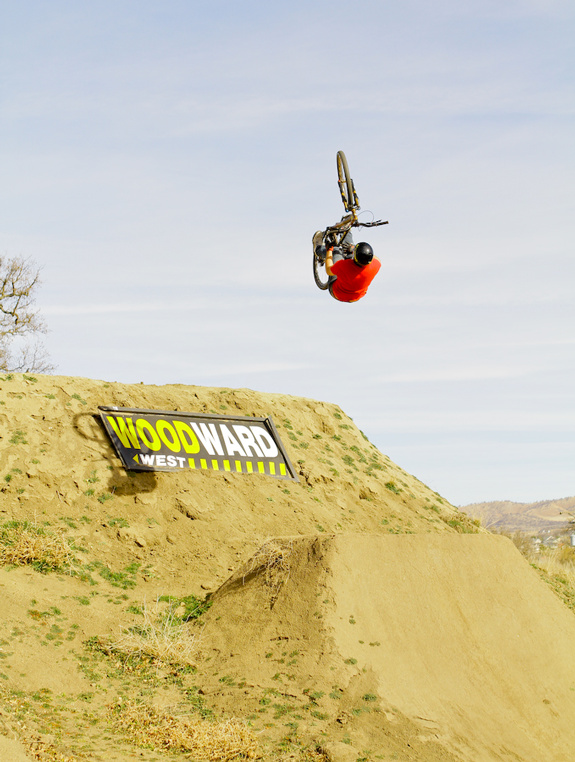 | | |
| --- | --- |
| | Special thanks to Ryan Howard, Tyler McCaul, Bjorn Aunet, and Andrew Taylor for helping me out while I was in the hospital as well as at the scene of the accident. I'd also like to thank everyone who gave me words of encouragement and positive thoughts as well as my sponsors Haro, Rockstar, Giro, Easton, Chainlink Clothing, Fox Shox, Gamut USA, Five Ten, Maxxis, Smith, and Shimano for sticking by me through my time of recovery. I'll be back with a vengeance before you know it! - Greg Watts |
| | |
| --- | --- |
| | Sometimes watching one of your best buds hit the dirt is worse than actually hitting the dirt yourself, and last Wednesday was one of those moments for me. Watching Greg bail out on a double flip was scary as hell and is something that I wish I could erase from my memory, but I'm grateful that we took the proper precautions to get him in an ambulance and off to the hospital safely. He's a tough mother F'er and there's no doubt in my mind that he'll bounce back from this and continue to make the impossible look possible on his bike in the very near future. Sometimes even the best make mistakes, but it takes a true champ to get back up. Heal up homie, you're a champ! - Tyler McCaul |
| | |
| --- | --- |
| | Seeing one of your best friends go down is never a fun time, so I'm just glad we can all be there for him on his road to recovery. Greg's a strong dude and I'm sure he'll be back stronger than ever in no time! - Bjorn Aunet |
Follow up on Greg's recovery status at :
http://www.facebook.com/chainlinkclothing
From your CLC family..."We wish you a fast and healthy recovery, brother!"
We've developed a dedicated mini-site for Greg's cause
HERE
AUCTION INFORMATION
- Place your name, email, and the amount that you would like to bid on each page in the form. It will then post to that page and once the deadline for all bids is reached, we will take the highest bid and contact you personally.
www.chainlinkclothing.com