CruJonez
Member since Apr 11, 2011

Male / 46
NRH , Texas
Block user
Recent

Selling
Sep 3, 2018 at 17:02
Sep 3, 2018

Selling
Sep 3, 2018 at 16:59
Sep 3, 2018
$80 USD
Marzocchi Bomber 26" air fork. I believe it is a dirtjam, not exactly sure, it had a decal of a pinup girl with a shovel originally. Good fork, its been on my neighborhood cruiser for several years. Still holds air and soaks up bumps. ~6 3/4" of straight steer tube. Disc brake only

Selling
Apr 9, 2018 at 19:48
Apr 9, 2018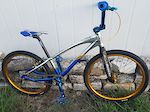 $700 USD
NOS GT Speed series Expert 24 frame. GT CNC stem, fly bars, raceface grips, gold wheels with VEE speedsters, control tech setback post, bontrager saddle, Halo Clickster freewheel, Answer Scythe Pro24 fork.

Selling
Mar 20, 2018 at 14:19
Mar 20, 2018

Selling
Feb 13, 2018 at 8:50
Feb 13, 2018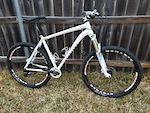 $1000 USD
NOS Niner EMD XL 29er frame White brothers loop fork WTB TCS stryker wheelset with WTB wolverine TCS tires SRAM nx 1x11 drivetrain Hayes dyno sport hydraulic brakes

Jan 15, 2018 at 17:07
Jan 15, 2018

Jan 15, 2018 at 16:39
Jan 15, 2018
Check Out - January
They went obsolete for me when I figured out I could buy 5 sets of comfy grips for one pair of comfy lockons. At the rate I go through grips, thats an extra case of beer every few weeks.

Selling
Jan 15, 2018 at 7:31
Jan 15, 2018
$1100 USD
Santa Cruz Highball Carbon 29er 21" c-t frame White Brothers Loop Air Fork Easton Haven Wheelset SRAM NX 1x11 drivetrain Avid Elixir Brakes

Selling
Jan 13, 2018 at 7:29
Jan 13, 2018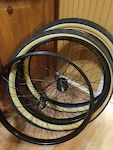 $125 USD
Wheels from a Stolen Saint 24" BMX . little use, I had them in use temporarily while waiting on wheels I ordered. 3/8 front axle, 14mm rear, 9t driver Tires are 24x2.2

Selling
Jan 13, 2018 at 7:26
Jan 13, 2018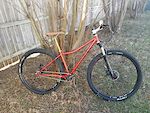 $600 USD
Soma Juice 29er. 16" c-t Tange Prestige steel frame is is good shape, no dents or cracks. Rockshox reba rl, steer tube was left long, due the extreme short headtube, but i will cut it off after purchase if you desire. Wtb tcs wheels and tires Avid elixir brakes Shimano zee crank Crank bros 5050 pedals Frame is ss or geared compatible, rear wheel is ss specific hub. So you'd need a rear wheel if you want a geared option, basically a 2 in 1 bike.
Load more...