DMoneyBike
Member since May 15, 2015

Male / 35
Atlanta , Georgia
Block user
Recent

Sep 24, 2020 at 5:19
2 days
First Look: Actofive Unveils Fully CNC'd Aluminum P-Train
For another anecdotal data point...I'm 6'1" and 34" inseam. In June of 2019 I went from 450 reach to 470 and adapted almost immediately (other geo was similar besides steeper ST). Just updated to 490 reach Sept 1st 2020 and also went to more modern geo AND bigger 29" wheels. This was defiantly more of an adjustment, but after 10 rides I'm beating my PRs and this is mostly on steep techy trails with lots of tight switchbacks/catch berms/etc. Having said that... I don't think I could go any longer with my relatively short torso (all legs here). As always, test ride as many as you can... everyone's body type, weight distribution, riding style, physical conditioning, and favorite terrain plays a part in the geometry that works best for you. For anyone who is interested, the bikes were 2016 Evil Insurgent, 2019 Revel Rail, and 2021 Specialized Enduro. Lastly, this is a cool website I stumbled on for comparing different bikes geo: https://geometrygeeks.bike

Sep 19, 2020 at 10:53
Sep 19, 2020

Morning Ride
11.7 km - 00:40

Sep 16, 2020 at 8:43
Sep 16, 2020

Morning Ride
22.7 km - 02:04

Sep 15, 2020 at 3:57
Sep 15, 2020

Selling
Sep 15, 2020 at 3:55
Sep 15, 2020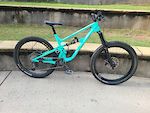 $2500 USD
Selling my 2020 Revel Rail frame & 2020 Fox 36 Performance Elite fork (recent lower service in June). Ridden for about 13 months with AMS frame guard installed on downtube, seat tube, seat stays, & chainstays & top tube. There are some scratches from normal riding, but nothing serious. Pictures capture all the small nicks I could find. All bearings replaced in April 2020, and still feel like new. Will include fork, rear shock, Cane Creek 40 headset, bottle cage, OneUp F & R axles, and spares (derailleur hanger, OEM R axle, various pivot bolts & caps). Price with different rear shock options below: - 2020 frame AND fork with EXT Storia V3 = $3000 - 2020 frame AND fork with RockShox Super Deluxe RT3 = $2600 - 2020 frame only (no fork) with EXT Storia V3 = $2500 - 2020 frame only (no fork) with RockShox Super Deluxe RT3 = $2100 The I have 4 springs for the EXT that should work for folks in the 160-180lb range depending on riding style (#375 & #400 from EXT, and MRP Progressive springs - #350+, & #400+). Also selling as a complete bike. As long as this ad is up, then the frame is still for sale. Please don't waste our time with lowball offers.. The EXT Storia V3 shock costs $950 alone without the extra springs. Buyer pays shipping via bike flights = $65, and I will cover the Paypal "goods & services" fee which is approx $70.

Sep 14, 2020 at 15:50
Sep 14, 2020

Selling
Sep 14, 2020 at 15:38
Sep 14, 2020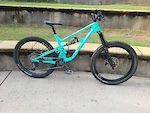 $5200 USD
For sale is my size large 2020 Revel Rail in the "mint chip" color that was originally built on June 14th 2019. MSRP for this custom build is approx $8500. Ridden for about 13 months with lots of recent maintenance and new or low mileage parts including new rear wheel & fork lower service. Asking $5200 as pictured with EXT Storia V3 shock and WeAreOne/Onyx rear wheel. Buyer pays shipping (approx. $100 via BikeFlights) and I will cover the Paypal "goods & services" fee (approx. $150). If you are interested, but this is out of your price range there are some pricing options that are laid out below. This is a truly incredible bike and I'm reluctant to sell in fear that whatever replaces it won't be as capable or well rounded. Worldwide Cyclery and BikeMag have some good video reviews, and the CBF suspension platform really is exceptional, but I'll let any interested parties do their own research. I was a professional bike mechanic for many years so, mechanically… the bike is in excellent condition. The pictures can speak for the aesthetic condition which is also very good but has some expected/minor nics & scrapes from normal use. I'm only selling because I have been riding 27.5" wheel bikes for the last 5 years and want to try something with 29" wheels. Sizing info: I am 6'1" (185cm) and weigh 178 lbs with 34" inseam and the Large size fits me well, but if you are any taller, I would point you towards the XL size. I believe Revels sizing chart & recommendations are pretty spot on (see geometry chart). This is a top shelf build and I have been very meticulous with maintenance and I do not NEED to sell, so please don't waste our time with lowball offers. The EXT rear shock and three-month old custom-built WAO rear wheel cost $2k alone. The only thing that needs attention soon is the Aggressor rear tire on the WAO wheel option and I'm happy to swap it out before shipping the bike (have 2.5WT" DHF - EXO/3C/MaxGrip, or 2.4WT" DHR - DD/3C/MaxTerra on the shelf as options). Price options: There are two separate rear shocks and two separate rear wheels available as options for purchase. I will adjust the price by +/-$400 depending on the choice of rear shock, and SEPARATELY +/-$400 depending on choice of rear wheel. I am also willing to sell the bike with both rear shocks and/or both rear wheels as well. Asking $5600 with both shocks OR both rear wheels. $6000 for everything (two rear shocks AND two rear wheels). In summary: I'm asking $4400 for the least expensive build options (SuperDeluxe & EX511 rear wheel) and $5200 for the most expensive options (EXT Storia & WAO rear wheel).

Sep 12, 2020 at 10:15
Sep 12, 2020

Morning Ride
11.7 km - 00:36
Load more...