Daniel-Bladon12
Member since Nov 10, 2014

Halifax , United Kingdom
Block user
Recent
Jan 31, 2019 at 11:35
Jan 31, 2019
Selling
Jan 31, 2019 at 11:34
Jan 31, 2019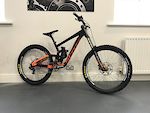 $2200 GBP
Here we have for sale a 2017 Scott Gambler DH bike The bike is in really good condition thoughout. The usual scuffs and marks from a dh bike are expected. This bike has just had a full service Including fork and shock service, new bearings throughout, brakes serviced including new pads. Kept in top condition and maintained to a very high standard. Spec is as follows Scott Gambler frame in medium Fox X2 air shock Rockshox Boxxer Team fork Hope pro 4 hubs on dh rims Hope tech 3 levers on v4 brakes Hope 165mm length cranks 34 tooth chain ring 7 speed Hope cassette Sram xo1 7 speed mech Sram GX 7 speed shifter Hope 50mm direct mount dh stem Hope alloy bars which you can't buy and are team issue only Hope grips Hope carbon seatpost If you have any questions please ask, No time wasters Cheers Dan
Nov 29, 2017 at 11:15
Nov 29, 2017
Selling
Nov 29, 2017 at 8:56
Nov 29, 2017
Oct 13, 2017 at 14:43
Oct 13, 2017
Poll - How Clean is EWS Racing?
Not clean at all. If you're a professional athlete you will do whatever it takes to be the best. Most of the time that is is drugs. All the top guys are on roids
Aug 3, 2017 at 13:26
Aug 3, 2017
Selling
Aug 3, 2017 at 13:16
Aug 3, 2017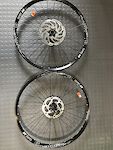 $175 GBP
Here I have a brand new set of dt swiss E1900 wheels. They came on a bike but I swapped the wheels out straight away. 27.5 inch wheels front is 15/110mm and the rear is 12/148mm both are tubeless taped both have shimano centre loch ice tech rotors. front is 203mm and the rear is 180mm Any questions please ask Cheers Dan
Aug 3, 2017 at 13:00
Aug 3, 2017
Aug 3, 2017 at 12:49
Aug 3, 2017
Selling
Aug 3, 2017 at 12:32
Aug 3, 2017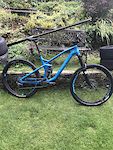 $2000 GBP
Hello, here I have my Canyon Strive bike up for sale. I have owned for about 6 months and has recently had a brand new frame due to a warranty replacement. The bike has been rode like a mountain bike so has a few scuffs here and there on some parts but the frame is perfect. Everything works as it should and has had a full service before sale. I am a mechanic myself so the bike has been well maintained throughout its life and has many years left in it. Spec list is as follows Canyon Strive frame, Size medium Rockshox Pike RCT3 fork. 160mm travel. Just been serviced, work perfectly. They have a mark on the arch but this obviously doesn't affect the performance of the fork. Rockshox Monarch RCT3 shock. 160mm travel. Just been serviced and is working perfectly. SRAM Guide RSC brakes, both front and rear have just been serviced and have new pads in. SRAM Rail 50 wheels. Both wheels have a few dings in the rim so aren't perfectly true but they still work fine and both tyres seal tubeless. SRAM x01 rear mech + shifter and cassette. the mech has a few scuffs on but isn't bent and still works perfectly. cassette has loads of life in. Brand new SRAM chain. SRAM XX1 carbon crank. this an upgrade on the stock build from canyon. I've had the crank for years and have used it on most of my bikes so has some battle scars but is obviously still working great. Other little spec bits you can see on the photos or if you want to know anymore please ask. This bike has just been serviced and is working in perfect condition. Brand new unused frame. Bargain price. If you have any questions please feel free to ask. Cheers Dan
Load more...