EastCoastSmorgasbord
Member since Sep 8, 2009

Male / 51
Lancaster , Pennsylvania
Bikes/Boards(skate & snow) Beer(microbrews)
Block user
Recent

Jun 25, 2021 at 5:53
Jun 25, 2021

Selling
Jun 25, 2021 at 5:51
Jun 25, 2021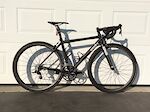 $1500 USD
Original Spooky Skeletor great condition. This is a USA, SAPA Made Frame ENVE Fork Complete SRAM Rival drivetrain. Salsa Bars Thomson Clamp Schwalbe ONE Tires Brand New Superteam Carbon Wheelset (3 under 20 mile rides on them) extra spokes/nipples included. Some Race Face Cadence bits on it. I will be keeping my saddle (can ship with a generic saddle on it if preferred), pedals and bottle cages. Buyer pays shipping. (Email paid Bike Flights label- usually cheapest) I will have my LBS Professionally Pack. If you know, you know. Please ask if you have questions. If I don't get any offers within 48 hours, it will be off to The Pro's Closet.

Selling
Jun 10, 2021 at 20:06
Jun 10, 2021
$1234 USD
Everything is in the title. I don't need a complete bike. Frame only needed but will buy a frame and fork if necessary. Thanks

Selling
Feb 15, 2021 at 4:43
Feb 15, 2021

Selling
Feb 14, 2021 at 21:37
Feb 14, 2021

Feb 7, 2021 at 7:57
Feb 7, 2021

Selling
Feb 7, 2021 at 7:57
Feb 7, 2021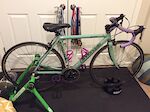 $500 USD
Cannondale CAAD4 R500 Vintage Bike 48cm Frame Size Cannondale Slice Carbon Fork. 700c wheels. Many frames this size were made for 650b. Original Owner. Shimano Tiagra Group Cannondale Cyclocross Brake Levers were added at purchase to add confidence in braking when hands not positioned in the Drops or on the hoods. The color was called "Kale" this model year. No rust. Bike only. Trainer in photos NOT included. Prefer Local Pickup. Cash Only. Will consider shipping at buyer's expense/PayPal with fee covered/I will have my local Shop professionally pack and ship. If serial number is necessary before purchase, I can pull the bottom bracket cable guide to retrieve. This is the reason I couldn't come up with the model year. I am the original owner. The bike is not stolen. Serial number is complete and not filed/removed.

Feb 7, 2021 at 7:42
Feb 7, 2021

Selling
Feb 7, 2021 at 7:41
Feb 7, 2021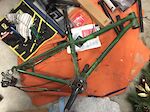 $300 USD
Chromag Rootdown (Frame Only) Size Small Green 1st Generation 29er Steel Hardtail Disc Brake Chromag Bear Headtube Badge Excellent Condition I am the original owner. Chainstay was covered from Day1 to prevent chain slap/scratches. Deity Components Seatpost Clamp will be INCLUDED. 135 QR rear hub spacing 44mm /Headset Cup Size (headset not included. Nor crankset/BB/saddle/rear derailleur shown in photo) 35mm clamp (again, will be included) 31.6mm Seatpost Threaded Bottom Bracket 67 degree Head Tube Angle 16.9" Chainstay Length Will fit up to 2.6 tires. Ran 2.5s on wide carbon rims an had tons of clearance. Sorry about the poor photos posted. I was excited to get my new bike built and hastily tore the Rootdown apart before taking proper photos. Frame will be cleaned/spotless upon pick up/shipping. I knew if I didn't get this posted today while it was dumping snow here in the Northeast, the work week/life in general would step in and it likely wouldn't get done any time soon. So? Quick pics of it with a little mud on it. I mean, it was my main trail bike. It was ridden. Frame is not stolen, number is intact and not removed. Again, I am the original owner. Rock Shox Reverb (1st Gen) 30.9 external cable dropper post/lever/seatpost tube shim can be included at NO Charge. Upper part of the post is slightly bent and sticks. (Frame is NOT bent in any way) I bought a new OneUp dropper for the new bike. I am just not willing to fix the Reverb. But I'm sure a new upper portion could be sourced from Rock Shox and it could be fixed/serviced. Please ask all questions prior to purchase. More photos can be supplied. No returns. Thanks for looking. Cash and local pickup preferred. Will be willing to ship at buyer's expense/PayPal Fee covered.

Selling
Jan 3, 2021 at 4:01
Jan 3, 2021
Load more...