ErikandShonna
Member since Mar 9, 2016

Male / 46
Issaquah , Washington
Block user
Recent

Aug 22, 2020 at 17:17
Aug 22, 2020

Selling
Aug 22, 2020 at 16:13
Aug 22, 2020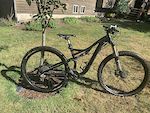 $700 USD
29" specialized stumpjumper comp with upgrades XT hydraulic breaks SRAM X0 tear deraileur CTD remote (swaps fork and rear shock between climb trail and descend modes) mounted on handlebars Tubeless tires 2x10 drivetrain

May 7, 2020 at 14:03
May 7, 2020

Selling
Oct 31, 2017 at 17:46
Oct 31, 2017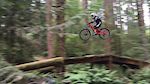 $800 USD
24" Norco Fluid youth bike Have a young ripper who's ready to take it to the next level? My son just our grew this bike, and it's been great trail weapon.. He's had tons of fun on it, and it can take some serious shredding! Got come scratches, and a some upgrades (clutch type derailleur and better chain ring) From Norco: The Fluid 24 brings all the trail capability of the Fluid series to smaller riders. With no-compromise geometry in an youth-sized frame designed around 24" wheels, the Fluid 24 is optimized to get maximum fun out of very trail. Hydraulic disc brakes deliver all the modulation and stopping power they'll need to handle the rougher stuff, while the trail-tuned A.R.T. suspension will help them take their riding to the next level.

Oct 31, 2017 at 17:39
Oct 31, 2017

Selling
Oct 31, 2017 at 17:28
Oct 31, 2017

Jul 16, 2017 at 15:52
Jul 16, 2017

Jun 28, 2017 at 8:09
Jun 28, 2017

Selling
Jun 28, 2017 at 8:08
Jun 28, 2017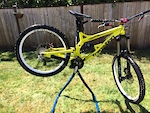 $1300 USD
The TR250 borrows many great race proven characteristics from it's sibling the TR450 to create a tight and responsive shorter travel DH bike that absolutely rips. Making the TR250 versatile was the top priority with adjustable chainstay length, travel, BB height and head angle, there is nothing on this bike you can't tweak. The suspension features the same great progressive feel as the TR450 but offers adjustable travel settings for two distinct feels at 160 or 180mm depending on your mood. The TR250 is meant to be ridden hard and put away wet since it is extremely easy to maintain. This bike is built for riders that love DH style bikes but are looking for something more playful that is incredibly easy to throw around that can still rail down gnarly downhill lines. Rear travel is adjustable 180mm or 160mm. I typically run it at 180mm travel with a stronger spring, which gives great small bump response, and can soak up big hits. I have three springs - 500lbs, 550lbs and 650lbs (on bike) Playful, capable of freeride/dh, great cornering, super stable in air and over rough ground Replaced all suspension bearings in July 2017
Load more...