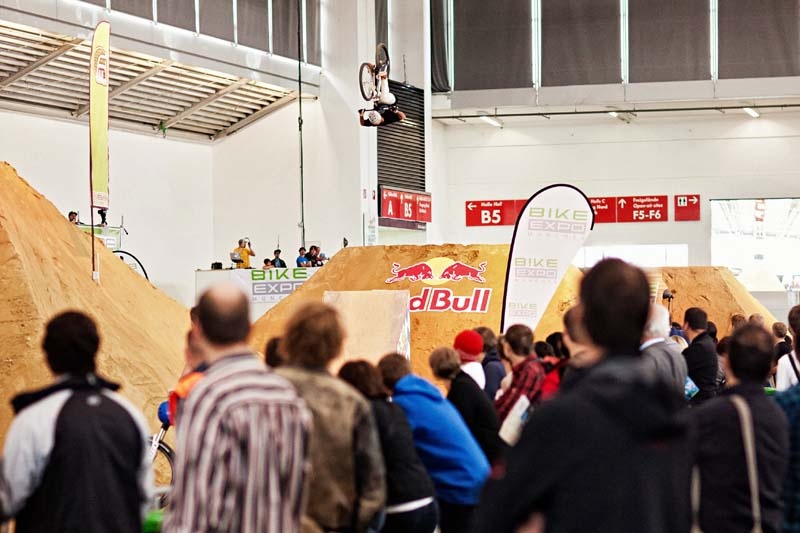 As the Freeride Mountain Bike Association (FMBA) announced a few days ago, the Freeride Mountain Bike World Tour (FMB World Tour) is undergoing several structural changes for the 2012 season. One of them is the introduction of two amateur (AM) rankings (Europe and North America) that will open competitive freeride mountain biking within the World Tour to athletes of all levels. Riders with an AM license collect ranking points at Bronze and Silver events to ultimately win one of the two AM titles and grand prizes: a brand new slope style bike from the official FMB World Tour partner Specialized. In order to create an ideal competitive environment for AM athletes, the FMB World Tour is still open for Silver and Bronze events. Find more info on event applications and the application documents
on our website
.
Silver and Bronze events form the basis of the AM competitive circuit, which is why the FMBA has amended the event requirements to enable more events to join the World Tour. A larger number of Silver and Bronze events in North America and Europe mean that more AM riders have a better chance of collecting and improving their top 3 results for the AM ranking and top 6 results for the overall ranking. Every high placement will bring the AM riders closer to ultimately taking home the title of FMB World Tour North American or European AM Champion.
While participants in Silver and Bronze events are not required to be licensed FMB World Tour riders, priority access will be granted to riders bearing a license. So if you are an event organizer or know of an event that would be suitable to join the FMB World Tour, do no hesitate to find out more and apply! Already, several new Bronze events are joining the FMB World Tour for this season:
UDUG, Bend, Oregon, USA (April 27 – 29)
College Cyclery Rain or Shine Jam, Monterey, California (April 21 – 22)
Havok Jam, Newmarket, Ontario, CAN (July 1)
As of right now, Silver events are obligated to provide guaranteed starting places for the top 36 riders from a 52 weeks seeding list (results considered 6 weeks prior to event) and the top 12 riders of the AM ranking (depending on the event either North American or European). The event needs to have a minimum of 3 judges, 2 of which are required to be licensed by the FMBA. The overall prize money may not be lower than EUR 5.000 or USD 7.000 and there is an entering fee of EUR 1.000 or USD 1.300.
The event requirements for Bronze events have been somewhat lowered to create a broader event spectrum on this level. Every FMB World Tour Bronze event has to provide prior access to FMB World Tour riders, while the overall number of starting places is up to the event organizer. A minimum of 2 judges is required and the overall prize value may not be lower than EUR 1.000 or USD 1.300 in cash or kind. The entering fee is EUR 200 or USD 260.
If you have any questions, write us an email:
info@fmbworldtour.com
For more information about the FMBA and FMB World Tour, please go to
our website
or our
facebook fanpage.