For the last three years, as an official partner of the FMB World Tour, the hydration specialist CamelBak has presented the FMB World Tour Champion with a golden CamelBak Eddy bottle. The gold plated Eddy bottle, with a gold crusted FMB World Tour icon set in hand sculpted rock will be presented to the 2013 Champion after the finals at Red Bull Rampage on October 13th. Furthermore, as the riders risk even more to take our sport to higher levels with outstanding progression, the rewards must also increase, which is why the overall FMB World Tour prize purse has increased to 30,000 Euro. So without further ado, let's take a look at the contenders of this final competition.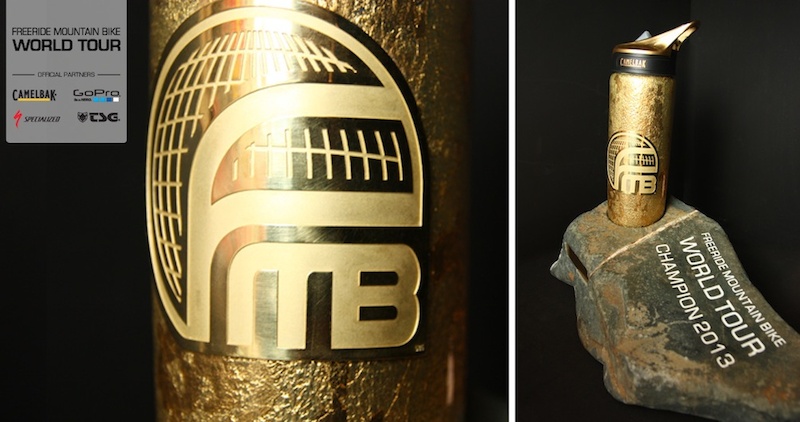 Brandon Semenuk has dominated the top spot on the FMB World Tour for the last two years, winning consecutive titles in 2011 and 2012. But this year, the road to victory was wide open and the title was anyone's for the taking. As the season progressed we saw the top contenders make their way up the ranking. Martin Soderstrom (current rank 2nd) was on a roll, showing an unprecedented form but while trying to secure glory at Red Bull Joyride, he took a heavy crash that has ended his FMB World Tour season. With one event left, Sam Pilgrim has emerged as the favourite for title. But does he have things all sealed up? Not necessarily.
Sam Pilgrim: Current rank 1st.
Sam started his season the way he intends to end it – on top of the podium. Overall, Sam has lead the overall ranking longer than any other athlete this season – saying that, he has had to battle ferociously to stay on top. Sam undoubtedly has the skill to take his first ever FMB World Tour Championship title. Some might say, luck has played in his favour with Brett Rheeder and Martin Soderstrom out of the saddle but rest assured, Sam's competitive nature would much rather see a fierce battle to the end than an easy road due to injuries. Sam will enter the battleground of Red Bull Rampage the clear favourite for the title – but one rider can still deprive him of glory.
Brett Rheeder: Current rank 3rd.
Brett has followed the FMB World Tour religiously this season – always the first on course, practicing and clocking more runs than any other rider, Brett's goal is obvious – become the FMB World Tour 2013 Champion. It was all going according to plan: he took the lead of the overall ranking after a spectacular win at the first ever X Games Mountain Bike Slopestyle event in Munich and was determined to stay there. Sadly, Brett's championship crusade was short lived due to a back injury sustained during the following Gold event, Crankworx Les 2 Alpes. However, after resting and undergoing professional rehabilitation Brett has a good chance of being cleared to ride at Red Bull Rampage. His participation is still uncertain due to the extreme nature of the event – but this is how the 2013 championship battle looks like: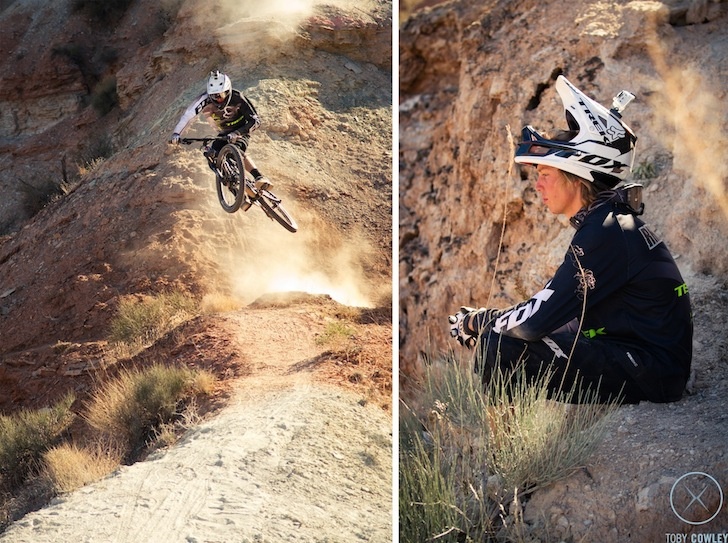 Thomas Genon: Current rank 4th.
This was the first year for young Thomas after his major breakthrough last season, when he won Red Bull Joyride at Crankworx Whistler. Along with stardom also comes a mountain of tangible pressure and despite a successful year, it is clear that the Belgian rider wants more. Thomas won't get his hands on the golden CamelBak Eddy bottle in 2013, but has the potential to finish second overall if he lands a solid third place result at Red Bull Rampage.
Yannick Granieri: Current rank 5th.
This is a comeback year for Yannick after a serious knee injury in 2012. Feeling stronger than ever, Yannick is safely seated in the top 5 in the FMB World Tour overall ranking. We all know that on a slopestyle course, Yannick poses a serious threat and if he can convince the judges of his big mountain skills enough to finish second at Red Bull Rampage, then he too is a contender for an overall podium finish.
Anton Thelander: Current rank 6th.
It may seem a bit far-fetched, but this young shredder has done nothing but astound us all season. Known throughout the industry as "Cleanlander" – Anton reached new heights this season becoming the first ever Red Bull Phenom Champion during X Games Munich. He has achieved numerous podium results at some of the top FMB World Tour events, and also won the Red Bull Joyride "Young Gun" award – do not be surprised if Anton lands another impressive result at Red Bull Rampage. If he manages to over come the fear of riding the ruthless Utah desert terrain then Anton might just make it onto the FMB World Tour 2013 podium.
So, there you have it folks! Your FMB World Tour 2013 podium contenders. Who will rise above the rest to raise the golden CamelBak Eddy bottle and take home a chunk of the 30,000 Euro prize money? Find out live on
redbull.com/bike
or fmbworldtour.com on October 13th. It's been another incredible season and although there is only one event left, there is still everything to ride for.
For information about the FMBA and FMB World Tour overall ranking please click
here
.