Do you live and breathe mountain biking? Do you want to this great sport develop and become bigger and better? The FMBA wants to hear what you think about freeride mountain biking! Help us develop this sport, which we all love! Express your opinion and enter the lottery for awesome prizes to help you set up for the 2013 season!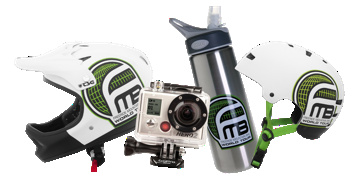 Looking back on a successful 2012 FMB World Tour season the FMBA is already anticipating exciting developments for 2013. Since developments for the future are swiftly moving forwards, we want to involve you in our latest project and ask for your support.
The FMBA slogan is "your sport – your association" – aside from collaborating the FMB World Tour, the FMBA aims to be the voice of all freeride mountain bikers. Our goal is to represent your voice and all the freeriders out there on a global level. To achieve this we need you participation!
Every sport has its enthusiasts and fan base – whether you closely follow competitions and news or just simply enjoy shredding at the weekends – it is the core community that you are a part of, which essentially helps the sport of freeride mountain biking progress. This is why we - the FMBA - want to hear your voice and your opinion on the sport of freeride mountain biking! The survey is meant for all mountain bike enthusiasts, with the goal of painting an accurate overview of how the biking community understands the sport of freeriding and in particular the FMB World Tour.
By understanding how you – our supporters and followers – feel about freeride mountain biking we hope our efforts and developments will follow your opinion on how this awesome sport should progress!
To help your sport grow and progress we are asking you to support the survey. The survey takes about 10 minutes and will ask you questions about your personal experience with the sport of freeride mountain biking as well as how you feel about the direction the discipline is moving in. Click on the banner below to take part in the survey - alternatively visit:
www.fmbworldtour.com

It doesn't matter if you are interested in freeriding specifically or not – everybody has a voice and we want to hear yours!
As an additional incentive have put together two sick prize packages for a survey participant lottery– to help set you up for the 2013 season. Thanks to the FMB World Tour partners, you can get your hands on one of our fantastic packages to help you set up for the 2013 season.
We are giving away:
3 x Package 1.
➢ GoPro Hero2 Camera
➢ FMB World Tour signature TSG 'Staten' helmet
➢ Limited edition Camelbak 500 Better Bottle
3 x Package 2.
➢ FMB World Tour signature TSG 'Evolution' dirt helmet
➢ limited edition Camelbak 500 Better Bottle
So don't delay – help your association help your sport - and get your hands on these awesome prizes! We hope that we can count on your support!