Flirtus
Member since Dec 15, 2007

Male / 51
Dunellon , New Jersey
Block user
Supported Regions

Stroudsburg
via
PBC

Nazareth
via
VMB
Recent

Jun 17, 2020 at 18:26
Jun 17, 2020

Selling
Jun 17, 2020 at 18:25
Jun 17, 2020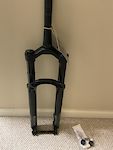 $500 USD
Selling my 2019 MRP Ribbon SL boost 29er fork with 130mm travel and 51 offset. The MRP Ribbon SL is the short-travel lightened version of the award winning MRP Ribbon. It has 35mm stanchions, so very stiff but still under 4 lbs. I moved onto something with a bit more travel so this must go. Volume spacers and travel adjust spacers included. Steerer is 7.75 inches and starnut installed. Condition is excellent with only some scratches on the lowers, stanchions are perfect. Asking $500 with shipping included.

Feb 7, 2019 at 5:44
Feb 7, 2019

Selling
Feb 7, 2019 at 5:43
Feb 7, 2019

Selling
Aug 25, 2010 at 11:14
Aug 25, 2010
$475 USD
I'm selling my almost new Hope Pro 2 Disc/Stans Flow wheelset. These literally have 5 rides on them. I got these over the winter and put them on my Nomad but my riding style has changed. I'm doing the race thing now and I'm selling off the parts to finish my new race bike build. There a few very small scrapes on the rear wheel, none that I could find on the front. They could pass as new. Included are Kenda Nevagel UST tires that were mounted with Stans sealant (now removed). Tires are a bit older but still have plenty of life left in them. Front is a 20mm T/A Hope hub. Rear normal 135mm. No skewer included with rear. $475 shipped to the U.S.
Load more...