Gumball-Factory
Member since Jul 31, 2018

Newport Beach , California
Block user
Recent

Apr 20, 2020 at 8:05
Apr 20, 2020

Jan 28, 2020 at 10:14
Jan 28, 2020

Nov 12, 2019 at 12:13
Nov 12, 2019

Selling
Nov 12, 2019 at 12:06
Nov 12, 2019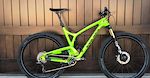 $3800 USD
The Following transformed our expectations for any trail bike to be lively and capable. This one-of-a-kind, Full-Di2, build takes The Following's performance and versatility beyond reasonable limits with full digital shifting and suspension control as well as a unique digital modularity with plug and play 1x11 and 2x11 drivetrain options. Built as a Di2 showcase bike for Shimano, this 2016 Evil features custom software and special functionalities. With 121mm of Delta Box travel and 17in (430mm) chainstays, this bike is well suited for any terrain. Loaded with top of the line parts, including a Stages Power Meter, Fox iRD suspension, full XTR Di2, and wide carbon rims, this bike is amazing to ride and is in excellent shape. It has low miles in mostly dry conditions and has been professionally maintained. It is super clean now and ready to go! All bearings are smooth, chain is new, and the brakes are bled. I can configure as shown: either 1x or 2x. Or both! I can also include all spare parts so the buyer can maintain this choice in the future. I'll box it and ship it for $150. Check out great details in photos. No pedals included. Note: custom paint chip shaped as 'bird of prey' for extra focus on trail! Frame Evil - The Following. X-Large size. 121mm travel. 29in wheels. Bottle cage Shock: 2016, FLOAT DPS, Kashima, iRD SV, 7.25 x 1.75, CM, RM, Climb F Fork: 2016, FOX 34, Kashima, FLOAT, 29in, 140mm, iRD, FIT, 15QRx110, 1.5 T, 51mm offset Suspension control: SW-M9050-L Di2 suspension control (simultaneous digital control of F&R dampers) Control function: Single click either lever = trail, double click top = DH, double click bottom = climb Bar: Pro Tharsis Di2 carbon riser bar 9/4 bend cut at 780 Stem: Pro Tharsis Di2 stem - 50mm - with battery trap and plug Dropper Post: KS LEV Integra post 150mm and carbon lever Display unit: XTR SC-M9050 display and charge port (gear indicator, suspension status, battery level) Saddle: WTB Ti Volt 142mm saddle Brakes: XTR BR-M9020 trail brakes Rotors: XTR SM-RT99 S & M Shifter: XTR SW-M9050-R Di2 shifter (also synchro control of front derailer if 2x used) Derailer: XTR RD-M9070-GS Cranks: 1x spec XTR FC-M9020 - 32T Power Meter: XTR FC-M9020 with Stages integrated power meter ($600 retail) Cranks:2x spec XTR FC-M9020 - 34T/24T Bottom bracket: XTR SM-BB94-41A Cassette: 1x spec XTR CS-M9001 (11-45) w/wolf tooth 45t conversion Cassette: 2x spec XTR CS-M9001 (11-40) Front derailer XTR FD-M9070 (two synchro shift patterns - steep or rolling) Chain: XTR CN-HG901-11 Wheels: XTR FH-M9100 32 hole XTR HB-M9010-B 32 hole Nox USA Farlow 29 Carbon -- 29mm internal width Trail Boss 2.4 fast/light slash guard This bike is technologically advanced but simple and ruggedly executed. The battery is safely stored in the fork and the wires are run internally or shrink wrapped to disc hoses. The finger-tip suspension control transforms this bike, which is so well suited to the open, firm and climb settings. When you can quickly jump in or out of trail mode as the terrain requires, you squeeze out just a bit more momentum or a bit more fun. The shifting is always perfect and light effort, and double shifting and multi-shifting add a new dimension to unlocking tricky lines or recovering mid trail. Whether you choose the lower gearing and wider range of the 2x, or the simplicity of the 1x you will love never having to think about shifting again. 2x is less cool, but can make a difference on big days, and with Synchroshift you can shift front and rear from the same shifter you already have. Two synchro modes allow you choose cross chain gears and total climbing range for longer climbs or more undulating terrain. This bike was conceived as an all-day everywhere type ride, a true trail bike that can still handle some bigger climbs and some rougher lines. If that is your style and you have always wanted to try Di2, this is your bike. great for any rider 6' (180cm) or talller

Selling
Nov 12, 2019 at 11:59
Nov 12, 2019

Sep 20, 2019 at 9:50
Sep 20, 2019

Selling
Sep 20, 2019 at 9:48
Sep 20, 2019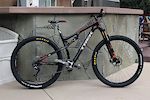 $3000 USD
This bike is brand new and unridden. Frame/Fork/Shock/Wheels and many parts have ZERO miles on them. This 2014 frame was sold in 20015, but it is still fresh and relevant. 29in wheels, modern racing geometry this bike is the perfect NICA racer. Forget about spending 6-10K for a carbon race bike, this thing is race ready 24.4 lbs for half the price. and still new! check out these specs! Frame Medium (17.5") 2014 Trek Superfly 9.8 - 100mm travel - new Shock: Fox Float CTD - Kasihima - new Fork: Fox 34 Factory Boost - 100mm - Fit 4 - Kashima - New Bar: Edge composite (ENVE) carbon Stem: Pro Koryak Post: Pro Carbon Saddle: WTB Volt Brakes: XTR M9020 Rotors: RT81 centerlock Icetech 160mm F & 140mm R - new Shifter: XT 11 speed - new Derailer: SLX 11sp - new Cranks: SLX 11sp with Praxxis 32T single (note only difference from XT crank was chainring construction, which are not used) BB: Trek Superfly - new Cassette: XTR 11-40 Chain: XT 11sp - new Wheels: XTR 11sp hub w/WTB i25 KOM light rims - new Tires: Maxxis Forekaster 29x2.2 (fresh sealant) This bike is new and unridden. A few parts have light mileage on other frames. Wheels were just built.

Aug 22, 2019 at 15:44
Aug 22, 2019

Selling
Aug 22, 2019 at 15:33
Aug 22, 2019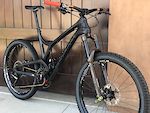 $3200 USD
This bike is extremely, fun and versatile. 30lbs w/o pedals. 131mm of Delta Box travel is well suited for any terrain; rough and rocky, or groomed and poppy. one of my favorite bikes. This bike has only been ridden for about 18 months in mostly dry conditions and has been professionally maintained. I have re-configured it for sale, so it has many new parts. it is super clean and totally dialed. I'll box it and ship it, but buyer pays freight costs. Frame Evil - The Calling. X-Large size. 140mm travel. 27.5 wheels. Tire clearance: 27.5x2.6 Max Bottle cage: Yes - 1 Shock: RS Super Deluxe (new) Fork: DVO Diamond. 150mm Travel (recent rebuild) Bar: ENVE M7 - 800mm x 25mm rise Stem: ENVE M7 - 50mm x 35mm clamp Dropper Post: Fox Transfer 150mm travel Dropper lever: Wolf tooth trigger Saddle: WTB Volt Ti rails Brakes: XTR M9020 Rotors: RT-86 Icetech 180mm F&R (new) Shifter: SRAM X01 Derailer: SRAM X01 Cranks: SRAM X01 (new ring) BB: SRAM X01 (new) Cassette: SRAM X01 Chain: SRAM XX1 (almost new) Wheels: DT SWISS M1900 - 30mm internal width. XD driver. (new) These parts are NEW! --> rear shock, wheels, bottom bracket, chainring, chain, derailer, rotors, tires NOTES: This is a custom colorway. The Calling was not offered in "Black Out Drunk". Also I will include the custom decal sheet with all colors for ENVE bars.
Load more...