Hendo1965
Member since Apr 30, 2018

Male / 54
Houston , Texas
Block user
Recent

Selling
Jul 18, 2020 at 10:44
Jul 18, 2020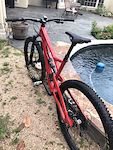 $1500 USD
*** $1500 *** Large 2018 Jeffsy CF Pro "Frame Only" inclusive of the Elite Performance Shock (NOT FORK) includes original BB Bearings, Headset Bearings & Derailleur hanger & YT seatpost clamp & original YT Seat & Thirst Master bottle cage AND original 9x46 E-13 cassette in original factory build. My professional mechanic called the Frameset in "at least, very good condition," but I think it is very good to excellent. Invisaframe was installed at purchase; there is some peeling on the wrap from heel rub, no damage to the frame. I am a weekend rider, I am 54 years old, and if I catch air, its by accident. This is a low mileage, lightly used frame. Also for sale: • $450 for FORK - 2018 Fox 34 Performance Elite Series,140mm travel, 44mm rake/offset, 15 QRx110 (boost) in photos – Code is "DCCY" if you look at RideFox site tech help page • If you want frame and fork both, we can discuss a package deal The photos are of the 2018 YT Jeffsy CF Pro as built the original spec from YT except cassette, which I mention above; You can find spec on Vital MTB. I will upload "frame only" photos after my mech cleans up. After I looked closer at other offerings in the market, I have revised down to my bottom pricing and it is essentially FIRM. (maybe a discount if you both buy fork & frame and/or if you pick up local in Houston) Texting is better for me. TRADES? MAYBE a 27.5 Bronson frame only or similar quality carbon mid travel 27.5. Not interested in anything else. BUYER PAYS actual SHIPPING AND PAYPAL FEES transaction fees. Shipping will not be much because this frame is super light and have all the packaging, so it won't cost much. Thank you for looking.

Selling
Jul 10, 2020 at 20:42
Jul 10, 2020

Apr 17, 2020 at 14:35
Apr 17, 2020

Selling
Apr 17, 2020 at 14:15
Apr 17, 2020

Jan 1, 2019 at 18:03
Jan 1, 2019

Jan 1, 2019 at 15:50
Jan 1, 2019

Selling
Jan 1, 2019 at 15:48
Jan 1, 2019

Dec 31, 2018 at 14:59
Dec 31, 2018

Dec 30, 2018 at 7:12
Dec 30, 2018

Selling
Dec 30, 2018 at 7:11
Dec 30, 2018
Load more...