HexAValent
Member since May 27, 2016

Male
Bothell , Washington
Block user
Recent

Aug 3, 2020 at 20:49
Aug 3, 2020

Selling
Aug 3, 2020 at 20:47
Aug 3, 2020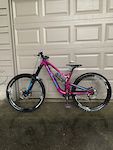 $2000 USD
2016 Intense Uzzi size small. This is my wife's bike. She had surgery last year and only rode it one day in the bike park. The day before it got a brand new Vivid coil, new Lyrik fork, and new chain and chain guide and new rubber. Since new the bike has had very little use. A few trips to the bike park. Bike is in excellent shape, just some small paint scratches. Chromag Scarab pedals included. Ask for any more details.

Sep 1, 2019 at 10:00
Sep 1, 2019

Sovereign
8.0 km - 01:59 - 6 achievements

Jun 18, 2018 at 19:47
Jun 18, 2018

Selling
Jun 18, 2018 at 19:45
Jun 18, 2018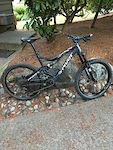 $1900 USD
Last of the 26 ers!! Sub 30 pounds, climbs better than any bike I've ridden, still descends like a beast. With 160 fork and offset bushings the head angle is 66 degrees. Bought new end of 2015 as stock X1 build. I have updated every part except derailuer and shifter. Chromag Cutlass carbon bars 750mm. Guide RS brakes with new pads. Brake system was brand new last year. RaceFace Atlas 50mm stem. KS Lev dropper, stock saddle. 11 speed X1 shifter and derailuer, new X1 cassette. RockShox Pike 160 RCT3 fork, freshly done lowers, 1 year old. RockShox Monarch Plus RC3 Debonair, 1 year old, just did 50 hour service on air can. Brand new Race Face 32 tooth cinch cranks. Industry Nine wheelset, bearings fresh last year. Like new Magic Mary in front and Purgatory in rear. All suspension pivot bearings just replaced . Bike needs nothing. Flawless and ready to rip. Buy it before I change my mind!

May 4, 2017 at 9:30
May 4, 2017

Apr 19, 2017 at 17:56
Apr 19, 2017

Nov 26, 2016 at 20:53
Nov 26, 2016

Selling
Oct 11, 2016 at 18:19
Oct 11, 2016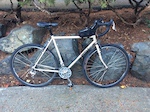 $1500 USD
Total custom build. Tour, commute, cross, race even. Immaculate. Truckercino color. Full campagnolo setup. Veloce brifters, Centaur deraileurs and chain, Record hubs. Brand new tires (700c X 40), that are great on dirt and sweet on chip seal. Brooks saddle is back on bike for the buyer. Also have front and rear fenders that are reinstalled. Wheels are custom build Alex rims with stainless DT Swiss spokes. As extras I have real nice front and rear racks and a full set (4) of waterproof Ortleib panniers. Shifts perfect. Super low granny gear on front ring will climb any hill fully loaded. Not sure of exact size but I'm 5' 10" and it fits perfect. Message me with any questions.
Load more...