After the huge success of MegaTrain in its first year, this time we're aiming
big
so we're holding it on the Thursday of Crankworx to get as many people involved as possible. Patrol reckon we need 250 riders to fill A-Line top-to-bottom, so first rider finishes as last drops-in; we can do it.
MegaTrain 2011 will take place on
July 21st @ 2pm
Plan on getting involved? RSVP the
Facebook MegaTrain event
and let us know you're coming, and like the
official MegaTrain Facebook page
for updates.
Do not be put off it you're not a regular A-Line shredder. Yes the train will be on A-Line but it will not be super-fast due to the nature of the train so intermediate riders are all welcome to get involved.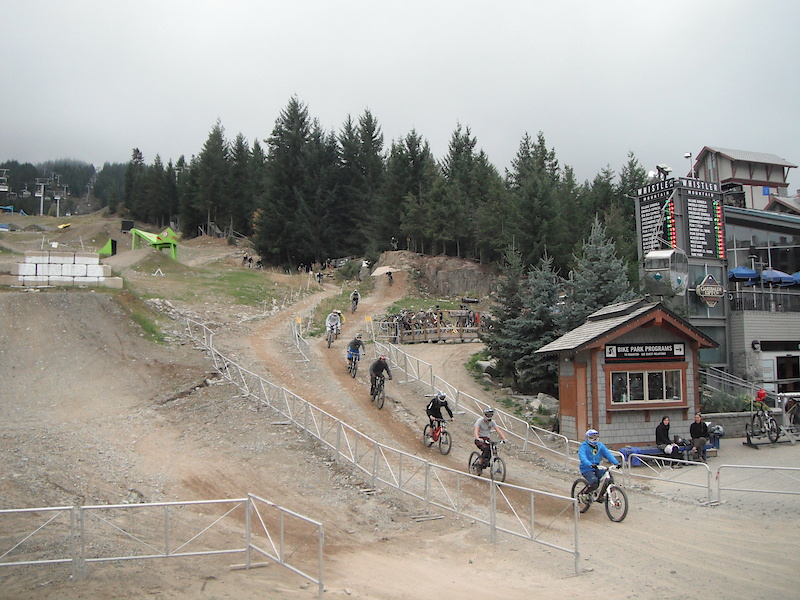 MegaTrain 2010 coming in to the finish off the GLC Drop
Due to numbers and time it'll take to get everyone up the mountain, look to upload by 1pm for a 2pm start. There will inevitably be some waiting around at the Learning Centre, but be patient, it will totally be worth the wait.
With a 2pm start we will still be finished in time to watch the Joyride qualifying in the Boneyard.
Everyone bring your helmet/chest/bike/crotch cameras as we want even more footage than last year and will be downloading from memory cards at the finish.
No idea what this is all about, or just want to relive the moment? Take a look at the video of last year's train...
Read more about last year's event on the
MegaTrain 2010 Blog
.
See you all on July 21st. We're stoked
!