I am a part-time professional photographer based out of Revelstoke, BC. I didn't get much of an outdoor adventure lifestyle growing up in New Brunswick so I have been trying to make up for lost time living out west for the past 15 years. Honing my skills in Jasper, Alberta, I moved to Revelstoke 8 years ago and never looked back. This place has everything I've ever wanted in a mountain town: great riding that continues to develop each year, a small-town feel and some of the best skiing on earth. There aren't too many of these places left.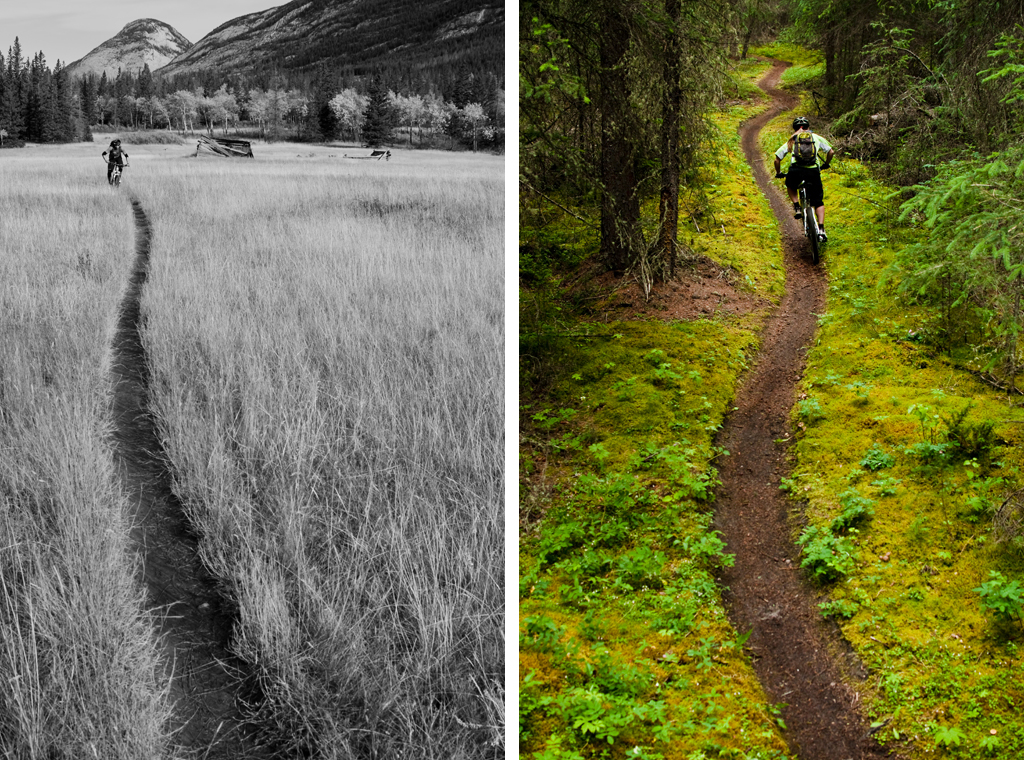 I started learning on my own while in Jasper. I just shot and shot and shot with my old Nikon F65, spending countless dollars on processing and film. I made so many mistakes in the early years but I had no one to teach me but the few books I read, along with trial and error. My parents bought me a D70s when digital started taking over and then things really started to progress for me. I could experiment all I wanted and never pay for processing. Some people say that digital has made photography less artistic and more high production but without being able to shoot to my hearts content, I would not have learned and progressed to where I am today. I appreciate what film is and was but digital has really allowed me to mold my style into what it is today.
Mountain biking is where it all started for me. I used to bring along my F65 and a couple of lenses on rides all over Jasper National Park. I would pour over Bike Magazine as soon as each issue came out and I wanted to emulate what my heroes were doing. I never produced much back then but the fire was lit and my passion for capturing the essence of mountain biking burns even brighter today.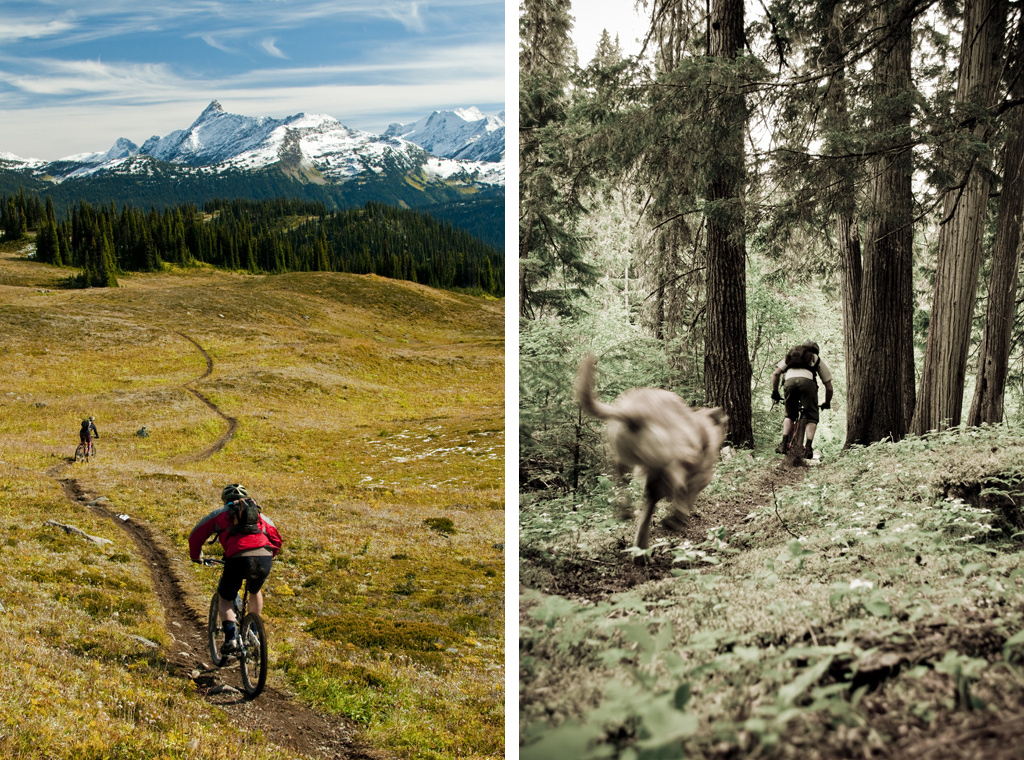 How can you not ride as a mountain bike photographer? Downhill, freeride, XC, all-mountain, road biking, you name it, I'll go do it. Jack of many trades, master of none, as they say. Over the past few years, my friends and I have been really into riding trails in the alpine around Revelstoke and the interior of BC. We've even begun to search old maps for mining trails that have been around for decades. There is so much history in British Columbia and being able to ride trails that have been around for so long really motivates me as a biker. We end up pushing, puling and carrying our bikes to all sorts of trails, forever searching for unknown singletrack. Seeing images from Europe, where people have been traveling through the mountains for centuries on trails, has shown me what is possible in our own corner of the world. This influence, along with my dedicated network of friends, has greatly affected my shooting style. I try to capture the story behind the image, to give the viewer a sense of what the riding is all about in BC. I like shooting wide to show that the rider is only a small part of what the ride is all about. The environment that surrounds us is many times the subject in my imagery.
Shooting skiing and snowboarding has been my main focus since moving to Revelstoke. I live in one of the top skiing destinations on earth and am lucky enough to travel extensively in the surrounding mountains. I send the bulk of my ski season in the backcountry with a strong and dedicated crew of backcountry skiers and splitboarders. Rogers Pass has been the main area that I shoot in during the winter months but with the addition of the ski resort in town, I also have had the opportunity to ski quite a bit there as well. The contrast between ski and bike photography is stark. I find the biggest difference is the pressure to get it right the first time with skiing/boarding. Once the pristine slope has a big fat slash turn on it, the canvas is ruined. No second chances. With mountain biking, you can get your athlete to do the same turn over and over till you get exactly what you want. The pressure to produce in a winter environment greatly exceeds that of mountain biking. Also, backcountry skiing with camera gear can be troublesome. A heavy pack full of camera gear, along with the essentials to survive in the mountains, turns many people off of shooting while ski touring. You have to be dedicated to being in the right place at the right time with your gear in your pack. Some days, I don't even pull out my camera but carry it around for hours on end while traveling in the backcountry.
I work at the local resort in the winter as a groomer. I've been doing that for 7 years now and it is one of the best jobs I've ever had. The solitude of working at night, the creativity of sculpting the runs and the sunrises make all the late nights, lack of sleep and sitting for hours on end all worth it. In the summer months, I have worked a a member of the trail crew for Parks Canada, building and maintaining hiking trail in the national Parks. The work is hard but the view from the office is pretty nice. I'm hoping to make the jump into photography full-time but it is a competitive industry, where making your mark and separating yourself from others can be very difficult.
It's a hard choice between deep snow in the alpine on a sunny day at Rogers pass or a ribbon of alpine singletrack on a cool, summer day. Each have their own attractive qualities but their both share one thing: being in the alpine on a mountainside, soaking up the views with great friends. Give me either one and I'm in heaven.
All of the images you see were taken with a Nikon D300 but I just recently upgraded to a Nikon D3S. I've also had to upgrade my lenses so now I am shooting with a 16-35, 50mm, 80-200 and a 24mm tilt-shift. I've been a Nikon guy since day one because my father shot on them when he was taking photos so I didn't have much choice. I'm pretty excited about shooting with a professional DSLR and I have lots to learn.
I'm more of a natural light kind of photographer so I don't really use flashes very often. I've started to experiment more in the past year but it is difficult to shoot that way when in the backcountry shooting skiing or on long, all-mountain rides. I need to bring the least amount of gear possible to keep my pack as light as possible. I have a couple of Nikon flashes but they get neglected often. I need more room for food and water so they stay home quite a bit.
I use an F-Stop pack in the winter months but during the summer, I use a mix of my F-Stop ICU and a Dakine backpack. Not an ideal set-up but I've been on the prowl for the perfect pack. There are a few companies out there that are now gearing their packs towards the adventure photographer who still wants to put in big days while lugging around a fair amount of gear. I will definitely be looking into a new pack for the upcoming season.
As far as the Nikon 24mm PC lens, I honestly looked into buying one because of the 'miniature' effect. I wanted to do something unique with my photography to help my work get noticed. Everyone has a fisheye or ultra wide-angle but I hadn't seen that many tilt-shift photos in magazines. I could have bought a few lenses with the price tag of the PC lens but decided to take all the money I had saved and just go for it. I liked the challenge of working with a lens that can be difficult to use. I quickly found out that I enjoyed the fact that I could straighten out trees and converging lines much more than using the lens to make objects miniature. I also found that I could tell more of a story or convey an overall feeling of a photo by keeping multiple subjects within a photo in focus. It quickly paid off by having my first ever two-page spread in Bike Magazine less than a year after buying the lens (which was also the POD recently on PinkBike).
Being creative with the PC lens can be difficult, along with the fact the lens is manual focus. You really have to think about composition, where you want you subject to be and how to capture it correctly in fast moving sports like biking and skiing. In recent months, I have used the lens less and less because of the bulkiness of it but I still find myself using it when the opportunity arises. I've learned a lot from the lens about stopping and really thinking about where I need to stand or what angle I need to use before composing my image. It has been a great tool for learning and it always gets my creative juices flowing when I pull it out of my camera bag.
I only have a few clients so far and they are all editorial work. Bike Magazine has been really great to me and gave me my first published photo last year. Same goes for Kootenay Mountain Culture, who will be running my first story feature/photo essay in their upcoming summer issue. I've also been involved a bit with Salomon, Sombrio and Ryders Eyewear and look forward to working with them more in the future. I'm hoping to diversify this upcoming summer with more magazines and clients. In the winter, I've been fortunate to work with Powder, Backcountry, Ski Canada, Aka Skidor and the Ski Journal. I'd like to thank all my editorial clients for their continued support in my photography.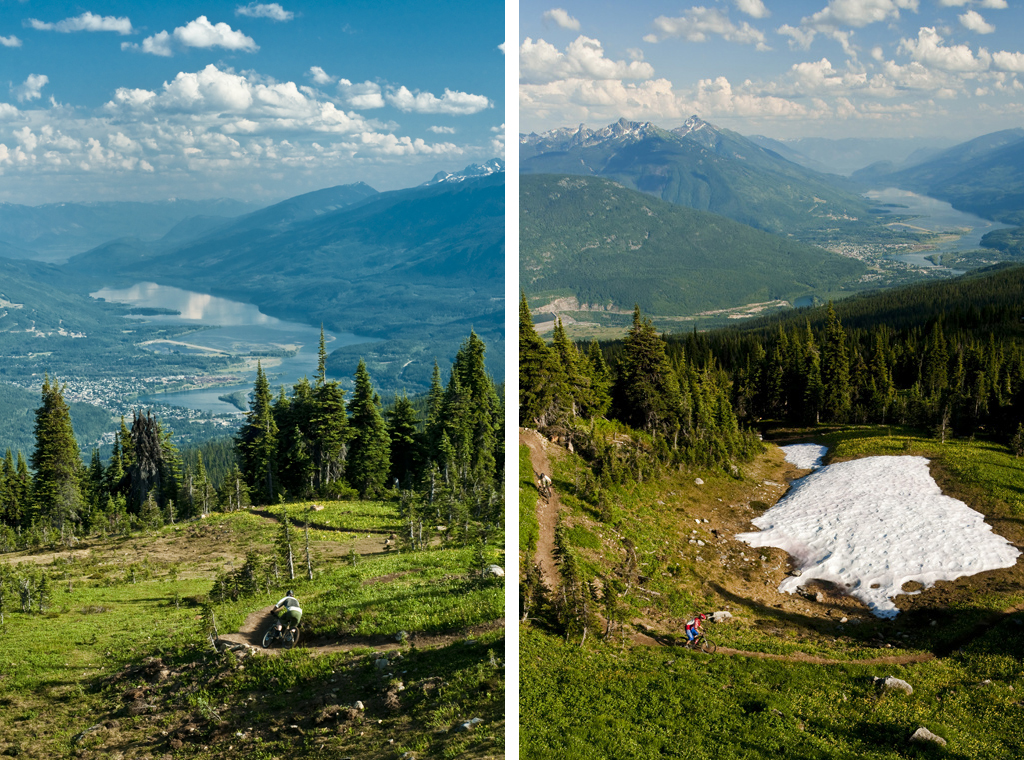 I've got a deep love for trail building. This was one of the main reasons I left Jasper national Park and moved to Revelstoke. Helping develop new trails in the community has been a big part of my life since moving here. I'm deeply involved in the cycling community, sitting on the Board of Directors for the Revelstoke Cycling Association. This town has a very bright future as a mountain bike destination and I want to help it grow into it's potential. Also, I'd like to thank all of my ski and bike partners for being patient models over the past 7-8 years. Without all of you, I would be nowhere. I am eternally grateful to all of you.
---
Past Photographer Interviews: