The rain held off for today's action at the Vienna Air King, but the wind played a big part, and it was cold. Temperature around 6 degrees Celsius, and winds around 18kph.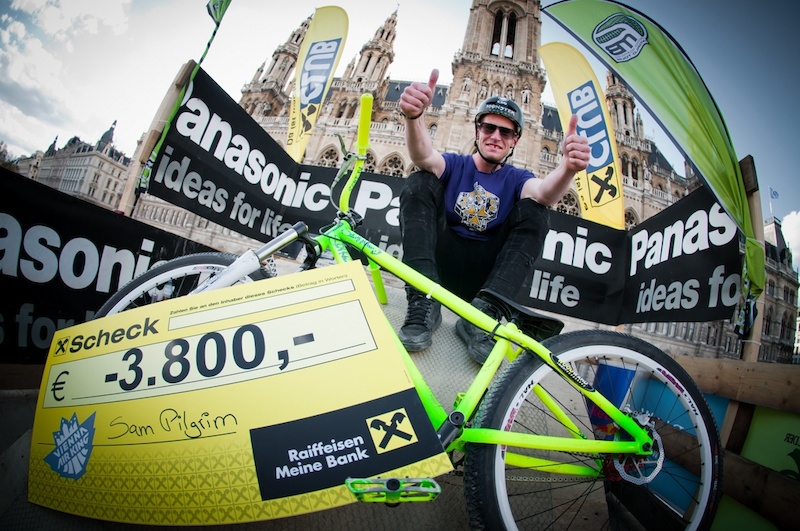 Vienna Air King top 5
1) Sam Pilgrim (GBR) 90.00 points
2) Sam Reynolds (GBR) 88.00
3) Andreu Lacondeguy (ESP) 86.33
4) Szymon Godziek (POL) 82.33
5) Linus Sjöholm (SWE) 81.00
Complete results at bottom...
Martin Soderstrom was looking really strong earlier this year but unfortunately he crashed in training on a barspin to tailwhip, and was unable to compete today, we wish him the best of luck in his recovery. Canadian Matt McDuff also qualified but wrecked his rear wheel and without a spare he didn't ride.
The wind let up a little bit part way through the first run and Louis Reboul had the first really good run tricking every jump solid. 75 points.
He was followed by Simon Kirchman with another solid run and 60 points to move into 2nd.
Simon Godziek threw down a sick run with 360 off the drop followed by a flip tuck no hander, a huge stretched superman, and then a flip barspin for 82.33 points and an easy move into the first spot.
His run was followed by Antoine Bizet who did a flip off the drop, followed by a flip table, opposite flat 3 and then a tailwhip for 72 points.
Tomas Zedja next up as the wind started to pick up again with another sick run. Tailwhip off the drop followed by a huge barspin, tailwhip to x-up, and then truckdriver to table for 67.33 which put him into 4th.
John Alm Hogman, started off with what looked like a solid run, tailwhip off the drop, huge superman seat grab on the first jump, but then it fell apart, only 30.67 points on the first run.
Andreu Lacondeguy's first run. Flip off the drop, huge flip whip on the first jump, flat 3 on the 2nd, than a 3 whip on the last one. 86.33 points which moved him into first place.
Sam Pilgrim was up next. Flip table off the drop, huge flip tuck no hander, solid 360 whip, and then a 720 on the last one for 90 points to bump Andreu and move into first spot.
Lance McDermott flipped the drop followed by a front flip, tuck no hander, and another front flip. 74 points and into 4th spot.
Jakub Vencl looked like he was having a good run but lost a pedal halfway through after a 360 and a flip barspin.
Sam Reynolds up next with a flip off the drop, flip tuck no hander, flip whip, and then a double whip for 88 points and into 2nd spot between Sam Pilgrim and Andreu.
Tomas Genon 360 in, huge 360, double tailwhip, then a 360 double barspin for 75.33
Yannick 360 x-up off the start, flip whip, but came up a little bit short and that was it.
Bienvenido flip off the drop, flip the first jump, straight air, followed by a flipwhip but he didn't really land it well.
Bartek tuck no off the drop, flip x-up, bar spin to table, 360 tuck no.
Amir Kabbani, 360 off the drop, flip tuck no, truck but lost a pedal and it was over.
Pavel Alekhin riding brakeless, (and sleeveless) tailwhip off the drop, steeze table on the second then a double whip followed by a 360 whip.
And that was it for run one...
The wind picked up for the second run and that was pretty much it, while some riders improved their scores, most of the first run scores stood as riders struggled with the wind, and the top scores didn't change.
Vienna Air King 2012 – Results
1) Sam Pilgrim (GBR) 90.00 points
2) Sam Reynolds (GBR) 88.00
3) Andreu Lacondeguy (ESP) 86.33
4) Szymon Godziek (POL) 82.33
5) Linus Sjöholm (SWE) 81.00
6) Jakub Vencl (CZE) 80.00
7) Amir Kabbani (GER) 79.00
8 ) Louis Reboul (FRA) 76.00
9) Thomas Genon (BEL) 75.33
10) Patrick Leitner (AUT) 74.67
11) Lance McDermott (GBR) 74.00
12) Antoine Bizet (FRA) 72.00
13) Tomas Zejda (CZE) 67.33
14) Bartek Obukowicz (POL) 66.67
15) Ray Samson (GBR) 64.00
16) Pavel Alekhin (RUS) 61.33
17) Simon Kirchmann (GER) 60.00
18 ) Marcin Rot (POL) 57.33
19) Blake Samson (GBR) 55.33
20) Bienvenido Aguado (SPA) 51.33
21) Yannick Granieri (FRA) 45.33
22) Richard Fert (FRA) 42.00
23) Fred Austruy (FRA) 41.00
24) John Alm Högman (SWE) 40.33
25) Alfred Scholtze (AUT) 33.67
26) Anton Thelander (SWE) 31.33
27) Ramon Hunziker (SUI) 26.67
28 ) Matt Macduff (CAN) 0.00
29) Adrian Tell (NOR) 0.00