Imaking
Member since Jan 17, 2012

Male / 32
Redmond , Oregon
Block user
Recent

Aug 14, 2020 at 19:38
10 hours

Selling
Aug 14, 2020 at 19:35
10 hours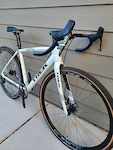 $2700 USD
I built this up trying to make it work for me (it didn't, too small) then tried to repurpose for the wife but the stack was too low. All of this has meant this bike has spent significantly more time hanging in the garage than being ridden - and I'm trying to make room. The frame and shift/brake group have less than 150 miles. The handlebars, wheels, tires and cassette are brand new. Build details: 52cm RSL frameset (colorway available as frame only) SRAM Force CX1 shift group (long cage RD) SRAM Centerline rotors - 140mm front and rear Sram Force Crankset (170mm arms) with Wolf Tooth 42T direct mount chainring SRAM Force 11/36 cassette DT Swiss DB470 wheelset Specialized Pathfinder 38mm tires Specialized 42cm Hover bars with flare Specialized Power Pro saddle (ti rails, 155mm width) I will tape the bars - just haven't had time yet. Geo can be found here:https://www.trekbikes.com/us/en_US/bikes/road-bikes/cyclocross-bikes/boone/boone-disc-frameset/p/17466/ Price includes shipping CONUS. Does not include fees.

Jun 28, 2020 at 10:05
Jun 28, 2020

Selling
Jun 28, 2020 at 10:05
Jun 28, 2020
$650 USD
Excellent condition shifters and calipers taken off my Tarmac. Includes low mileage L03A brake pads

Selling
Jun 28, 2020 at 10:02
Jun 28, 2020

Selling
Jun 28, 2020 at 9:57
Jun 28, 2020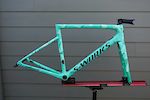 $2500 USD
Of the many, many bikes I've owned and ridden - I've never ridden something better all around than the SL6. For that reason, I've replaced this with the rim brake version while I could still find one. This frame is in excellent shape with minimal signs of use. I take care of my stuff. It was purchased new so the buyer will get all the manuals and small bits that come with it. The Ceramicspeed headset and bottom bracket still spin just as good as new. Sale will include a brand new, in package, seatpost as I just swapped the whole seatpost and saddle setup from this bike to the new one. Steerer is slammed. You can put a stem on and that's it. Because reasons. The pictures stem is not included nor available for sale. Could be open to trades for a SuperX SE, Crux or Aspero frameset.

Jun 16, 2020 at 11:51
Jun 16, 2020

Selling
Jun 16, 2020 at 11:51
Jun 16, 2020
$550 USD
In used condition but no major rub marks. 172.5 crank arms. Includes 52/36 and 50/34 10-arm spiders as well as a non PM left arm. Also includes a new PF30 BB (this is actually my favorite PF BB as it's QUIET and light) with spacers, a new spindle as well as the crank extraction tool and special tool needed to swap the spider

Selling
Jun 16, 2020 at 11:48
Jun 16, 2020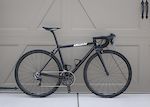 $1600 USD
2016 Cielo Road Racer frameset in size small. Mechanical only. I purchased this from the original owner who had logged just under 1500 miles according to Strava. I've since added another ~100. The bike is damn near mint; no chips or scratches that I can find anywhere. There are a couple places with swirl marks... because black. What's not visible in pictures (and I didn't realize until this arrived) is that the paint is actually metallic. So that's neat. The steerer was cut short, so there is only room for a 5mm spacer under the stem - possibly another 5mm depending on what stem you're using. For those who care, the frame weighed 1736g WITH Chris King headset and bottom bracket installed (I wasn't motivated enough to remove and reinstall them). I've attached a built photo just for reference, but the sale will only include frame, (enve) fork, (chris king) headset, (chris king) bottom bracket, and seatpost clamp. I've also included geometry (add 9mm to the stack height to account for headset upper). Selling only because its a bit small for me.

Jun 3, 2020 at 12:48
Jun 3, 2020
Load more...