Gusset IsoBar grips are at the forefront of grip innovation. Utilising the Earth's precious air these multi discipline grips are built to offer the most adaptable and comfortable feel known in the mountain bike market.
The IsoBar grip is made from a proprietary dual layered rubber compound for arm pump reduction. Complete with an internal bladder, we designed the Isobar to allow complete control over your desired thickness of grip. In the pack you get one valve and one noodle per grip, these are to be inserted directly in to the bar.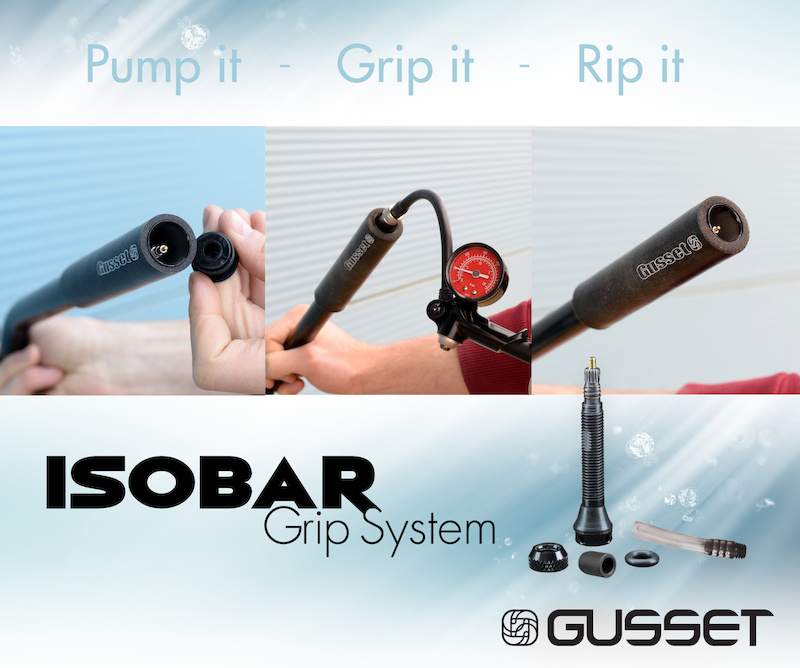 For installation, first drill a 5mm hole in the top of your handlebar, 50mm in board from the end of the handlebar. Next slide the IsoBar valve into the end of the bar, making sure to keep the end of the valve end 3mm from the end of the bar. Now install the IsoBar noodle through the hole you have drilled, and connect to the back of the grip. Slide on the IsoBar grip with the filling port topside until you hear the noodle click into the filling port. The IsoBar grips are now able to be pressurised to the desired thickness and comfort level (max pressure 30 PSI). Finally fit the IsoBar bar end into the end of the handlebars to protect the internal IsoBar valve.
Available from May the 2nd the Gusset IsoBar grips will retail for £59.99. IsoBar patch kits will also be available for trailside grip repairs for £5.99.

gussetcomponents.com
---
MENTIONS:
@Ison-Distribution
---