JTolton
Member since Sep 30, 2015

Male / 40
Kelowna , British Columbia
Block user
Recent

Selling
Jun 16, 2018 at 10:27
Jun 16, 2018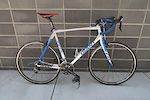 $700 CAD
Up for sale is my XL 2010 Giant TCX 0 with an Ultregra drivetrain and a few upgrades. It's served me well, but it's time for a new home. Please read below for details and do not hesitate to ask questions via the "send message" button above. Upgrades: - SRAM Red cassette - Tektro Mini-V brakes - Relatively new (1000km) Michelin Pro4 28c tires. - New (500km) Ultegra bottom bracket (no more going through MegaEXO BBs every 1000 km) Stock Components: - Shimano Ultegra shifters and derailleurs - FSA Gossamer Mega-Exo Compact Chainset - Mavic Aksium Race wheelset Condition: - Some minor paint defects (as expected with an 8 year old bike) - Scuffing on ends of crank arms - Fizik Performance Bar Tape (Blue Metallic) is showing some age Giant says it'll fit those between 6'0 and 6'6, and it fits me (6'3) quite well.

Jun 16, 2018 at 10:23
Jun 16, 2018

Selling
Jun 16, 2018 at 10:20
Jun 16, 2018

Jul 9, 2017 at 15:03
Jul 9, 2017

Mar 19, 2017 at 18:47
Mar 19, 2017

Selling
Mar 19, 2017 at 18:46
Mar 19, 2017

Selling
Nov 28, 2016 at 19:37
Nov 28, 2016
$60 CAD
For sale is a pair of 27.5 Mavic XM319 rims. $60 for the pair. There's some light scratching on them from being packed up and moved, but have never been ridden and are functionally perfect. Buyer pays shipping.

Selling
Jun 18, 2016 at 16:19
Jun 18, 2016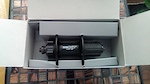 $25 CAD
For sale is a Shimano XT M756 rear hub,135mm QR. - Hub was removed from a previously built wheel - Bearings spin and have been repacked. - There are markings where the spokes and cassette were installed If you've got any questions shoot me a message!

Jun 16, 2016 at 23:27
Jun 16, 2016

Selling
Jun 16, 2016 at 23:26
Jun 16, 2016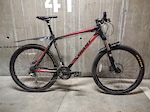 $950 CAD
For sale is my heavily upgraded 2014 Giant Talon 27.5. I'm moving from BC back to Ontario soon and she's been sitting idle for a while, so I think it's time to find her a new home. This bike has had so many upgrades it's barely the same bike I bought from the shop! $950 OBO. No reasonable offer will be turned down. Like I said, I'm moving soon and she's got to go before then! The bike is in good condition, and has cosmetic marks typical from riding, minor scratches, paint chips, cable rub etc It's an XL, and I'm comfortable riding it at 6'2 with an 80mm stem. Specs: - 3x9 XT shifters, front derailleur, rear derailleur, cassette, and chain. - Cassette and chain have ~250km XC riding since new. - The front derailleur spring is busted. It'll be replacing it with an XT or better part, but if you're willing to replace it yourself I'll just lower the price. - Rockshox XC30 SoloAir 120mm. - Scratching on crown where the previous owner of the fork removed the crown race. The fork is a take-off from a Norco. Stantions are clean and smooth as can be. - Formula R1x brakes (R1 levers with Rx calipers) with Formula rotors. 180mm front and 160mm rear. 500km of XC riding since new. - 720mm Brand X Handlebars. - Raceface Half Nelson grips - Raceface Ride XC seat post - Maxxis Crossmarks front and back, 400km XC riding since new. - MuckyNutz fenders front and back. The bike has been stored indoors for it's entire life. I am the original owner and I can provide a copy of the original receipt if required.
Load more...