The Lusty Crew took their show on the road last week with Cedric Gracia as a special guest and honorary 'Ringmaster'. The final destination of Bright, Victoria would host a few of the 'Ride with Gracia' camps and also join up with the first round of the National Gravity Enduro Series, the Santa Cruz Enduro Challenge.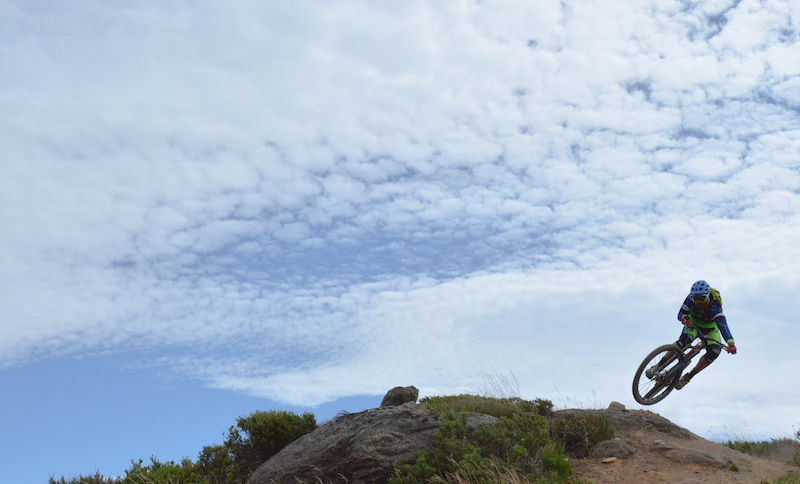 Gracia staying above the rocks in Falls Creek.
Santa Cruz is just one of the brands Lusty Industries distribute exclusively in Australia. Gracia had ventured out to showcase the new Santa Cruz Hightower and give Australian riders a unique opportunity to gain some tutoring from one of the greatest riders ever.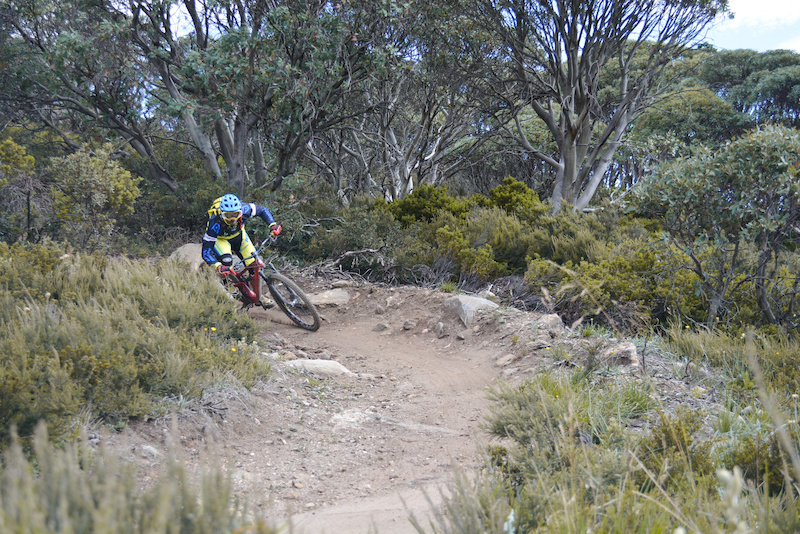 CG was on hand to dish out some advice to the locals and have a fun time exploring Australia's alpine region.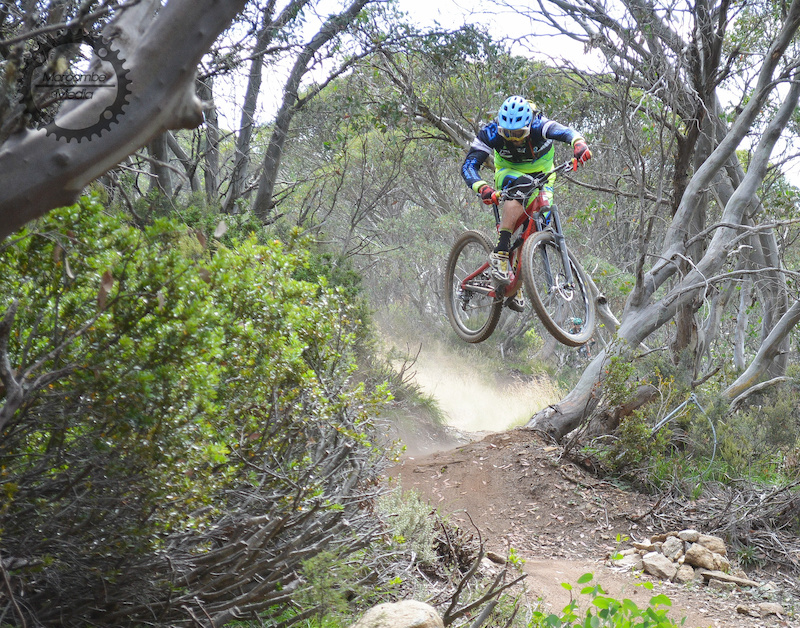 So much style, it was a rare chance for some lucky Aussies to ride with this guy.
It would be the first National Enduro Series race for Lusty Riders; Joel Willis and Paddi Butler, and a chance for Enduro specialist, Jaclyn Schapel to get her a race under her belt for the long season ahead. Remy Morton was off the hook for the climbs this time still away slapping turns in NZ.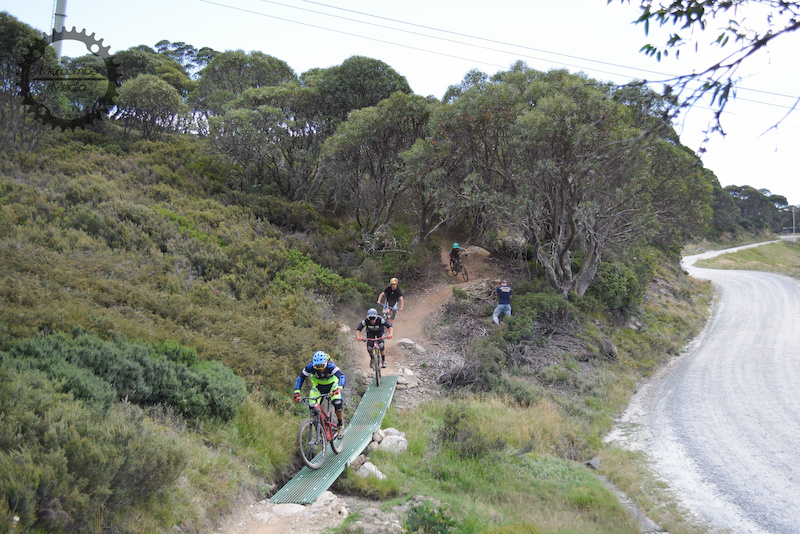 The Lusty MTB Team chasing Gracia down at Falls
Bright is a pretty familiar place for mountain biking in Australia. It's hosted many a National DH and XCO round but this would be its first venture into a National Enduro Series event. The steep, rocky and dusty terrain wound itself down through pine forest. So if the dusty holes didn't get you the trees just might.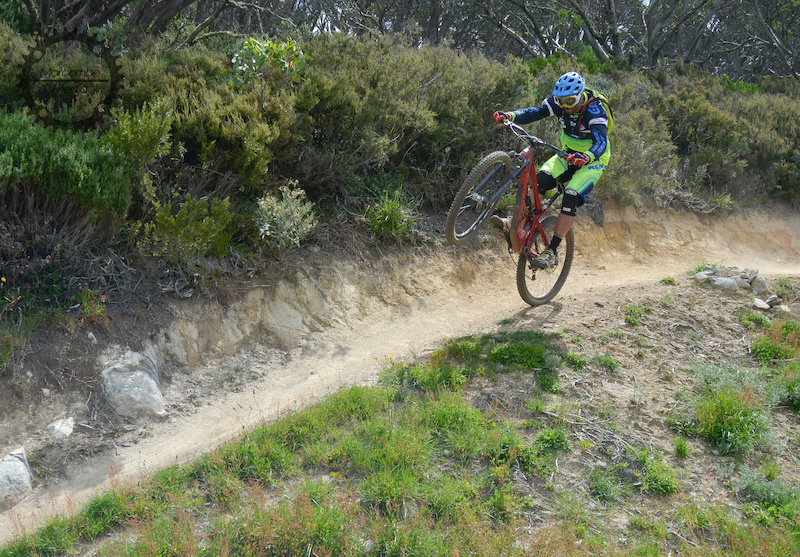 Wheelies make everything better.
Joel Willis got some of the best tutoring around being able to shuttle with Gracia for the weekend. After finishing a formidable 8th in the DH National Round the previous weekend, it would prove to be just the challenge Willis was up for. The technical trails would be to his advantage and his Bronson CC more than capable. Patrick 'Paddi' Butler arrived late on Friday to find out that practice was cancelled on Saturday due to a Fire Ban. Not one to be discouraged, Paddi headed up with the crew to Falls Creek so get his Heckler into its native formation; sideways through turns. Jaclyn 'Jaciana' Schapel was out to get strong race in but stay injury free, a novelty of sorts for the Hobart rider.
The camps were a huge success. Riding with the pro's is one of those things most riders always dream of doing. On the road, you can roll up and hover awkwardly before trying to start a conversation. On the dirt, you just might happen to end up on a chairlift with that guy who's currently on the front of your favourite mag, so things are a little different.
Race day was hot and dry, climbing up the steep fire roads in the sun made for a challenging start. Willis showed that his fitness was primed for the long game and ended up with a great result for his first race finishing mid pack in Elite near hitters Berend Boer and Dave West. Butler had some bad luck in Stage 1 with a flat, which would have proved to be the stage he was most suited to otherwise. Given he finished with times in the top ten for the other stages we will be keen to see how he fairs next race.
Jaclyn finished the day in second with a strong ride. Keen to keep it safe on the steep, rutted descents of World Cup DH (stage 2) Schapel didn't quite have the pace required but faired well on the more fitness orientated stages. Gracia proved he was ever the showman and got super wild on stages 1 & 2. He left his mark on a few trees on the way down but handled the last day in a hot, dry Aussie summer like a boss. Finishing just in front of Willis it was a good result for someone looking to have a good day out racing before heading back to some European snow.
Lusty MTB Team Overall Results:
Round 1 MTBA National Series – Enduro – Bright
26th Joel Willis – Elite Men
9th Pat Butler – U/17 Men
2nd Jackie Schapel – Elite Women
Lusty Mountain bike Team would like to thank its supporters for sharing the ride:
Maxxis Tyres (KWT), Santa Cruz Bicycles, Troy Lee Designs, Yakima, Maxima, SRAM, RockShox, Gamut, ODI, Ogio and Crank Brothers.
---
MENTIONS:
@Maxxis
/
@troyleedesigns
/
@SramMedia
---