Jadon-ceravolo
Member since Sep 25, 2012

25
Canandaigua , New York
"Build to ride, ride to have fun"
@knarracing
Block user
Recent

Jul 20, 2019 at 5:13
Jul 20, 2019

Jun 22, 2019 at 9:37
Jun 22, 2019

Selling
Jun 22, 2019 at 9:28
Jun 22, 2019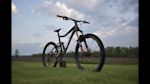 $2000 USD
I bought this bike brand new in May of 2017, making me the only owner. The bike hasn't been ridden since August and is more than ready to hit the trails. It has a couple of scuffs as you'd expect, but nothing serious at all. I just recently had it tuned up by my LBS and I also bought a brand new rear wheel from Crankbothers (can provide receipts for both). I've put a lot of time and money into this build. The attention to detail really is amazing. It'll be tough to part ways with, but that means it's time to trick out my new bike! You can check out the bike's specs below. Frame: 2017 Knolly Endorphin (Black), XL, 27.5 Suspension: Fox 34 Float Factory, FIT4, 150mm, 15x100mm Cane Creek DB Inline Cockpit: Deity Cooperstem Stem (Platinum), 31.8mm Deity Skyline bars (Orange), 25mm rise, 787mm width Deity Knuckleduster grips (Orange) Deity Speedtrap saddle (Orange) Deity Circuit clamp (Platinum) Deity valve caps (Orange) Fox Transfer seatpost, 125mm travel, 30.9mm diameter Brakes: Shimano SLX Hydraulic Hope 203mm Rotors (Orange) Brand new Shimano SLX brake pads (still in the box) Drivetrain: Shimano SLX 11 Speed shifter Shimano SLX GS, 11 Speed rear derailleur Race Face Ride, 32t, 175mm crankset Shimano Saint bottom bracket KMC Gold Chain Wheelset: Crankbrothers Iodine 2 AM, 27.5, non-boost (Rear wheel is brand new. Hasn't seen dirt once) Tires: Maxxis Minion DHF, 27.5x2.5WT, 3C Maxx Grip Maxxis Aggressor, 27.5x2.3 Pedals are not included with the bike. I'd be glad to provide any extra pictures or information upon request and I'm willing to split shipping cost with the buyer. Transaction will be done via PayPal only.

Selling
May 30, 2019 at 9:25
May 30, 2019

Jan 9, 2017 at 11:07
Jan 9, 2017

Selling
Sep 28, 2016 at 16:19
Sep 28, 2016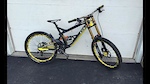 $2650 USD
Really solid 2014 GT Fury for sale with top of the line parts. Everything is in good and working condition, there's small scratches and minimally chain rub as you'd expect from a used bike. I don't want to sell it but I can only afford one bike. I'm converting to a trail bike to go for a do-it-all bike. For how beefy the bike is it's surprisingly light. You'll be really confident through the technical sections, that's where I thought it excelled the most. As I said it's super-light for being an aluminum frame so it jumps very well and is maneuverable. I've owned a Glory and a Wilson and this Fury has served me the best. Only trade I'll accept is for a full squish trail bike. Shoot me a message or text if you have any questions or want more detailed pictures (585) 703-5989. Parts list below! $2650 is my asking price. Will entertain offers but don't bother lowballing! Parts: Frame - GT Fury (Large) Fork - Fox 40 Float RC2 FIT Kashima (203mm Travel, FIT damper, 20 x110mm Thru Axle, w/Adjustable High Speed/Low Speed Compression and Rebound) Shock - Fox DHX RC4 Kashima w/ Brand New Fox SLS Spring (9.5" x 3", w/Adjustable High Speed/Low Speed Compression, Rebound, and Bottom-Out) Wheels - Mavic Deemax Ultimates (26 inch, mint) Tires - Maxxis Minion (plenty of life) Brakes - Shimano Saint M810 (203 mm Rotors f/r) Cranks - Shimano Saint FC-M825 (165mm, w/36T Ring) Bottom Bracket - Shimano Saint (83mm) Derailleur - Shimano Saint M810 Shifter - Shimano Saint M810 Handlebars - Renthal Fatbar (785mm, 31.8) Stem - Renthal Direct Mount Grips - Renthal Saddle - Pro Atherton w/ Titanium Rails Seat Post - Pro Atherton Pedals - none

Sep 28, 2016 at 16:16
Sep 28, 2016

Jul 13, 2016 at 15:59
Jul 13, 2016

Selling
Jul 13, 2016 at 15:58
Jul 13, 2016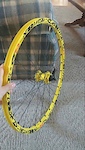 $500 USD
Deemax wheelset for sale in 26 inch. These things are perfect, rims are mint, true, etc. I have another set of deemaxs I'm running on my Fury so I don't need these. Best wheels I've ever ridden hands down. They're set up tubeless and getting them to seat is extremely easy. Floor pump does the trick no need for a compressor. Almost half the price CRC is asking. Bling out your bike while adding performance as well.

Selling
Jul 13, 2016 at 15:44
Jul 13, 2016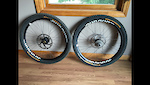 $450 USD
Real solid wheelset up for sale. Ready to be thrown on your bike and rip. Everything you need included, rotors, cassette, tubes and tires. Wheels are true, rims have a couple flat spots but they're very very small. This is the last year they made the LG1+ in 26", they're going brand new on CRC for just under $700. Considering I'm including tires, tubes, rotors and cassette with the wheels $450 is a great price, especially for the condition the wheels are in. Will ship at buyers expense and PayPal only. Shoot me an offer worst I will say is no. Can send more pics if needed.
Load more...